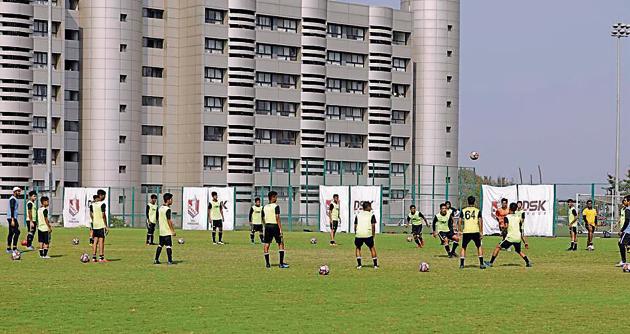 Shivajians playing with club legacy to survive DSK fall
Refusing to accept the inevitable and standing strongly by its 'name', Shivajians are fighting for a future.
Hindustan Times, Pune | By Pranav Shahaney
UPDATED ON FEB 26, 2018 08:06 PM IST
An hour's drive along the Pune-Solapur Highway and a stadium rises out of the urban mess of development that is burgeoning past Hadapsar.
This is Dream City Football Fields and it is where Pune's legacy team DSK Shivajians exist.
Sure FC Pune City has the Indian Super League (ISL) tag and everything that goes with that standard of football. However, in legacy terms, FC Pune City is a Pune team of recent repute.
Shivajians, in existence since 1987, is what the city can, and has, referred to as its legacy team; a team from the grassroots of Pune that went from local division to local division to state and finally to the I-League, India's official premier league of football.
That shift from local team to national entity is all thanks to Shirish Kulkarni, son of embattled and now jailed property tycoon DS Kulkarni.
Shirish Kulkarni is director and until the DSK empire caved in, financial backbone of DSK Shivajians and his name is still spoken of in reverential tones on the Dream City premises.
In fact, as DSK properties are being seized and put on auction, one cannot but avoid the question: what of the Dream City Football Fields facility - complete with gymnasiums, swimming pools, natural and astro turfs and hostels?
In 2010, Shirish Kulkarni took over the football team and it was officially renamed DSK Shivjians. It was the beginning of the steep ascent and then as financial troubles struck the DSK Group, an abrupt halt at the edge of a precipice. The steeper fall was imminent. Is imminent?
It is a question the DSK Shivajians footballing fraternity stoically gather together to defend, like a six-member wall against a deadly free-kick taker.
Advance notice of HT's arrival ensures everything is set-up and in place to assure us, and Pune, that despite encountering "hiccups on their way", as COO Amit Vanjari puts it, the future is still bright for DSK Shivajians
In footballing terms, the club has for long been a hub for young players looking to take up the game. Today, with I-league and DSK impact, youth development is what the coaches refer to as the "Shivajians way".
Today 55 players between the ages of 13 and 17 live at the Dream City hostel training to be professional footballers. Some have paid to be there. Some are being paid to be there. Either way, their futures hang in the balance.
"Lack of I-League football hasn't affected the motivation of players," coaches Raviraj Kurne and Deggi Cardozo chorus as they walk HT around the training facility.
Shivajians lasted two seasons in the I-league - 20115-16 and 2016-17, with a seventh place being their highest finish.Then the DSK financial tsunami hit the club and Shivajians could no longer afford to be in the I-League.
Under-13 head coach Kurne explains: "Yes, the plan is to return to the I-League and we're doing everything we can to make that happen. Currently, we have a fantastic bunch of under-18 players, who I believe have it in them to bring the club back to where it belongs."
Head of the academy, Deggie Cardozo, explains that the motivation of players has continued to remain the same. "The lads are still training with the same level of intensity and are giving it their all to better their performances, and also the team as a whole," he claims.
Currently, Shivajians no longer has a senior team. All players from that senior team, playing in the I-League have moved on. It is back to the basics and working with the under-18 and under-13 teams.
Most players in these teams live on campus at Dream City. Some get paid a stipend. Surely for these youngsters, the I-League has to be the next stop?
"There hasn't been an immediate impact on the academy particularly because our players go step by step. They join us as teenagers and are groomed to become professionals. Nobody walks into the club and directly plays in the I-League. It is a process and the players have been extremely patient and dedicated to the cause. Yes, we need I-League football, but that is not our only motivation," Cardozo adds.
Explaining the 'Shivajians way', Kurne says: "In other academies, they ask you to come and play for a couple of hours a day and that's it. Here, our training doesn't end on the football pitch. We monitor their off-field activities such as diet, sleep, water intake and things like that. We also take urine tests of the players before training and based on that we schedule their routine for the following hours to help them avoid picking up injuries."
While this may seem a rigid way of going about things, the players have no qualms about this philosophy. They believe that the coaches know what is best for them.
Piyush Joshi, a striker for the under-18 team, explains the importance of the coaches' involvement in their day-to-day activities. "We immediately bought into what they asked of us as they are doing it for our good. They want us to follow a certain level of discipline that will not only help us here, but at other teams in the future as well."
His teammate, centre-back Daniel Haokip, also shares a similar opinion and explains how important it is that at their age they are given the right guidance. He says: "This is the age people get carried away, so it is important to stay focused. Our coaches are professional and they have certain time-tables set for our daily routines which is extremely important for us to follow as it can have adverse effects on health."
Close