Startup Saturday: Science, discovery, Big Pharma and a small startup
Hindustan Times, Pune |
, Pune
Namita Shibad
Dec 09, 2017 04:10 PM IST
We Innovate Bio Solutions is in the startup laboratory, so to speak. The pharma firm has the product and is now engineering the ability for financial success. Here, its founders share their unique story.
Being an entrepreneur is far more exciting than being a scientist," says Milind Chaudhari, founder, We Innovate Bio Solutions. "As a scientist, you have to move forward logically from Step A to Step B to C. But, as an entrepreneur though you have to look at several issues all at the same time. You can jump from Step A to Step D. I love it," he says excitedly.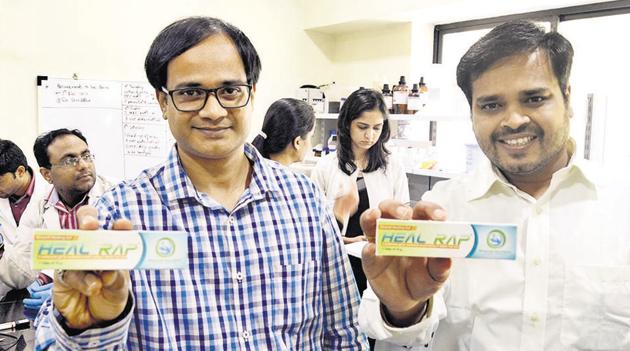 Milind and his co-founder Prasad Bhagat were scientists doing their Ph D at the Agarkar University. If the aim of business is to solve a problem, then their transformation into entrepreneurs began perfectly.
Says Milind, "Our work involved discovery of new molecules. The problem of critical wounds became our focus. There were many things about critical wounds that set us thinking. Basically, it was a problem that was not resolved appropriately.
"The figures astounded us. Globally there are 78 million people who suffer critical wounds. Every single day 180 people with such wounds have to undergo amputation and five die because of it. This, despite the fact that the US government alone spends $25 billion on treatment every year. So we thought, what can we do about this problem?"
How can we find a solution that will be easy to use?
Finding a solution led these two young scientists on the path to entrepreneurship and to the setting up of We Innovate Bio Solutions.
They first studied the aspects of the problem. Says Milind, "There are three types of critical wounds; one is the diabetic foot ulcer, the other is a pressure ulcer (like in bed sores) and the third was venous ulcers, those that are caused by problems in the veins in the legs.
"The options were expensive and with no guarantee of success. In fact, people with such wounds needed to see a specialist like a surgeon who would have to debraise or surgically remove dead tissue. There was no solution that could be followed easily. If you ask around you will find that there are people with 20-year-old ulcers. The other aspect was that this happens mostly to the elderly and so it is not something like cancer that has a high mortality rate. It was largely a neglected problem."
The two scientists decided to address this problem.
After studying the physiology of the wound they realised that such ulcers had three problems; one, it had insufficient blood supply; two, there was an infection that was breeding in the wound; and three, this stress was causing the cells to die rapidly.
"Prasad and I felt that whatever solution we work on it should be an active medication that will work on the wounds. There are many companies that treat such wounds by using various methods like medicated sponges that treat the infection, but not the blood supply issue, or hyperbaric treatment that increases oxygen to the wound, but not the infection and so on. Just like when you have fever, applying cold pack to your forehead will not make the fever go away, but taking a paracetamol tablet will. We wanted a solution that would solve all aspects of the wound in one formulation."
They studied all the three aspects of such wounds, looked at blood vessels and how they grow, their internal pathways and how they are formed. "The solution to address these three problems lay in the three molecules that we developed. We developed a single gel based formulation (called HealRap) that had to be applied on the wound daily. This way a GP could give this prescription, it would require no debrailling, no bandages, etc. It was easy to use."
Unlike other businesses, drug discovery is a different ball game altogether. Says Milind, "We had to patent this of course. But, as you know, nothing in the world is new. So how you phrase your patent application is important. Also, there is the issue of the regulator. Since ours is a new molecule the DCGI had to devise new pathways."
Then there is the aspect of funding.
New drug discovery is an expensive game. Milind and Prasad had to raise funds to complete the first step, which is proof of concept. Says Milind, "We had to make the formulation, do its characterisation, which is its chemical molecules, the stability of these molecules, their interactions and so on. Then we had to do the primary efficacy study which was done on rats. All this needed money."
We Innovate approached Venture Centre Pune where such startups are nurtured. "They have the gadgets like microscopes, etc that we need for our work. Then we approached government agencies like Birac (biotechnology industry research council) that gave us Rs 38.6 lakh under their biotech ignition grant. This was for the years 2015-2016. Venture Centre under the National Science and Technological Entrepreneurship Board got us Rs 50 lakh for equity. We exhausted these funds in 2016. We needed more money to do pre-clinical trials. So, again we got another Rs 50 lakh from Birac under the SBIRI scheme of the government ( Small Business and Industrial Research Initiative) with this money We Innovate is working on skin irritation and sensitisation in rabbits and guinea pigs.
The funding story is just beginning
They will need money for the clinical trials to further prove the efficacy and safety in humans before they can monetise their innovative solution. "It is a good thing that the government is backing such high risk technologies such as ours. It is truly commendable. We will further need about Rs five to Rs 10 crore for the Phase 1 trials. We are pitching to VCs and angel funds. Given the current results we are pretty confident." After this the duo has thought of their options pretty clearly.
Says Milind, "we can either license our technology to big pharma where we will take a licensing fee and make money from the accessory technologies (improve their formulation or the delivery system such as make it injectible) around this. Or, we can partner with companies of different types. One could be a clinical research organisation, people who focus on doing clinical trials. Then we would need a manufacturer who would produce this gel and third, a marketing agency who would do the selling. This way not only the magnitude of money required at each stage will be less, there could also be proper exit points for the investors."
Worldwide, new drug discovery is a very expensive affair. Says Milind, "So far we have spent Rs 70 to 80 lakh to reach this stage. A pharma company would have spent Rs 10 crore to 12 crore by now. In fact, in the US, it is not the big pharma that does the drug discovery. It is done mostly by universities where these pharma companies go scouting for new molecules. The universities there have now started helping their students become entrepreneurs so that they can leverage their discoveries. This helps reduce the cost of new drug discovery. In India too with the government backing such high risk ventures this is becoming a trend."
Government can and will help
No entrepreneurial journey is without on obstacles. For We Innovate it was primarily understanding the regulatory systems as it is a grey area. "However, Dr G N Singh, drug controller general of India (DCGI) is very proactive about startups and works to help us a great deal. The other aspect is constrained resources. As a small startup we often cannot afford to buy all gadgets and instruments and often have to depend on third parties or government institutions such as Venture Centre. And of course, like all the startups of the world, funding. We have managed so far with government help though the funding at times comes in a little late. Though I must say Birac has been fantastic," says Milind.
The duo has not just stopped at the HealRap gel. "We are working on a diagnostic tool that will help doctors gauge in just two hours which drug will work on specific bacterial infections," he adds.
Says Milind: "As an entrepreneur I have to think of not just the science of molecules, but strategy, marketing, funding, patents and so much more. It's great fun."
Here's hoping this 'fun' will lead to many more such drug discoveries.