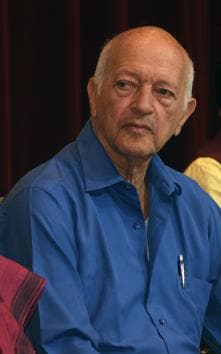 'There is something about India that captures, fascinates me'
Israeli film director Dan Wolman speaks about his love for India and why he likes to include humour in his films and more
Hindustan Times, Pune | By Anjali Shetty
UPDATED ON DEC 08, 2018 03:16 PM IST
Israeli director Dan Wolman is ready with a screenplay of 'My Father's Secret India', which will be shot 80 per cent in Israel and 20 per cent in India. On Thursday, Wolman inaugurated the Israel film festival organised by Pune international centre in collaboration with National film archive of India, He spoke about his love for India and why he likes to include humour in his films and more.
You have received three lifetime achievement awards, with the latest being at IFFI. What does it mean next for you?
I remember when I received a Lifetime achievement award in 2000 at the Jerusalem international film festival, I said on stage, 'Since childhood, I am addicted to films. I have tried every programme to get rid of it. Someone told me that a lifetime achievement award will do the trick.' Well, it clearly hasn't worked because I have continued to make films (laughs). It is a nice feeling to be appreciated and acknowledged. Especially since I have been making films even when my situation was terrible and I had no money. I would shoot sporadically one day a month and then over three years. Having said that, my biggest struggle has been to raise money for the next film. It could be because most of my personal films are not easy subjects and non-commercial to many people. I hope maybe now with all this recognition something will materialise and will get help to make another film.
The use of humour and comedy in your films is on point. How do you manage that balance, especially while dealing with serious issues?
I was not a regular kid. I learnt really early on his life to laugh at myself. Coming out in a group and making fun of yourself while others are doing it makes it less painful. In a party, when you are not in the centre and see yourself in a different angle, you realise you have a humourous and cynical side to you. And, this has been my approach ever since.
The depiction of real events and reality comes across very subtly in your films. How do you decide on how much needs to be told?
It is all about the personality of the person making the film. My films are not direct when it comes to reality. As a person, I don't like to put things directly. Sometime, I do get asked, 'What are you trying to say'. For example, I have written a play, it is yet to be completed, where I have quoted loneliness in a joke. I think sensitive people will feel the river of sadness underneath it. You will laugh through it only to realise it is not funny. This is how I like to tell my stories.
Your wife Shoshi plays an integral part in your filmmaking process, tell us about her?
I am really lucky to have her in my life. I am a difficult person to live with, personally and professionally. Yet, she has stayed with me in both terms (laughs). She is extremely talented with her editing, she is an author and poet too. She keeps me grounded and doesn't shy away from pointing out my terrible ideas. She keeps me grounded.
Your connection with Indian cinema is evident with your presence as jury in several film festivals. Any plans on making a film on India?
It is true that since 2003, there is something about India that captures me. I would say the country fascinates me for its variety and diversity. India is very much a part of me. I have developed a screenplay 'My Father's Secret India', which will be shot 80 per cent in Israel and 20 per cent in India. It is something that I have just finished translating to English and will be meeting people to materialise it. The story is about a friendship between a young boy and his Indian caretaker.
Close