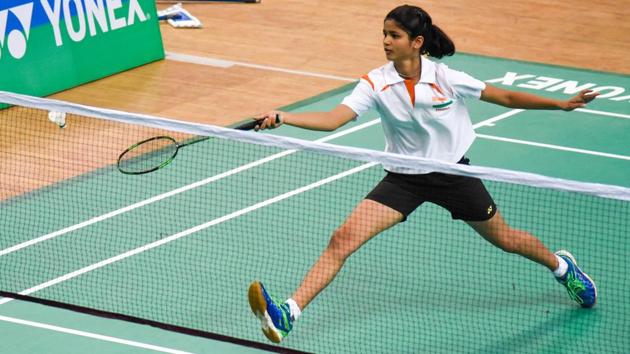 Village shuttler Prerna is belle of the ball at World School Badminton Championship
15-year-old leads India's charge as 'A' team beats Brazil
Hindustan Times, Pune | By Ashish Phadnis
UPDATED ON APR 20, 2018 11:02 PM IST
For 15-year-old Prerna Alvekar of Wadange village near Kolhapur, simply donning the India colours at a world championship meet is exciting enough. Alvekar faced Brazil's Siziane Ferro at the World School Badminton Championship at Shiv Chhatrapati sports complex, Balewadi, on Friday.
Five years back, when Prerna Alvekar started her badminton lessons, she didn't imagine she would be representing India at the world level.Initially, Prerna was a little nervous and trying to get the feel of the court. Once she settled, her range of strokes and powerful smashes came into play as she overpowered Siziane to win 21-6, 21-8.
Her father Shivaji is a primary school teacher, while her mother Rajashree is a homemaker. They just wanted to engage her in some physical activity. The move paid off and soon Prerna started winning at the district level. "It was the time when my father thought that I need serious coaching and he enrolled my name in Kedar Nadgunde's academy in Kolhapur city. We got an evening 8pm-10pm batch and my father took the tedious job of dropping and picking me after the sessions," said Prerna.
The Alvekar family continued this schedule for a couple of years, as Prerna was doing a good job at the state and national level. Prerna soon realised that she needed more advanced training if she wants to perform at the international level. So to get better training, Prerna's mother shifted their base to Sangli to enrol her name in the Timir Araware Academy in March 2018.
"My aim is to get admission to the Padukone Academy in Bengaluru. We are in talks with them," she said. Prerna has won several state medals in the last couple of years but is yet to win any medal at the national level.
However, she finished third in the school nationals held in Agra prior to the World School Badminton tourney and was picked up for the India A team. "This is my first international. I have a long way to go. I need to play several national- and international-ranking tournaments," she said. Prerna's win contributed to her India team's 5-0 victory over Brazil in the 'selected' team category.
RESULTS
In the doubles match, Nikita Sanjay and Anjana Kumari defeated Brazil's Maria Emanuelle Rocha and Lorena Vieira 19-21, 21-19, 21-17.
In the second doubles game, Sivpriya Kalayarisi and Chirman Kalita scripted an easy 21-7, 21-12 win over Eiouanha Madrado and Gleyce Moura.
In the other singles match, Nikita Sanjay outshone Maria 21-14, 21-10, while Kalita defeated Vieira 21-13, 21-13.
Meanwhile, in other matches the India B team failed to win a single match against Chinese Taipei and lost 5-0. The India A team, in 'school' category also went down to England 0-5
Close