Action against Fastway cable TV monopoly in Punjab: Navjot Sidhu ups ante, shifts onus on CM Amarinder
Updated on Aug 02, 2017 09:50 PM IST
Local bodies minister says if Amarinder transfers the excise dept to him, he would order an audit of the company for the past 10 years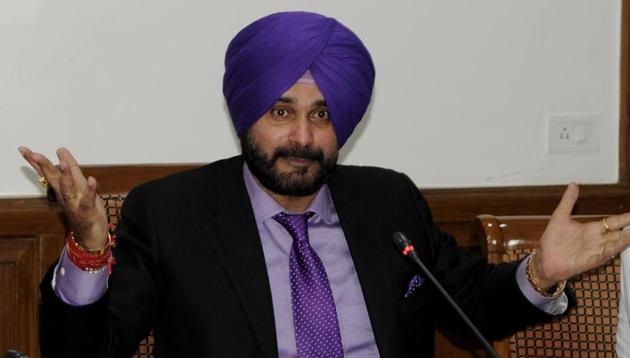 Upping the ante against Fastway and chief minister Captain Amarinder Singh as well, local bodies minister Navjot Singh Sidhu sought an audit of the company for the past ten years, on Wednesday. He claimed that the company had not paid taxes of Rs 20,000 crore. Without naming anyone, he called the present government "Kamzor" (weak), two days ahead of a Cabinet meeting on August 4 (Friday).
"I need the support of the CM and other cabinet colleagues to take action against the cable company," he said, adding that he would move this item on the agenda for Friday's meeting.
He went to add, "The excise department that collects the taxes is with the CM. If an ordinance is passed and that power be given to the local bodies department, I am ready to audit the accounts of Fastway cable network, Ferr vekkhiyo main ki kardaan jinney (Fastway) rajj ke luteya (then see what I do to the company which looted (the state)."
In the four-month-old Congress government, there have been other instances too when Sidhu has sought the CM's support and decided to make his call for action public (see box).
So far, Amarinder has been silent on Sidhu's utterances.
'Need strong laws'
Claiming that the law in this regard was weak, he said, " In 1995, the entertainment tax per television was Rs 50. The previous government tweaked the law, so that a cable operator with any number of cable connections would pay yearly lump-sum tax of Rs 15,000. "I need strong laws to work and a 'Kamzor' government can't do anything."
In Wednesday's press conference, Supreme Court lawyer Vineet Bhagat, who has previously appeared in court for small cable operators, was seen helping Sidhu with facts and figures. Adviser to the local bodies department Amar Singh was also present.
Rules out entertainment tax
Sidhu also sought powers by way of state government under the new GST regime beginning July 1 to recover taxes from cable companies. "The new taxation laws empower the local civic bodies to recover entertainment tax, so it is up to the government to decide what to do," he said.
On imposition of a fresh entertainment tax, Sidhu said he would not take put the tax burden on people, but will work to give a level-playing field to all stakeholders in the cable industry, "Why did all Direct to Home (DTH) services pay 10% tax and Fastway paid a negligible amount," he asked.
Sidhu indulging in political vendetta: Fastway
Responding to Sidhu's remarks, Fastway said in a release that release that the minister was intent on defaming them. "The press conference on Wednesday was nothing, but political vendetta. A level-playing field already exists in the business in the state. The company has been paying its taxes on time."
Referring to advocate Vineet Bhagat, the company accused the lawyer of twisting facts and claimed that he had lost all cases he had filed against the company in Telecom Disputes Settlement and Appellate Tribunal (TDSAT), an appellate authority set up to deal with cases related to the cable TV industry.
Personalise your news feed. Follow trending topics