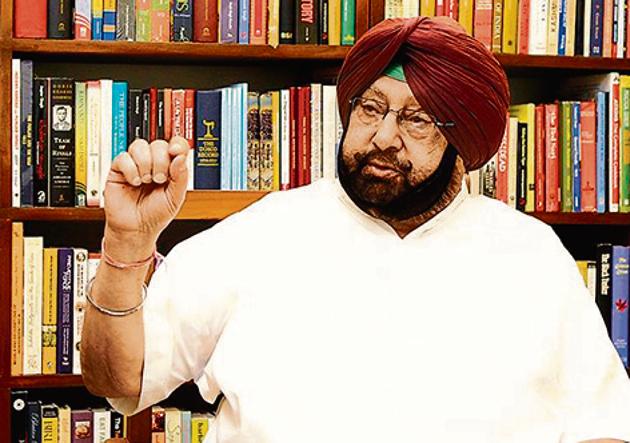 Kashmir is the new source of drugs, says Punjab CM Amarinder Singh
In an hour-long freewheeling conversation with the HT Executive Editor at his rain-soaked official residence in Chandigarh, Captain Amarinder Singh spoke about the drug menace in the state, seemingly unfazed by the political heat over it.
UPDATED ON JUL 14, 2018 11:33 PM IST
When it comes to perception management, Captain Amarinder Singh, 76, is a past master in the craft of outfoxing his rivals. Besieged by a potentially image-scarring drug issue, the Punjab chief minister swiftly reeled out a raft of headline-making moves, some of them decidedly half-baked, such as compulsory doping for all government employees, death penalty for first drug conviction and an appeal to Akal Takht, a political manoeuvre with Panthic overtones. His opponents deride his anti-drug steps as cosmetic and diversionary. In an hour-long freewheeling conversation on Friday with the HT Executive Editor at his rain-soaked official residence in Chandigarh, the Captain came across unfazed by the political heat over the drug menace. Excerpts:
How grave is the drug problem on the ground?
It is grave in the sense that any child who gets addicted is Punjab's loss. It has started spreading. There may be states in a worse position. But the death of even one child is traumatic, and what you've been seeing on social media…children dying with syringes still stuck in the body. Unfortunately, when the drug problem started some years ago, nobody took it seriously. Ever since social media and newspapers started highlighting it…by the way one day Hindustan Times had three pages on drug-related reports…that started making parents sit up and wonder what the hell is this happening. Saada bacha vi ehdan marooga (Our child will also die like that). Now we have reports of parents taking their children to government centres to get them cured. That is a good sign. There are villages in which peddlers and those taking drugs have been caught and thrashed. So it has started becoming a movement, and that's the only way it can be sorted out. Police can only bring pressure.
The opposition is reminding you of your pledge before the assembly elections to wipe out drugs within four weeks of coming to power
My promise was: 'Mein chaar haftean vich ehda lakk tod ke chhadunga (I will break the backbone of the drug menace in four weeks)'. That's what I said and that's what I mean. (To buttress his point, the CM makes media adviser Raveen Thukral play the 2016 clip on his mobile). Today, I've been told ever since we started building pressure in Punjab, drug dealers are running to Delhi.
The Akalis claim when in power they fought narcotics tooth and nail. How has your fight been different?
Some of de-addiction centres were built during their rule but they remained unoccupied. Beyond that there was nothing on the ground where drug addiction was growing because a lot of their guys were involved in it. They didn't clamp down. They don't have to be involved at the level of Mr Sukhbir Badal or Ms Harsimrat Badal. But down the line, a lot of their people were involved in the business of drugs.
What is the source of drugs now?
It started with Pakistan and its Inter Services Intelligence (ISI). Their security lies in destabilising us, whether in Punjab or Kashmir. So, heroin started coming from there. Gangsterism too was developed by Pakistan, and there is a link between gangsters and drugs. Once we tightened up and also the Government of India deployed five BSF battalions in recent months, gaps on Punjab's borders have been plugged. That has taken care of inflow of drugs and arms. What is now happening is strange. One new source of drugs is Kashmir despite so much security. The other one is Delhi where Nigerians have built a nexus. We've arrested 15 Nigerians who were smuggling it to Punjab. Some drugs are coming from Jharkhand, the Naxal belt that may be linked to Myanmar or China. We've been fairly successful in blocking heroin. Now it is synthetic drugs that are coming. A gram of heroin costs about Rs 6,000 on the streets. As the supply lines have been disrupted, peddlers are creating concoctions of heroin and chemicals to make money. That is what is killing.
How many deaths due to drug overdose?
Figures are not known. According to media reports, it must be more than 30. We have ordered post-mortem of suspected drug deaths. But we are nothing compared to Delhi, which is very bad in terms of deaths.
You have ordered dope test for all government employees. Is that an antidote to this issue?
If one is coming to uniformed services, one has to fight drugs. If you are an addict yourself, how are you going to fight drugs? That's why the dope test is compulsory for Punjab Police personnel and youngsters joining, regardless of what newspapers are saying that women should be exempted. Why should that be the case? If a constable is a woman, she does the same job as a man.
So, you are not exempting women?
Why should we? If a woman can be a fighter pilot of the Indian Air Force, where is the difference? Men and women are doing the same jobs. So they should also undergo the dope test.
But experts say the dope test doesn't detect narcotics unless consumed just before the test?
There are some drugs which, if not taken for seven days, disappear from the body. But some remain. Look at how doping agencies catch sportspersons.
What purpose will be served by putting non-uniformed employees to the test?
Patwaris, naib tehsildars and cooperative staff deal with people. I don't think anybody should be left out. The test will be on recruitment and for the first promotion. I've asked the chief secretary to come up with modalities.
Some of your ministers are sceptical.
We have to block avenues wherever they may be. Something has to be done, whether you put the cart first or the horse first.
Your government has recommended death penalty for first conviction under the NDPS Act, while there is already such a provision on the second conviction.
I don't believe in death penalty even though my background is soldiering. Two years ago, I had voiced my opinion when the case of Davinder Pal Singh Bhullar (sentenced to death in a terror case) had come up. A man who spends his life in jail goes through much worse than having his head chopped off. But the reason now is so many youngsters are being spoilt by drug dealers and they have to be given exemplary punishment. A minister said 'this country doesn't do it or that country doesn't do that. Why should Punjab do it'. You go to Saudi Arabia or Thailand, anyone caught with drugs gets his head chopped off. That is the only way they've checked it. If we are in a position to ensure that in the first attempt, a drug smuggler is convicted and given a death penalty, it will act as a deterrent.
NDPS cases have a low conviction rate.
We have a proposal for fast track courts on NDPS cases. For that, we will have to talk to the chief justice. Sometimes NDPS has been used to frame people. The death penalty at first conviction will bring stringent checks and balances in a legal system. It will put the fear of God into them.
You're seen deflecting the drug issue to the Centre.
It's not that. Even if two or three people are convicted and sentenced to death, it will be a deterrent. It is up to the Centre to take up our suggestion for amendment.
The opposition says your government is not going after the big fish.
There are three big fish of Punjab origin. There may more people into it. One chap is in the Hong Kong jail. We're trying to get him extradited but the Chinese are not agreeing. The second is in another country, and the third is in India. We know they contribute to the drug business. There may be drug dealers from Mumbai and Delhi sending their touts to Punjab. How do we get to the big fish if they are not in our jurisdiction? It is a long haul.
What's your view on legalising and regulating sale of opium and poppy husk to wean away youth from synthetic drugs?
It will be a national decision. It is not in our hand. There also has to be a national drug policy. Today, in Madhya Pradesh and Rajasthan, can grow and sell drugs. Punjab becomes a lucrative market because money exists here. I'm against drugs of any sort. The Centre should set up an expert panel to take a call on the drug policy.
Your DGP and chief of the anti-drug special task force are at loggerheads. Has that affected the fight against drugs?
The DGP is the DGP. That's it. One heads the police force, and if anyone wants to function in the state, you have to listen to the DGP. The reason we took him (STF head Harpreet Singh Sidhu) into the chief minister's office was that it was the only way to get him on premature repatriation to Punjab. That issue is still not resolved. Eventually, it (the STF) comes under the police. For the STF to be effective, its strength of 329 men in 22 districts is insignificant. They have to be part of the overall police structure. They have no jurisdiction over the station house officers who know the pulse of their areas. The STF will have to work with them. We will bring the STF into the mainstream police. It will be a separate entity like intelligence and vigilance wings, and the STF chief will report to the DGP.
Can there be a political consensus on fighting drugs?
We can't work with them (the Akalis) because I hold them responsible for letting the state slip into this morass. The Aam Aadmi Party is more interested in scoring brownie points, nothing else. I don't think they can make any positive contribution. But I've sought Akal Takht's help. In their 10 years in power, the Badals never asked me to come and help.
Sukhbir Singh Badal says he as home minister didn't find any political nexus in drugs.
He is shortsighted. He needs glasses. How can he say that? How did this whole thing blow up? We found these guys (the Akalis) involved in the drug racket. That may not be at the level of Sukhbir but plenty of them were in it.
You're accused of mollycoddling when it comes to nailing politicians. The STF, in its report to the high court, made a case for further probe.
I'm not getting into the STF and police's slanging matches. That's unfortunate and something I don't accept. But are you referring to Bikram Singh Majithia? His case is with the Central Bureau of Investigation and the Enforcement Directorate. What else can the STF do?
What is the outcome of the government's negotiations with Sikh radicals protesting the Bargari sacrilege?
They want us to withdraw the case from the CBI and announce the names of culprits. This is not child's play. How can we do that and on what grounds? The CBI probe is at an advanced stage. The Justice Ranjit Singh Commission has also submitted the first of its four reports. The first report points to the involvement of certain police officials in the Behbal Kalan firing. But the home secretary and advocate general will examine it and forward it to the CBI.
The protesters also want Sikh detainees released.
There are 22 detainees from an older period. They wanted one person shifted from Rajasthan to a Punjab jail. We have no objection to that and have written to the Rajasthan government. Twenty-one are convicted under the Terrorist and Disruptive Activities Act (TADA) and lodged in Delhi. We've asked the Centre to shift two of them to Punjab, but there has been no response. Once the Centre decides, we will take up the case of the rest.
Punjab was ranked 20th in the latest ease of doing business report.
I don't believe that. We've done a lot of work in a year. Our industrial policy is yet to come out. Investors have started looking seriously at us. The truth of our performance will come out in the next report.
Close