Boiler explosion in Malerkotla paper mill kills 3 workers
A blast in a paper mill at around 1 pm on Monday has left two people dead and as many as 21 injured in Malerkotla.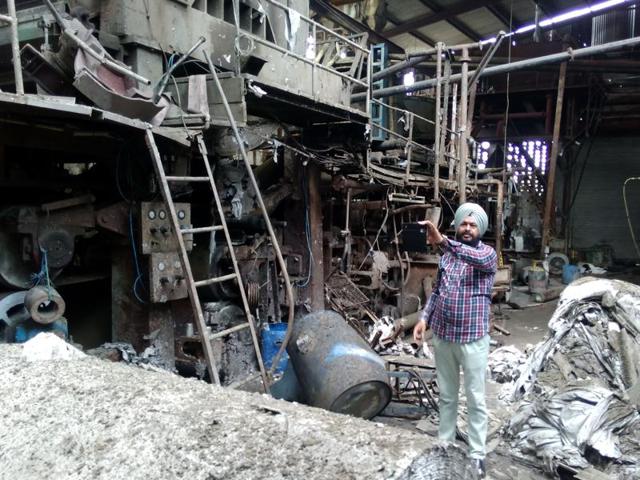 Updated on Aug 23, 2016 01:01 AM IST
An explosion inside Vishal Paper Mill here at about 11am on Monday killed three workers and injured 19.
As sudden rise in steam pressure burst a raw-paper-drying cylinder installed only last month, a big fire started. The blast that ripped apart all machinery and the roof was heard for 2 kilometres. Two workers — Mannu Kumar and Narinder Kumar — were killed on the spot, while another — Prem Kumar — died on way to a Ludhiana hospital. A couple of the seven referred to Ludhiana and Patiala remain critical.
Five ambulance teams reacted fast to save many lives. Factory workers and truck operators joined the rescue. The new dryer was not inspected for compatibility with the existing machines. "It was linked to an old boiler," mill manager Bikar Singh said. "Suddenly, it malfunctioned and too much steam built up inside."
Factory worker Khela Ram said he couldn't see or hear after the blast. "When I regained consciousness, my legs and arms were burning and some men were trying to pull me out of fire." Rescuer Gurjant Singh, who was among the first to rush in from another unit, "found injured people all over the floor".
Malerkotla subdivisional magistrate (SDM) and police inspected the scene of the accident and talked to the injured. The labour welfare department has ordered an inquiry. The report will go to the state labour commissioner and Punjab Industry Safety Council. "If the management neglected safety," said labour department additional director Sodhi Mal, "we will take it to court.".
Close Story