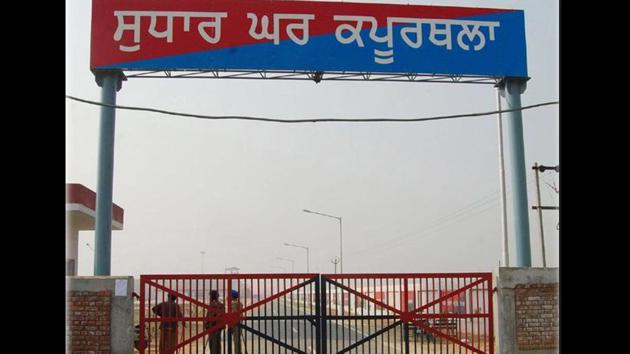 Five mobiles, internet dongle seized from 4 jail inmates in Kapurthala
During a search of barracks during the last one week, jail officials recovered a Samsung mobile phone, a SIM card, a battery from one Amar Singh of Ludhiana in barrack number 7 on April 23
UPDATED ON MAY 01, 2018 12:51 PM IST
Authorities of the modern jail here have recovered five mobiles, some SIM cards, mobile batteries and an internet dongle from four inmates during the past one week. The Kotwali police station on Monday registered a case against the four on a complaint by jail officials.
During a search of barracks during the last one week, jail officials recovered a Samsung mobile phone, a SIM card, a battery from one Amar Singh of Ludhiana in barrack number 7 on April 23. In another raid in barrack number 3 on Friday, officials found inmate Gurpreet Singh of Rurka Kalan talking on a Samsung phone. He revealed that the phone was of another inmate Karamdeep Singh of Bathinda.
Authorities also seized a Samsung mobile along with a SIM card and a battery from inmate Amarjeet Singh of Adampur. An official team also found two mobile phones with SIMS and a 4G internet Airtel dongle from the jail premises on Saturday.
A dongle — also called an internet dongle — is a small USB device that allows you to access the internet. It can be referred to as a dongle, USB modem, internet stick, USB network adapter or USB mobile broadband stick.
Cases against the accused inmates were registered under Section 52 of the Prisons Act at the Kotwali police station.
The incidents of recovery of cellphones and other objectionable items have been going on unabated over the past several years in the jail premises despite the prison authorities' claims of having strict security arrangements in place.
The FIR record of Kotwali police station revealed that as many as 48 mobiles were recovered in the jail in 2013; 70 in 2014; 75 in 2015; 82 in 2016 while over 85 cell phones were recovered in 2017, besides the seizure of SIM cards and chargers. This year, over 35 mobile phones have been recovered by the staff so far.
A senior police officer in Kapurthala police said smuggling of mobile phones inside the jail could only be done in connivance with the jail staff as chances of visitors supplying these gadgets to the inmates are minimal due to tight security in the prison.
Jail officials, however, say it is due to the shortage of staff and lack of modern equipment in the prison to keep tabs on such things.
"Out of the total 13 mobile jammers installed inside the jail, most of the jammers have been non-functional for past several weeks and they are also not capable to block 4G signals," a jail official said on the request of anonymity.
Jail superintendent Surinderpal Khanna could not be reached for comments despite repeated attempts.
Close