Man who fired at constable outside Ludhiana hospital lands in police net with aide
Updated on Oct 26, 2018 01:13 PM IST
The accused had opened fire at the constable on Oct 8, the latter was taking him to a police post suspecting him to be a vehicle lifter after he failed to produce his motorcycle's documents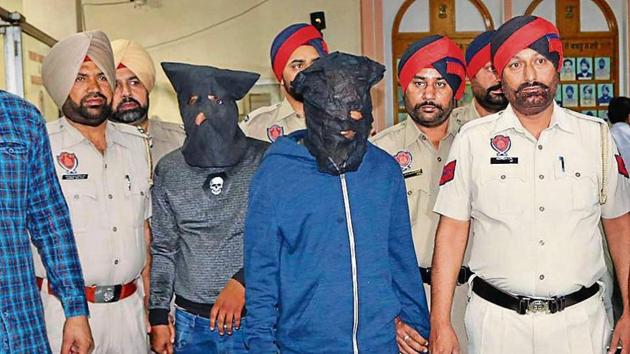 A fortnight after a suspected vehicle-lifter fired at a police constable outside the Dayanand Medical College and Hospital (DMCH) in broad daylight, the accused landed in police net on Wednesday.
Police said accused Rohit Kumar alias Kubba alias Gurpreet, 27, was arrested by the city police from Uttarakhand on Wednesday late evening. His accomplice Ranvir Singh Rana was also arrested and both were brought to the city on Thursday.
Police said Kumar, a resident of Haibowal Khurd, was wanted in several cases of robbery, murder and attempt to murder.
On October 8, he shot at police constable Davinder Singh outside DMCH and fled with his accomplice Rana. The incident took place when the constable, suspecting Kumar to be a vehicle-lifter, was taking him to the police post for questioning.
On October 9, Kumar was involved in robbing employees of a cash collecting agency of ₹10 lakh from Amazon godown in Rajguru Nagar. He had also shot at two employees of the agency with his country-made pistol.
The police recovered the weapon used by the accused in both the incidents. Addressing the media, commissioner of police Sukhchain Singh Gill said that the city police, team with help of Uttarakhand Police, traced the location of the accused and arrested them from a petrol pump in Udham Singh Nagar in Uttarakhand. "Accused Rana belongs to Bazpur tehsil of Udham Singh Nagar," he said, adding that Rana was employed at a unit in Meharban.
Both involved in DMCH firing
The police chief said that on October 8, both the accused were present at DMCH. "Rana went inside the hospital while Kumar was waiting outside on a motorcycle. The constable demanded documents of the motorcycle from Kumar which he failed to produce. The constable was then taking him to the police post when Kumar, fearing arrest, fired at him and escaped," he said.
He said the duo kept changing their place of hideout until the police finally nabbed them yesterday.
Rohit was hired for ₹10 lakh robbery
The police commissioner further said that on October 11, when four accused of ₹10 lakh robbery at Amazon godown were arrested, police found Kumar's involvement in the case. "The master mind of the incident Karamjit alias Joga, former employee at Amazon godown, wanted an armed man in the group to execute the crime. Therefore, he hired kumar. The gang was planning to execute the crime on October 8 but after the incident outside DMCH, the plan was postponed to the next day," the commissioner said.
Seven cases against Kumar so far
Gill said that as of now, seven cases have been traced against Kumar and two cases against Rana. "We can Kubba (Kumar) is an emerging gangster and would have committed more crimes while on the run," he said.
The police chief said that as of now, the oldest case traced against Kumar was in 2008. He was booked twice at division number 4 police station in a case of attempt to murder (section 307 of the IPC) and another case of voluntarily causing hurt by dangerous weapons or means (Section 324 of the IPC).
In 2014, he was arrested in Jammu by Samba police in a case of theft at dwelling house. Kumar was in jail there for two and a half months and later jumped the bail.
In 2017, Kumar was booked in a case of ₹15 lakh robbery at Pindi Street in Ludhiana. He was declared a proclaimed offender in this case.
In another case this year, Kumar, along with another accused Gagan, attacked a street vendor Amit Daliya on May 11. Basti Jodhewal police had arrested Gagan while Kumar was on the run. Both were booked in under Section 307 (attempt to murder) but when Daliya died, the charges were converted to Section 302 (murder) of the Indian Penal Code (IPC).
Kumar is married and has a four-and-a-half-year-old son. He never returned home since he came out on bail from a jail in Jammu.
Personalise your news feed. Follow trending topics