Progressive farmers in Punjab show the way by putting an end to stubble burning
They share how they manage the crop residue, while experts suggest financial support for such farmers.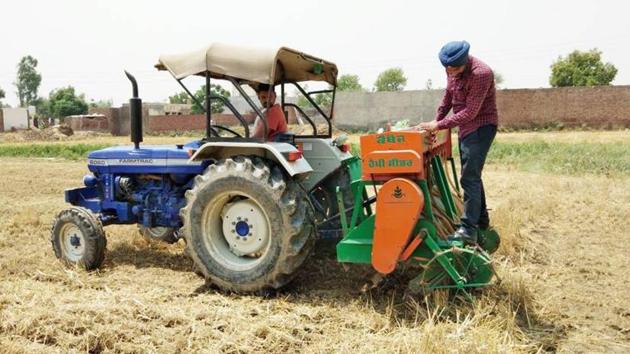 Updated on Sep 15, 2018 10:20 AM IST
Hindustan Times |
HT Correspondents
With a brief window to clear the field for sowing wheat before winter sets in, farmers tend to burn the crop residue, causing smog to engulf the region. This happened till the last paddy season despite the National Green Tribunal (NGT) ban on stubble burning three years ago. However, these sons of the soil have stopped putting a matchstick to paddy stubble and are embracing new techniques and practices. They share how they manage the crop residue, while experts suggest financial support for such farmers.
Soldier lives up to his promise
It's been a decade since Parduman Singh and his son, Harkaranveer, stopped burning paddy stubble and started using the happy seeder to sow wheat in 50 acres at Nagar village.
Parduman, a retired soldier and president of the village co-operative society, says his daughter, Sarbjit Kaur, asked him to give up burning stubble way back in 2008. "She took a pledge from me after some pups were trapped in the middle of our farm when we set it ablaze. I managed to rescue them but decided to look for an alternative way to dispose of the straw," he says.
Senior agriculture officer Manmohan Kalia guided him on using the happy seeder. At present, Kalia is the officiating joint director of agriculture engineering-cum-nodal officer for crop residue management.
"I got the happy seeder on rent and used it for two seasons before I bought my own in 2010," he says, adding that he was awarded by former chief minister Parkash Singh Badal in 2014.
Harkaranveer, who is now an expert at operating the happy seeder, says that he was 13 when he started helping his father in the farm. "Cultivating wheat using the happy seeder is easier and faster. We have seen a two-three quintal increase in the yield too. The decomposed stubble is the secret," he says.
Parduman has convinced several farmers of his village to use the happy seeder.
Manmohan Kalia, nodal officer for crop residue management: Using the happy seeder to cultivate wheat not only saves the environment from stubble burning pollution but also helps in keeping the crop healthy by controlling the temperature, working as a natural fertiliser and keeping insects away. "There are 1,900 happy seeder machines in fields across the state and this year we want to take the number to 7,000 by encouraging farmers to use this technology," he adds.
(By Parampreet Singh Narula)
Stubble into compost
Gurmail Singh, 60, of Gunike village from Nabha is a member of Punjab Agricultural University's Kisan Club and has been in farming for 20 years. He owns six acres and has never burnt stubble of either wheat or paddy crop.
"I started farming in 2000. I turn the paddy stubble into compost that gives my field necessary nutrients. Burning stubble only brings down the soil's productivity. The wheat stubble can be used as cattle feed," he says.
Gurmail, who now campaigns against burning crop residue, says farm equipment such as baler should be provided through cooperative societies to ease the financial burden on farmers.
Dr JS Mahal, director, extension education, Punjab Agricultural University: It's best to keep the paddy stubble in the field. It works as a nutrient for wheat and vegetable growers. Farm equip-ment such as mould board (MB) plough chops the stubble and mixes it with the soil and provides the required nutrients to the crop to be sown. Farmers need to be supported financially so that they can avail of the equipment required.
(By Mohammad Ghazali)
Reaping rewards with Rotavator
Gurraj Singh Virk, 64, of Kotkapura in Faridkot district was called a sarkari (government) agent when he refused to burn paddy and wheat residue.
Virk owns 40 acres and he grows paddy in 20 acres. He grows citrus fruits in the rest of the area.
The Faridkot district administration honoured him this Republic Day for not burning stubble since 2003.
"Initially, it was difficult due to the unavailability of machinery. I ploughed the residue into the field before irrigating it and let the straw decompose in the soil. In 2007, I tied up with six factories that had baler machines. They took the straw from 10 acres, while I used the residue from the rest of the 10 acres in the citrus garden," he says.
"In 2013, the companies offering the baler service started charging ₹2,000 an acre to fetch the straw. I decided to move on and prepare the field with two rounds of the rotavator per acre. Later, wheat was sown mixing diammonium phosphate and urea through the Happy Seeder machine," he says.
The diammonium phosphate and urea help in decomposing the paddy residue. "The best output is achieved by not burning paddy stubble. Compost enhances soil fertility," he says.
He advises farmers with small landholdings to sow the crop with the Happy Seeder and prepare the field for the next crop with the rotavator. "This process may be costlier initially but it will reduce the consumption of fertilisers by half in three years," he adds.
He says farmer unions often mislead rather than guide farmers on the right way to manage the stubble without burning it.
(By Gagandeep Jassowal)
Happy with the Happy Seeder
When Narinder Singh of Kotla village in Garhshankar said no to stubble burning last year, he placed his bets on the happy seeder. Many of his well-wishers were sceptical but he went ahead and proved them wrong. "I wasn't sure but I heeded to my inner voice and sowed the wheat with the new technology. With God's grace, I got a better harvest in quality and quantity," he says.
Seeing his success, other farmers in the vicinity also adopted the technique. "This year, I helped four farmers of Garhshankar and Nawanshahr purchase the happy seeder," he says. Buoyed by last year's results, he bought another happy seeder this year with government subsidy. This time, he has sown paddy in 200 acres. "Sowing with happy seeder consumes less water and involves less fuel expenditure," he says.
Chief agriculture officer Vinay Sharma says 10 farmers of the district who had stopped burning stubble were recently honoured.
(By Harpreet Kaur)
All it takes is the will to reinvent
Surinder Sharma, 39, of Patiala's Panjola village has given up burning stubble for two years.
"More than the yield, it's the sense of satisfaction that I'm contributing to making the environment better for generations to come," says Sharma. He is the first farmer from the village to adopt machines to manage the stubble.
"The residue is chopped and ploughed in the field with rotavators twice before the field is irrigated and readied for the next crop," he says.
He tried the method by sowing potatoes in three acres and got good results. "I follow the technique while sowing wheat in the rabi season and vegetables in 40 acres," he says.
Two of his friends, Navjot Singh and Jaskaran Singh, opted for this process to manage the paddy stubble in 100 acres.
Navjot says the government should ensure farm equipment and subsidies are accessible to farmers every year. "Stubble burning can't be stopped without government support to farmers for buying machines," he says.
Jaskaran says farmers need to be sensitised about the ill-effects of burning and the need to reinvent. "Farmers should be sensitised about the hazards of burning straw," he says.
(By Navrajdeep Singh)
Chop and spread the straw, don't burn it
Darshan Singh Sidhu of Rampura Phul and Amardeep Singh Dhillon of Karar Wala village in Bathinda district tackle the paddy residue by chopping and mixing it in the fields.
Since 2011, Sidhu has been using the paddy straw chopper-cum-spreader to chop it into small pieces and spread it in his 35-acre field. "This process costs about Rs 400 an acre but it has reduced my dependency on fertilisers," he says.
Having won awards for innovative techniques in agriculture, Sidhu says he used the super straw management system combine to manage the stubble last year.
"Initially, when I talked of managing the stubble without burning it, many didn't take me seriously but I persisted. The government recognised my efforts and now I'm called to awareness camps to share my experience with other farmers," he says.
Dhillon has been managing the stubble without burning it his 90-acre field for three years by using the paddy straw chopper-cum-spreader.
(By Sachin Sharma)
Close Story
Personalise your news feed. Follow trending topics