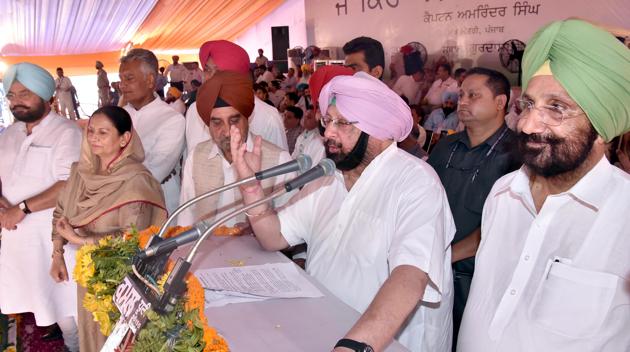 Punjab CM announces medical college for Gurdaspur, new sugar mill for Batala
A government medical college and hospital was a long-pending demand of Gurdaspur residents because people from here have to travel to Amritsar in case of serious diseases
Hindustan Times, Gurdaspur | By Kamaljit Singh Kamal
UPDATED ON APR 05, 2018 09:46 PM IST
Chief minister Capt Amarinder Singh announced a medical college for Gurdaspur and a new sugar mill in the co-operative sector in Batala while addressing a gathering of farmers from six districts at an event to disburse loan-waiver certificates of up to Rs 2 lakh each here on Thursday. He further declared that under the state government's policy of relief to farmers, farm labourers will also be covered and will get a relief of Rs 50,000 from bank loans.
A government medical college and hospital was a long-pending demand of Gurdaspur residents because people from here have to travel to Amritsar in case of serious diseases. It is also part of the state budget this time. The announcement came when Punjab Congress chief and local MP Sunil Jakhar made a request during the function; at this, the CM asked Jakhar to find land for it.
Nearly three decades ago, the local civil hospital was upgraded from 50 beds to 100 hoping that eventually it would be upgraded to a medical college. Former Gurdaspur Lok Sabha member and now Rajya Sabha MP Partap Singh Bajwa too made efforts to bring a government or even as private medical college to Gurdaspur, but to no avail. Gurdaspur has a government engineering college and an institute for hotel management.
As for the sugar mill, the state government had set up a committee for improving the existing Batala cooperative sugar mill as it has dilapidated machinery. The CM said the committee has submitted its report that it will be of no use to renovate the existing mill as it will cost a lot, whereas setting up of a new sugar mill will be cheaper and more beneficial.
As for the main agenda of the function, the loan waiver beneficiaries were 26,918 marginal farmers (owning up to 2.5 acres) from Gurdaspur, Pathankot, Amritsar, Tarn Taran, Hoshiarpur and Nawanshahr who got cheques against loans of Rs 156.12 crore taken from co-operative societies and co-operative banks. The CM said that by now 1.02 lakh farmers have been covered under the waiver scheme that is meant for marginal and small farmers (owning up to 5) acres, at a cost of Rs 455 crore to the state. He underlined that this function was the third of its kind; the earlier ones were held at Mansa and Nakodar. He also reiterated that his government "leads" by offering farmers a waiver of up to Rs 2 lakh while Uttar Pradesh and Maharashtra offered Rs 1 lakh and Rs 50,000, respectively.
He noted that it is unfortunate that 10.25 lakh of Punjab's 17.5 lakh farmers are in debt. He promised a "complete" solution to the problem of farm loan in a phased manner "as and when the state exchequer allows". He expressed concern over suicides being committed by the debt-ridden farmers. He held the 10-year "misrule" of SAD-BJP alliance — before Congress took power in March last year — responsible for the financial crisis in the farming sector. To make the assertion that he stands by the people in crises, he also mentioned the promise of a government job and financial help of Rs 5 lakh each to families of the men killed by terrorists in Mosul (Iraq).
Later, he also took a dig at the opposition AAP and SAD MLAs boycotting parts of the recent Vidhan Sabha session over "minor differences of opinion", and underlined that functioning of the state assembly "costs Rs 70 lakh a day". Commenting on 23 days of non-functioning of the Lok Sabha, he said the functioning of the Lower House of Parliament costs "Rs 9 crore a day" and the MPs "must discuss everything, instead of avoiding discussions". It mus here be underlined that Amarinder had particularly low attendance when he was most recently a member of the Lok Sabha (2014-16) before he quit and later became the CM.
None of the six speakers made a mention of Rajya Sabha MP Partap Singh Bajwa, who was conspicuous by his absence even as he is a local. Bajwa's younger brother Fateh Jang was among the speakers. Amarinder centred his speech around farmers and did not talk at all about the problems of drug abuse and unemployment. He arrived by a chopper for which a helipad was made near the function ground.
Six speakers, including the CM, addressed the gathering at the function that lasted an hour and a half, from 12.30 pm to 2 pm. Cabinet ministers Tripat Rajinder Singh Bajwa and Aruna Chaudhary, state Congress president and Gurdaspur MP Sunil Jakhar, and MLAs Barindermeet Singh Pahra, Sukhjinder Singh Randhawa and Fateh Jang Bajwa were the other speakers. Singer Pammi Bai and his troupe held the audience's attention from 10 am to 12.30 pm before the chief minister arrived.
Others present on the occasion included MLAs Balwinder Singh Laadi, Arun Dogra, Sunder Sham Arora, Raj Kumar Chabbewal and Rajnish Kumar Babbi, former ministers Ashwani Sekhri and Gurchet Singh Bhullar, and the district Congress unit presidents of Gurdaspur and Amritsar, Ashok Chaudhary and Bhagwant Pal Singh Sachar.
Close