Punjab's burning problem: Stubble fire ban reduced to ashes
Stubble burning continues to pollute Punjab's air and impoverish its soil, mainly due to poor implementation of the ban imposed by the state government in 2005. No farmer has been convicted for flouting the ban in the past nine years. I Poll: Is the Badal government not enforcing the ban on paddy stubble burning with an eye on the farmer votebank?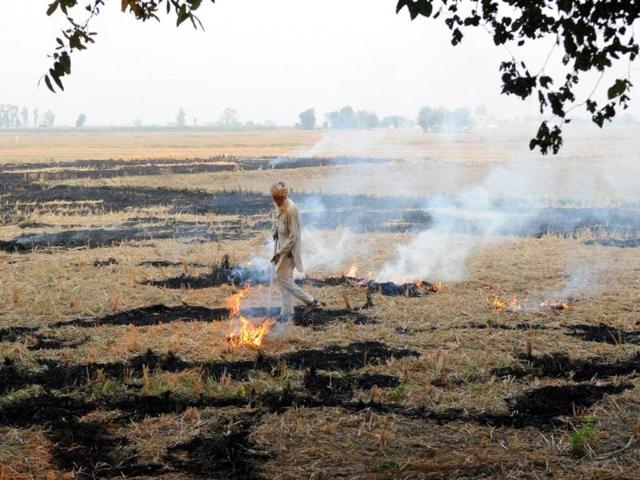 Updated on Nov 13, 2014 12:23 AM IST
Hindustan Times |
, Patiala
Vishal Rambani and Navrajdeep Singh
Stubble burning continues to pollute Punjab's air and impoverish its soil, mainly due to poor implementation of the ban imposed by the state government in 2005. No farmer has been convicted for flouting the ban in the past nine years.
The United States' National Aeronautics and Space Administration (Nasa) has been highlighting the problem and India's Supreme Court has also taken a serious note of it, but to no avail.
Air pollution caused by stubble burning following harvesting of paddy seems to be worsening with every passing year, as both the state government and the Punjab Pollution Control Board (PPCB) have failed to handle the situation.
Though the government has conducted awareness campaigns, besides issuing strict instructions, from time to time, the ineffective execution of plans has encouraged farmers to brazenly burn leftover straw.
Every year, more than 24 million tonnes of paddy straw is burnt, which not only emanates poisonous gases but also causes health hazards and reduces road accidents due to poor visibility.

Idea proposed, not implemented
Apparently reimposing the ban, the state government, after consultations with the PPCB, prohibited indiscriminate burning of leftover paddy and wheat straw with effect from October 22, 2013, under Section 19 (5) of the Air (Prevention and Control of Pollution Act), 1981.
In January this year, deputy chief minister Sukhbir Singh Badal had discussions with board officials about a draft policy on the utilisation of paddy/wheat straw in Punjab, but the matter seems to have been put on the backburner.
Former PPCB chairman Kahan Singh Pannu also submitted a draft with the state government, proposing a legally viable ban on the burning of paddy straw, but the government is yet to take the final decision.
The PPCB claims to have spent more than Rs 52 lakh on advertisements and awareness campaigns in the past five years to sensitise farmers regarding ill-effects of stubble burning, but all these efforts have failed to deter farmers.
Every year, the state government issues notifications directing deputy commissioners to penalise farmers and register cases against defaulters, but there has been no punitive action so far.

Role of farm machinery
Even though the introduction of advanced farm machinery such as combines and other harvesters in the past decade or so has brought about a revolutionary change in the farming sector, it has also led to accumulation of stubble in the fields. At the time of manual harvesting, the straw was chopped into small pieces and ploughed back into the soil to improve its content.
According to agriculture experts, the burning of straw depletes soil fertility. However, farmers, in their haste to clear fields for sowing wheat, often try to dispose of paddy stubble in eco-unfriendly ways.
The government has come up with happy seeders, straw choppers and other harrow machines, but due to their high prices, farmers are reluctant to use this machinery.
"The problem of straw burning cropped up due to the use of machinery during crop harvesting. Farmers happily use combines and other harvesters, but when it comes to straw management machinery, very few are showing interest," said chief agriculture officer Dr Jasbir Singh Sandhu.
He added that farmers were being sensitised that they were harming soil fertility of their fields by burning straw, but not many of them bothered to take the advice seriously.

Lax law enforcement
This year, only 11 farmers have been booked under Section 188 (disobedience to order duly promulgated by a public servant) of the Indian Penal Code (IPC) in Punjab. Last year, 53 farmers had been booked.
Under this section, the punishment is simple imprisonment for a term which may extend to one month or with fine which may extend to Rs 200, or with both.
There have been no convictions in Punjab for flouting the ban on the stubble burning in the past nine years.

What the Act says
Section 19 (5) of Air (prevention, control of pollution) Act, 1981: If the state government, after consultation with the state board, is of the opinion that the burning of any material (not being fuel) in any air pollution control area or part thereof may cause or is likely to cause air pollution, it may, by notification in the official gazette, prohibit the burning of such material in such area or part thereof.

Ill-effects of stubble burning
• Causes massive air pollution by releasing smog laden with harmful gases such as sulphur dioxide, nitric oxide and carbon dioxide
• Depletes nutritional value and fertility of soil
• Causes respiratory disorder and other health hazards
• It becomes a cause of road accidents due to reduced visibility
• Irritation in the eyes, which may lead to blindness

Why farmers do it
• To clear fields for sowing wheat soon after paddy harvesting
• They can't afford stubble management implements, whose prices run into lakhs of rupees
• Non-availability of technological support to farmers
• Low price of stubble (Rs 80-90 per quintal) bought by biomass plants makes it an economically unviable exercise
• Farmers have misconception that burning stubble does not affect soil health

Why ban not enforced strictly
• The government not keen to upset the farming community, which is a major votebank
• Lack of adequate awareness among farmers about the ban
• The government has failed give alternative to farmers
• No strict punishment for violation of the ban
• Punitive powers only with administration, police, not with pollution control board?
Close Story