Rain gods send relief: Showers across Punjab, Himachal, Kashmir
The rain is likely to give relief to people after the maximum temperatures in the region hit the 30-degree Celsius mark, five to seven degrees above normal, on Friday.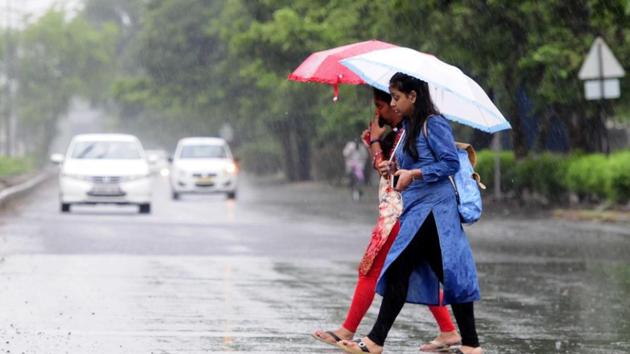 Updated on Feb 24, 2018 01:15 PM IST
Hindustan Times, Chandigarh/Amritsar/Ludhiana | By HT Correspondents
, Chandigarh
From Himachal to Punjab, almost all of North India woke up to showers on Saturday morning, in a much-needed relief from increasing temperatures over the past week.
Chandigarh residents woke up to the sound of thunder on Saturday. While Saturday is set to be a wet day, weather is expected to be dry on Sunday. Till 8:30am on Saturday, Cahndigarh recorded 0.7mm rain and a temperature of 21 degree Celcius.
On Friday, Chandigarh had recorded highest maximum temperature of the season — 29.5 degree, 5 notches above normal. From the beginning of the week, the day and night temperatures have been on a gradual rise. On Monday, maximum temperature was 24.9 degree Celcius and rose to 29.5 degree by Friday.
Similarly, the minimum temperature, which was only 8.8 degree on Monday, rose to 12.1 degree on Friday. The moderate rain on Saturday has brought some respite from the rise in temperature.
"The day temperature is likely to dip by three -four notches today," a MeT official said. However, the sky will turn clear on Sunday and next week will again start on a sunny note.
Meanwhile, rain acted as a spoilsport for the Rose Festival-2018, which is underway the the Rock Garden in Chandigarh. One of the attractions of the fest, that began on February 23, was the helicopter ride. But due to the weather, no one turned up for the chopper ride on Saturday morning.
In Ludhiana, MeT director Surender Pal has predicted thundershowers over many parts on the polling day. "Chances of mist, haze and shallow fog are also prominent. The day temperatures will also drop by two to four degrees," he added.
While minimum temperature on Friday was 11 degrees Celsius, four degrees more than normal, the maximum temperature was recorded at 24 degrees Celsius, which is one degree above normal.
Partly cloudy sky in Amritsar
Amritsar residents woke up to a cloudy and windly day on Saturday. This comes as a respite with the last weak witnessing warm days.
Maximum temperature recorded on Friday was 25.2 degree Celsius, 3 degree Celsius above normal. Minimum temperature on Saturday morning was 10.3 degree Celsius. "The weather will be cloudy with one or two spells of rain or thundershowers," a MeT department official said. Similar weather expected to prevail on Sunday too.
Impact on crops
Amritsar agriculture development officer Gurdeep Singh said, "This is minor change in weather in our region and it has no sizeable impact on the crops such as wheat. Yes, rising temperature being recorded during last few days was not good for the wheat. Minor fall in the temperature will have a small but positive impact. Besides, minor rainfall will be good for quality of the grain," he said.
Hail storm and thunderstorm, however, will damage the crop, he added.
Met predicts snow in Shimla
Overcast sky and the chill in the air has revived hopes of snowfall for the people of Himachal Pradesh. Shimla meteorological centre director Manmohan Singh said snow and rains is likely to occur at across Himachal over the next 24 hours. "Heavy rainfall or snowfall is likely to occur at one or two places and thunderstorm accompanied with hail at isolated places in lower and mid reaches of the state," he said.
Over the last 24 hours, Keylong was the coldest with -4 degree Celcius while the temperature was below the normal at several places.
Rain across Kahsmir too
Most parts of Kashmir experienced rain while its snowed in the upper reaches on Saturday, officials said.
An official at the state MeT department office said, "There is rainfall almost everywhere across the Valley expect for Kokernag area. In Gulmarg there has been snowfall. Due to clouds, the temperature has gone up. Srinagar recorded a minimum of 5.8 degrees."
The weather is expected to improve from Sunday.
Kashmir's harsh winter period – Chilai Kalan – which starts from December 21 and ends by January 31 was mostly dry this year and Saturday's spell will be the second such this month.
In its advisory for the day, traffic police department said, "Subject to fair weather and good condition of the road, tomorrow on February 24 movement of vehicles shall be allowed from Jammu towards Srinagar only. No movement of any vehicle shall be allowed from Srinagar towards Jammu."
Close Story