Regional buzz: Cheema ka 'dabba'
Updated on Nov 16, 2015 11:37 AM IST
Punjab education minister Dr Daljit Singh Cheema carries his lunch box whether he is travelling or going to his office in the state civil secretariat. The minister remains busy in meetings or attending to the public sometimes, skipping his lunch. Then there are also times when he is travelling and has food at some party colleague's house or at a public event. And, his home-cooked meal is relished by his driver or security guard. But the saab does not mind and never forgets to carry his dabba (tiffin) along. "I don't like bazaar ka khana," insists the minister.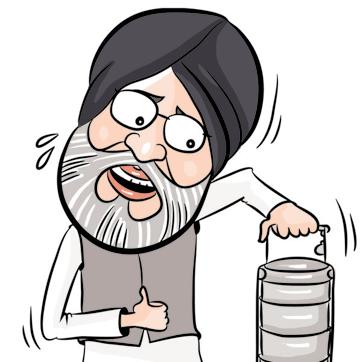 Hindustan Times |
, Chandigarh
HT Correspondents
Punjab education minister Dr Daljit Singh Cheema carries his lunch box whether he is travelling or going to his office in the state civil secretariat. The minister remains busy in meetings or attending to the public sometimes, skipping his lunch. Then there are also times when he is travelling and has food at some party colleague's house or at a public event. And, his home-cooked meal is relished by his driver or security guard. But the saab does not mind and never forgets to carry his dabba (tiffin) along. "I don't like bazaar ka khana," insists the minister.
Training all guns on Capt
Former chief minister Capt Amarinder Singh continues to be the biggest bugbear of the Akalis. When the Congress leader issued a statement asking Punjab CM Parkash Singh Badal to come out of hibernation and break his silence over the current situation in the state, the SAD was quick to react, rather overreact. First, two Akali leaders retorted by saying that the "leisure and pleasureseeking" 'raja' should not talk about accessibility. As if this below-the- belt retort was not enough, Harcharan Bains, media adviser to chief minister, issued another statement that Amarinder suffered from the "CM obsession".
Bajwa's tirade against Badals
The Parkash Singh Badal government is under fire from all quarters these days. The Congress never loses a chance to hit out at Badal and his son deputy CM Sukhbir Singh Badal. At a press conference in Chandigarh on Saturday, Punjab Congress chief Partap Singh Bajwa blamed them for the current mess. "I would ask both Fakhre-e-Quam (Badal) and Fukrey-Quam (Sukhbir) to come out of hibernation and face the people of Punjab who have been let down by them," said Bajwa to guffaws from mediapersons.
SAD's search for new office
After the resignation of its Amritsar SAD president Upkar Singh Sandhu from the party, trouble has mounted for the ruling Shiromani Akali Dal (SAD). The SAD has not only witnessed a spate of resignations by other party workers in Amritsar, it's also been forced to look for a new address for its state unit office. Since Sandhu was using his house as the party office, his exit meant that the party was left without an office. The party is yet to set up the new office or name the new chief.
Mittal all praises for Ludhiana industry
Punjab industries minister Madan Mohan Mittal praised the "ingenuity and skill" of the Ludhiana industry at an interaction between union minister of state for finance Jayant Sinha and representatives of industry at Swadeshi Mela held at SAS Nagar a week ago. "During the 1965 war, the radar at Amritsar got damaged. Everyone said that its parts have to be imported for repair. The war would have over by then. However, the members of the Ramgahria community came forward, saw the equipment and repaired it within hours. We won the war," he recounted with a smile. He did not stop there. Quoting another recent example, he said: "I had gone to Chhattisgarh to invite investors to Punjab. During the meeting, they said that they annually spend two months in Ludhiana to learn innovations from industry here. We are their students and try to replicate whatever they innovate."
Birender's uncanny style
Union rural development minister Birender Singh likes to shoot his mouth off, embarrassing his party and colleagues sometimes. The irrepressible politician, who hails from the Jat heartland of Haryana, was speaking at a function in Narwana recently on the steps taken by the BJP government to curb corruption at the Centre and in the state. "Yahan chief minister Manohar Lal Khattar ne zaroorat hi koni. Usne kaun si apni chhori byahani hai (The CM doesn't need anything. He does not need to get his daughter married). The disease of corruption occurs when someone wants a huge bungalow, gift a car and a huge bank balance." he said in his own trademark style, indirectly referring to the chief minister's bachelor status. While there were loud guffaws from the crowd, the minister said the state government had zero tolerance towards corruption. A video of his remarks, including digs at the media, went viral on social messaging service.
Bhiwani MP's grouse
BJP MP from Bhiwani Mahendergarh Dharambir is not happy with the working style of bureaucrats. His most recent gripe is that babus don't attend phone calls from the public on their official mobile phones. "When all offices have landline phones and most conversations take place on landline numbers, the officers should either be asked to surrender their mobile phones or be directed to take calls on their cell phones," he wrote to chief secretary DS Dhesi six weeks ago. A reporter of this newspaper last week called up the MP on his mobile to check if he was practising what he preached. While his one mobile phone was switched off, the call on other one went unanswered. But Dharambir called back within a few minutes, requesting the reporter to identify himself and purpose of his call. He is not someone giving empty sermons.
Khattar's deputy!
Political circles in Haryana last week remained abuzz with rumours of elevation of a minister as deputy chief minister in the Khattar government. The names of 3-4 ministers, including Anil Vij, OP Dhankar and Capt Abhimanyu, cropped up. While chief minister Manohar Lal Khattar maintained a studied silence and his party colleagues kept denying any such possibility, rumour mills kept on working overtime. While a minister said the chief minister would decide whether to appoint a deputy or not, Capt Abhimanyu outrightly denied any such possibility. Union rural development minister Birender Singh rubbished the talk, saying there was no need for a deputy CM for such a small state. Not a sound argument this, though. The state has had deputy CMs in the past. Chand Ram, who passed away five months ago, held the post immediately after the creation of the state. Banarsi Dass Gupta and Mangal Sein remained deputy CMs in the Devi Lal government and Chander Mohan in the Bhupinder Hooda government.
Chinese lessons for Sharma
Haryana education minister Ram Bilas Sharma is on his maiden foreign visit to China. Sharma, who also holds the tourism portfolio, flew to China to know about tourism activities there. Apart from Union minister of state for tourism and culture Mahesh Sharma, Sharma is accompanied by Haryana chief parliamentary secretary Seema Trikha, additional chief secretary, tourism, Sumita Misra and senior officials of the state tourism department. Unlike some of his ministerial colleagues, who have already been to several countries, this is Sharma's first foreign trip. Another minister is said to be packing his bags to travel to China in the next few days.
Diwali gifts bring cheer
A large number of class IV and contractual employees, including some lift operators in the Haryana civil secretariat, had smiles on their faces this festival season. A day after Diwali, finance minister Capt Abhimanyu invited more than 100 such employees to his official residence to give them sweets and gifts. Though the FM was out of town, his staff distributed the goodies to them. "It was a good gesture. More people should come forward to do such things on festivals," one of the lift operators was heard telling his colleague.
Lobbying on for HP BJP chief's post
With the term of the Himachal BJP president Satpal Singh Satti coming to an end this month, groups owing allegiance to former chief minister Prem Kumar Dhumal, former Union minister Shanta Kumar and Union health minister Jagat Prakash Nadda are lobbying for the coveted post. After Nadda visited his hometown Bilaspur on Diwali, several leaders, including Satti, former state unit chief Jai Ram Thakur and general secretaries Bipin Parmar and Randhir Sharma, called on him. Though Thakur, a former minister, is considered close to the union minister, it remains to be seen who manages to get his support. Nadda has emerged as a power centre in the BJP after his induction in the Union cabinet and his influence in the state unit has increased ever since.
Officer's battle goes on
Himachal Pradesh additional chief secretary, forest, Deepak Sanan has been at the receiving end ever since the Virbhadra Singh government chargesheeted him in a case related to allotment of land to Himachal Pradesh Cricket Association for construction of a residential complex for players which was later turned into a high-end hotel. With his back against the wall, the 1982-batch IAS officer fought a lonely battle, taking the RTI route to ferret information about the government action against him. With the Centre refusing to give sanction for his prosecution, he has been writing to chief secretary P Mitra for droppin the charges against him. But the state government is still to give any response to him.
Sharma's mobile blues
Congress leader and former minister Anand Sharma doesn't like any distractions, especially the ringing mobile phones, during his media interactions. He usually tells reporters to switch off their phones. But Sharma was taken aback when his phone started ringing during the hearing in a defamation case in a jam-packed court. He quickly put his hand in the pocket to switch it off even as the judge fixed the next date of hearing in the case.
It's still Manmohan for them
Himachal Pradesh chief minister Virbhadra Singh's office in the state civil secretariat is adorned with photographs of All India Congress Committee chief Sonia Gandhi, her son and Congress vice-president Rahul Gandhi, President Pranab Mukherjee and Prime Minister Narendra Modi. But some of his ministers are a tad different. While most of them have photographs of Mukherjee and the Congress bigwigs in their offices, they do not have PM's photographs. Surprisingly, a few of them continue to have photos of Modi' predecessor Manmohan Singh.
J&K deputy CM 'gets wiser'
Jammu and Kashmir deputy chief minister Nirmal Singh appears to have "learnt from his mistake." At CM Mufti Mohammad Sayeed's press conference on Friday where he read out details of Prime Minister's Rs 80,000-crore package, Singh, the face of the saffron party in the BJP-PDP alliance government, was quick to interject and list out a few more points to avoid any confusion. When the CM said Rs 500 crore were earmarked for smart cities, the deputy CM was quick to add that the funds were for both Jammu and Srinagar. Singh also said the financial package included compensation for refugees of 1965 and not just PoK and Chamb. Earlier, the BJP had to face trouble when the CM, at his interaction with journalists at Jammu, had announced that AIIMS would be set up only at Srinagar and Tawi lake project was not feasible. The deputy CM was present, but said nothing, probably because he was new to the office. And, the party had to face protests in Jammu thereafter. But he seems to have learnt his lesson. Better late than never!
(Chitleen K Sethi, Prabhjit Singh, Aseem Bassi, Manpreet Randhawa, Shailee Dogra, Navneet Sharma, Rajesh Moudgil, Gaurav Bisht and Tarun Upadhyay)
Personalise your news feed. Follow trending topics