Revealing reasons: Why Panchkula roads are in bad shape?
Updated on Sep 23, 2017 04:17 PM IST
Panchkula in pits: Less bitumen content, substandard material cause roads to collapse, says vigilance report for roads constructed between 2014 and '15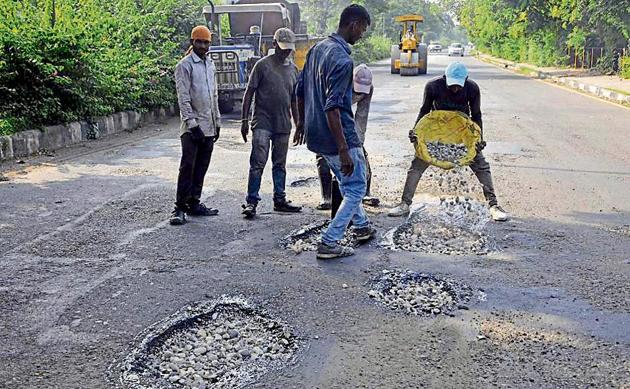 Wondering why Panchkula roads do not sustain for long? The past inquiries that probed poor quality of roads have an answer. The vigilance probe conducted last year revealed how bitumen and other binding contents in most of the roads constructed between 2014 and 2015 was lower than permissible limit.
Besides the material used was also substandard in nature. In its report submitted to the state government in December last year, it was found how 34.65 metric tonnes of bitumen was less in B roads of Sector 15. Similarly, 18 metric tonnes of bitumen was found less in roads carpeted in Sector 14/1.
The probe was ordered on the complaint of BL Tandon, Sector-4 resident, who is the convener of The People's Voice God's Voice Group.
Tandon told HT that in road construction, it is important for contractor to make sure the proper usage of stone dust along with bitumen content so that entire material becomes solid mass during carpeting and therefore sustain for long. "However, it is a set practice for contractors to use lesser quantity of bitumen and stone dust, leading to early collapse of roads. Then overall material used is also of substandard nature," he added.
"MC officials often overlook these lapses for their personal gains and it is the public which suffer at the end of the day," Tandon said.
NEW ROADS BROKEN TOO: RESIDENTS
Sector-12 resident, Lt General (retd) Deepinder Singh, told HT that just three months ago, "The MC constructed new road between Sector 12 and 4 that has developed pits and cracks now. It is sad that there is no quality check on the road construction, leading to huge waste of public money."
CHARGESHEET TO BE FILED AGAINST 7 MC OFFICIALS
Based on Tandon's complaint, the chief secretary's office recently asked the local bodies department to take departmental action against seven officials named in that report, besides issuing recovery notices to the tune of ₹1 crore against several firms that were given contracts to recarpet roads here.
Among the officers to be chargesheeted soon, include superintending engineer Anil Mehta; retired executive engineer ML Ahuja; municipal engineer Sanjay Goyal (presently posted at the Ambala MC); municipal engineer Raj Kumar (presently posted at the Kaithal MC); municipal engineer Vijay Goel (presently posted at the Sampla MC); and municipal engineer Maan Dev Singh for conniving with contractors.
Besides them, former executive officer OP Sihag, who will again join here in the same post in the next few days here, will also be charged concerning the poor road construction.
Defending himself, Sihag said, "Checking the quality parameter is strictly technical job for which engineering staff is involved. It was unfair to have my name in the inquiry being an administrative official. However I will deal with it."