Robbers' gang busted in Gurdaspur, three arrested
Curbing crime: Rs 1.6 lakh, an air pistol, a 'datar', a 'kirch', an iron rod and two bikes seized; gang was planning to loot a petrol pump.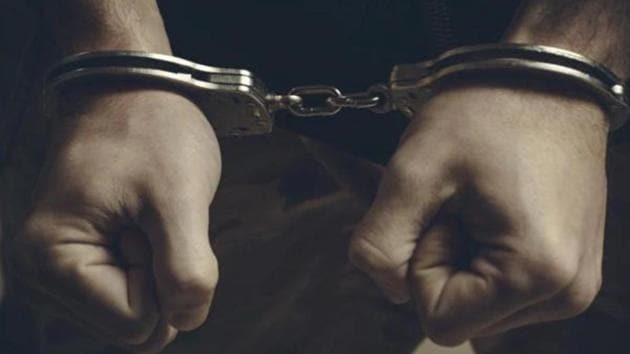 Updated on Feb 23, 2018 01:28 PM IST
The district police,on Wednesday, busted a six-member gang of robbers, all aged between 22 and 26, following the arrest of three of them and the recovery of Rs 1.6 lakh, an air pistol, a 'datar', a 'kirch', an iron rod and two motorcycles from their possession.
Senior superintendent of police HS Bhullar said at a press conference here on Thursday that police received a tip-off that, on Wednesday, six people were noticed at the old Christian graveyard behind the milk plant and they were allegedly planning a robbery at a nearby petrol pump on the GT Road here.
Bhullar said that a police team was rushed to the spot and it managed to nab three of the six, identified as Heera,Raman alias Laddu and Jatinder Malik, all residents of Mohalla Shahzada Nangal, Gurdaspur.
Bhullar said the police team also recovered one air pistol,a 'datar', a 'kirch', an iron rod and two motorcycles from there.
Their three accomplices Rocky alias Rohila, his brother Sajan, both residents of Gali No.1, Chhota Haripura Islamabad, Amritsar, and Pehalwan of Batala, managed to escape.
The SSP told that a case under sections 399 and 402 of the Indian Penal Code and sections 25,54 and 59 of the arms Act was registered against the arrested persons at the city police station.
The SSP said that the arrested people admitted to have robbed an arhtiya, Gurpreet Singh alias Ajay, of Gurdaspur of Rs 3.3 lakh at gunpoint on December 16 last year.
The SSP told that they also confessed that they had robbed one Sandeep Singh, a resident of Ghazikot village, and an employee of a finance company of Rs 2 lakh on January 10. The SSP said that they also disclosed that on February 11 they had snatched a purse containing around Rs 25,000 from a woman Sunita of Gurdaspur and a 15-gm gold chain from Bhupinder Kaur of Sekhwan on July 27 last year.
The SSP said the absconding robbers will also be arrested soon.
Close Story