Robbers murder doctor's mother, wife in Ludhiana
The mother and wife of a city-based doctor were brutally murdered in broad daylight at Sher-e-Punjab Colony on Barewal road here on Friday afternoon.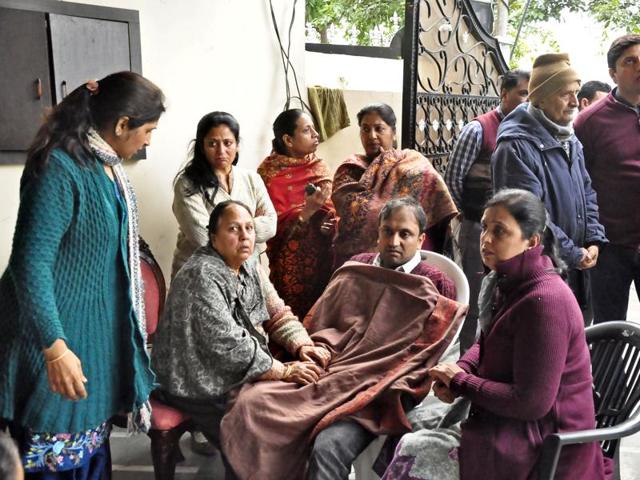 Updated on Jan 30, 2016 10:23 AM IST
The mother and wife of a city-based doctor were brutally murdered in broad daylight at Sher-e-Punjab Colony on Barewal road in Ludhiana on Friday afternoon.
The deceased have been identified as Pushpawati, 84, and her daughter-in-law Sarita Aggarwal, 55. Pushpawati's son Rakesh Aggarwal is a heart specialist at Deep Hospital, Model Town.
The women, alone at home, were done to death with sharp-edged weapons.
The bodies were first spotted by domestic help Pooja, who came to the house around 2.15pm. She raised the alarm and informed relatives of the family who live in the neighbourhood. Police were also informed of the murder in the posh locality.
Deputy commissioner of police (DCP) Narinder Bhargav said it was a suspected case of robbery.
A case of robbery and murder has been registered at the PAU police station. No CCTVs were installed in the whole area.
Police commissioner Paramraj Singh Umranangal, DCP Narinder Bhargava, assistant commissioner of police (ACP, west) Rupinder Kaur Saran along with a dog squad and forensic experts reached the spot and initiated investigation.
The ACP said some women of a labourer family residing nearby have seen some suspects with covered faces.
The ACP fur ther added a purse belonging to Sarita Aggarwal containing around Rs 5,000 cash is missing. Some of almirahs were opened and ransacked, but the family has not given any idea about missing articles and money.
He said after investigating the crime scene, it seems that the deceased women had tried to resist the killers as there was blood all over the house.
Bhargava said it was suspected that the killers were known to the family and had access to the house. They had entered through the main gate. Prima facie, it is a case of robbery, but the police are investigating the matter from all angles.
Family shifted to locality 2 years ago
The family was shifted in Sher-e-Punjab Colony in April 2014 from Rishi Nagar. Vinod Aggarwal, a close relative, said Dr Rakesh Aggarwal used to leave house at 7 am, while his younger son, Akhilesh Aggarwal, who is an engineer, used to leave for work around 9 am. Bhuvnesh Aggarwal, elder son of Dr Aggarwal shifted to the US with his wife.
A neighbour has told police that around 1 pm, volunteers from a cow shelter used to collect 'rotis' and alms from all households daily for cows. On Friday, Sarita Aggarwal was seen giving volunteers some rotis and then went inside. The ACP said the incident took place between 1 pm and 2 pm.
Close Story