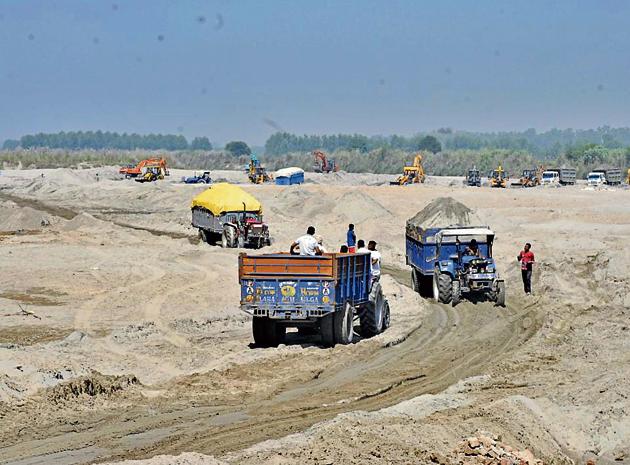 Tough stand on illegal mining sends sand prices soaring in Ludhiana
UPDATED ON JUN 04, 2017 12:32 AM IST
Thanks to a tough stand on illegal mining, the cost of sand in Ludhiana has doubled in the last five months with each truckload (tipper) costing between Rs 22,000 and Rs 24,000 depending on the quality. The same was between Rs 11,000 and Rs 14,000 in January.
Experts said police action against illegal mining and overloading of tippers has sent sand prices soaring. On an average, at least one case was registered under the Mining Act daily in the last two months.
A total of 17 quarries were auctioned for Rs 215 crore in the Sutlej riverbed in Ludhiana two weeks back. Some bidders agreed to pay as high as Rs 40 crore for a single quarry against a reserve price of Rs 12.4 lakh.
A quarry in Dupana village, Samrala, was auctioned for Rs 40.5 crore; while another in Rajapura on the edge of Sutlej, went for Rs 50 crore. The high cost of auction is likely to raise the cost of sand from these quarries.
The issue of sand auction has also taken political dimensions where the Bains brothers — Simarjeet Singh Bains and Balwinder Singh Bains — have accused the Congress government of monopolising the business to "benefit a few".
The Bains brothers had protested against the sand mafia in Ludhiana in 2015 for which they were also booked.
Drop in supply of sand
Those involved in the construction business have claimed that not only have the prices soared in the last few months, but the supply has also witnessed a drastic drop.
Sahib Chawla, a city-based builder, said sand was not available due to strict measures against illegal mining. "The cost of sand has soared manifold making it tough for builders," he said.
An official in the mining department, on terms of anonymity, said the prices will escalate further as contractors who were ready to pay 15 to 20 times of the reserve price for a single quarry, will cover this money by increasing the prices of sand.
Mahesh Khanna, general manager, district industries centre, said the bid for four out of 17 quarries auctioned were cancelled after the bidders did not turn up. "These quarries will be auctioned again on June 11," he said.
Close