Meet man who wrote 'Kala Chashma': Head constable Amrik Singh Shera
Head constable Amrik Singh Shera from Kapurthala had no idea his song will feature in a movie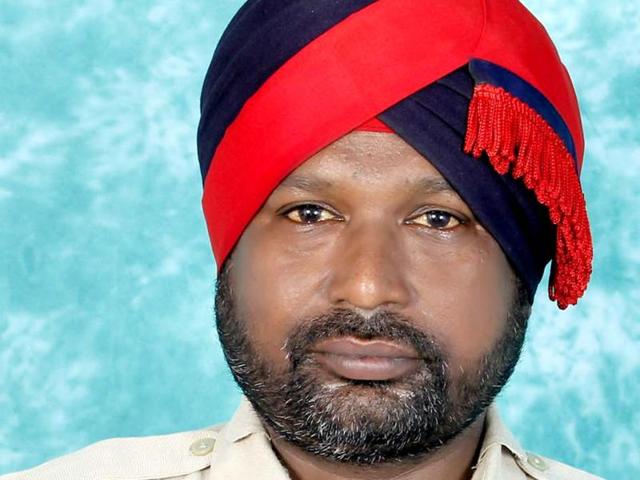 Updated on Sep 11, 2016 12:32 PM IST
Hindustan Times |
, Jalandhar
Aakanksha N Bhardwaj
Have you heard the song 'Kala Chashma'? The Punjabi song -- originally from the '90s -- is all the rage these days, thanks to the movie 'Baar Baar Dekho'. But have you heard of Amrik Singh Shera? He is a head constable in the Punjab police in Kapurthala. And he is the writer of the song.
Shera, 43, a native of Talwandi Chaudhrian village near Jalandhar, is glad that his song, written in 1990, has made it to Bollywood, but says that he had no idea that it would feature in a movie.
"Two months ago, I got a call from a friend that 'Kala Chashma' was being played on a TV channel. I don't know how I felt. I was happy but also shocked," says Shera.
He claims that about four months ago, he was approached by Jalandhar-based Angel Record Company seeking other songs he had written.
"I was told that a Mumbai-based company needed my song to be played at the inauguration of cement firm."
He signed the agreement and got only Rs 11,000 in return, he says. "I don't know name of the cement company. No one told me that the song would feature in a movie."
But he doesn't mind and says he has "no ill-feelings for anyone".
His only grudge, however is that nobody invited him to the launch of the song.
"No one from the film industry called me to Mumbai during the music launch or screening of the film. I just wanted to go there and let everyone know that a person from a small village in Punjab has written the song," he says.
Below: A video of the song from 'Baar Baar Dekho', starring Katrina Kaif and Sidharth Malhotra
Shera had written the song as a ninth-grader, when he was 15. He approached many singers at the time with his songs.
"Amar Arshi (singer of the song) then took the song 'Kala Chashma' and performed it at a function in England. A company there released the song in England and it became a huge hit."
Also read | The man who gave 'chitta' to Udta Punjab — Chandigarh lyricist Shellee
"Then a Chandigarh-based company released the song in Punjab and that is how it became popular here," he adds.
Others songs by him have since been sung by popular singers such as Miss Pooja and Roshan Prince. "But real fame comes when a song enters Bollywood and people go crazy about it," he says, adding, "Punjabi song writers do not get their due. Being a writer here is not easy."
"I started writing songs because I wanted to become famous in my village. That dream has come true. But I wanted to make my village famous too, which could have been possible only if the makers had invited me. Hardly anyone even in Punjab knows that it's my song," he says.
However, he says he has paid tribute to his village. "If you listen to 'Kala Chashma' carefully, in the last stanza I have mentioned my village Talwandi Chaudhrian's name."
Gaurav Trehan, owner of Catrack record company, confirmed that the song was first released by their company in Punjab. Arshi, the singer, too confirmed that Shera was the lyricist.
"He wrote the original song, and I was the one who sang the song in England. After that, it got famous."
Close Story