World Book Day: To counter drugs, panchayats in Punjab's Malwa turn to books
Apart from providing facilities to bookworms, panchayats are providing the option of libraries to prevent youth from falling into the trap of drug addiction by opening in front of them the world of books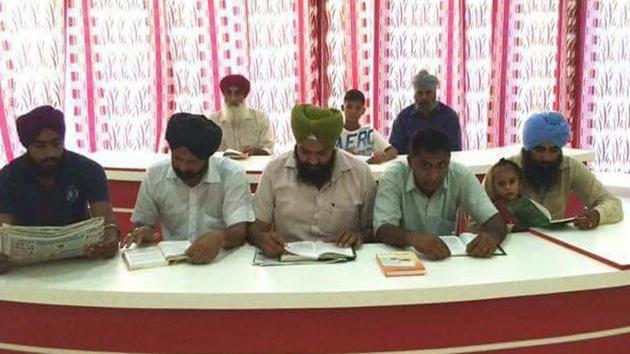 Updated on Apr 23, 2018 07:52 PM IST
Hindustan Times, Muktsar | By Sarbmeet Singh
, Muktsar
While public libraries in the state lie in a state of neglect, panchayats across the Malwa belt have come as a symbol of progress and hope for state youth.
In their effort to contribute to the literary movement and tackle drug menace, several panchayats in Malwa villages have opened libraries and recruited volunteers to run them.
Retired army man Balwinder Singh Fauji, 37, is one such volunteer. He looks after issuing and maintenance of records at the air-conditioned library at Chananwal village in Barnala district. "A few NRIs had donated money for this library. This is our attempt to create a literary environment in the village."
"We are getting a good response from readers. Children and elderly come here on a daily basis to read books in the library," he adds.
Apart from providing facilities to bookworms, panchayats are providing the option of libraries to prevent youth from falling into the trap of drug addiction by opening in front of them the world of books. "Youth of Punjab is depressed and needs motivation. Books are the best source for the same," says Parmjeet Singh Bhullar of Himmatpura village panchayat in Bathinda. The 'Amrita Pritam Yadgari' library in the village was started in January earlier this year.
Moosa, a village in Mansa district, has also taken the initiative and opened a library. Youngsters are on its target. "As drug lure is gradually drawing the youth of Punjab into a vortex of despair and darkness, such efforts are needed to provide an alternate way," says Gursewak Singh Preet, a writer from Muktsar.
Jaspal Singh, a resident of Gehri Buttar, says, "Other panchayats should emulate such libraries and government should also give monetary assistance to these panchayats." Gehri Buttar has a library named after former President APJ Abdul Kalam.
Sarpanch Lakhveer Singh of Patti Puran Singh village in Fazilka district says he donated ₹3.5 lakh for the library. "My father was an avid reader and so I decided to open a library for villagers" Singh says.
Close Story