Rajasthan Congress expels 28 rebel leaders including 2 former ministers ahead of Dec 7 polls
Nov 25, 2018 09:57 PM IST
The ousted leaders also include former ministers Mahadev Singh Khandela and Babu Lal Nagar.
The Congress on Sunday expelled 28 rebels, including nine ex-MLAs, for contesting the Rajasthan assembly elections against party candidates. The ousted leaders also include former ministers Mahadev Singh Khandela and Babu Lal Nagar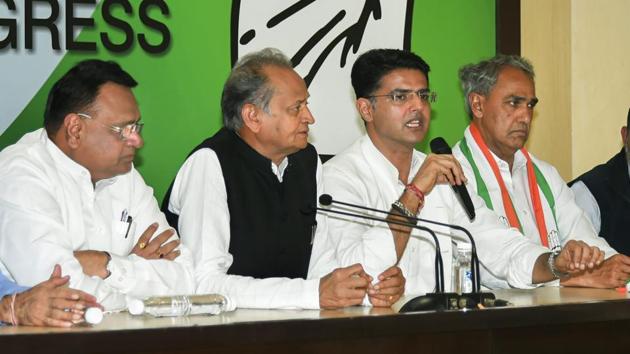 The former law makers expelled are Sohan Nayak, who is contesting as an independent from Raisingh Nagar, CS Baid from Taranagar, Ramesh Chand Khandelwal from Neem Ka Thana, Ramesh Khinchi from Kathumar, Ramkesh Meena from Gangapur city, Nawal Kishore Sharma from Bamanwas, Nathuram Sinodia from Kishangarh (also ex-district president), Khusveer Singh Jojavar from Marwar Junction and Sanyam Lodho from Sirohi, Rajasthan Congress general secretary (organization) Mahesh Sharma said in a statement.
Stay tuned with breaking news on HT Channel on Facebook.
Join Now
Other expelled are former Governor Kamla Beniwal's son Alok Beniwal from Shahpura (contested and lost twice in row); former district president Prithvi Pal Singh Sandhu (Karanpur) Om Bishnoi (Sadulshehr); Rajumar Gaur (Ganganagar); Pusaram Godara from (Ratangarh), Santosh Meghwal (Sujangarh) ; Laxman Meena (Bassi); Deepchand Kheriya (Kishangarh Bas); Ajit Singh (Mahua) ; Jaggannath Burdak (Ladnu); Rajesh Kumawat (Jaitaran); and Bhimraj Bhati (Pali).
Also expelled were state general secretarty Sunita Bhati, contesting from Jaisalmer; secretary Jagdish Chouhary from Ahore; Reshma Meena from Salumber; and Gopal Keswat from Shahpura.
Earlier in the day, Youth Congress had also expelled eight members, including four office bearers.
Youth Congress, National General Secretary and incharge Rajasthan, Devendra Kadyan have expelled four, who are contesting against party candidates – Maqsood Khan from Kaman; Hemant Vijay from Chaksu; Dhramraj Mehra from Baran; and Pradhyuman Singh Ranawat from Mandal.
Office bearers, who are working against party candidates, have also been expelled – Praveen Vyas, assembly president Shahpura; Bhairulal Meena, district YC President Sawai Madhopur; Suresh Bijaniya, officiating president Jaipur-rural; and Madan Salvi, officiating president Bhilwara.