AJSU challenges male domination in politics
Published on Jan 30, 2017 09:22 AM IST
Announces 33% reservation for women in political affairs, demands liquor ban in state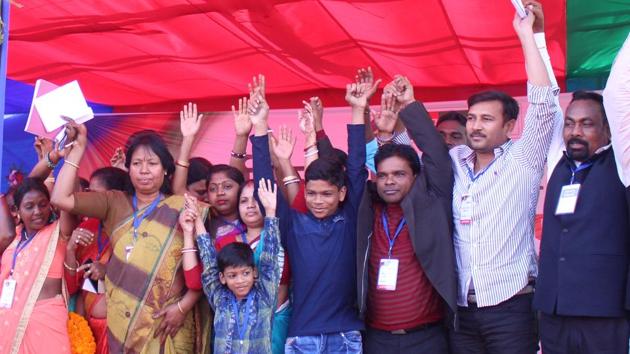 Hindustan Times, Ranchi |
B Vijay Murty
AJSU Party, a regional party based out of Jharkhand has become the first political party in the country that has announced 33 % reservation for women in the party's affairs that includes tickets for the assembly and parliamentary polls.
Party president and ex deputy chief minister Sudesh Mahato made the ambitious announcement at the party's women convention held at Dimna Lake in Jamshedpur on Sunday.
Mahato said there have been enough debates in the upper and lower houses of the parliament to secure women's share in politics, but no party took the lead and set a benchmark.
"AJSU Party has shown resolve and fulfilled the commitment it had made to its women cadres. The path has been laid. Other parties should now show the same resolve instead of cheating the fairer sex by making tall and hollow promises to them," AJSU chief said
The Women's Reservation Bill which sought 33% reservation for women in the lower house and legislative assemblies was first introduced in the Lok Sabha by the Deve Gowda government on September 12, 1996. The Bill was aborted later.
The Rajya Sabha passed the bill on March 9 2010. However, the Lok Sabha never voted on the bill.
Mahato said the party didn't feel the need to wait for a law to give women their due share.
The party's women convention also passed a 21-point agenda aimed at overall welfare and development of women. Prominent among them is the demand for alcohol ban in the state in line with Gujarat and Bihar and an all women police station in every block.
Significantly, the party leaders yet again unanimously denounced any amendment in the Chotanagpur Tenancy (CNT) and Santhal Pargana Tenancy (SPT) Acts.
AJSU is an alliance partner in the BJP-ruled state. One of its legislators, Chandraprakash Choudhary is a minister in the Raghubar Das government. However, their bonhomie turned sour after the government bought the amendment bill and passed it in the assembly through voice vote.
"You cannot think of ushering development by annoying majority population of the state," Mahato said.
He said in 2010 as Panchayati Raj minister he had secured 50% reservation for women in the Panchayat elections and it went on to become history.
The party also demanded reservation in government jobs for women who have contributed in sports. It vowed to identify and felicitate revolutionary women in Jharkhand. Special law for protection of women, modern residential colony for women displaced in eviction drives also found mention in the party's resolution.