Jharkhand: Two kids killed as train engine hits school van
Updated on Jul 31, 2015 05:45 PM IST
Jharkhand ranks 17th in the country in terms of traffic accident deaths, with 54 of them involving railways. An average of eight people each day died in road and railway accidents in Jharkhand as 2,955 fatalities were recorded in 2014.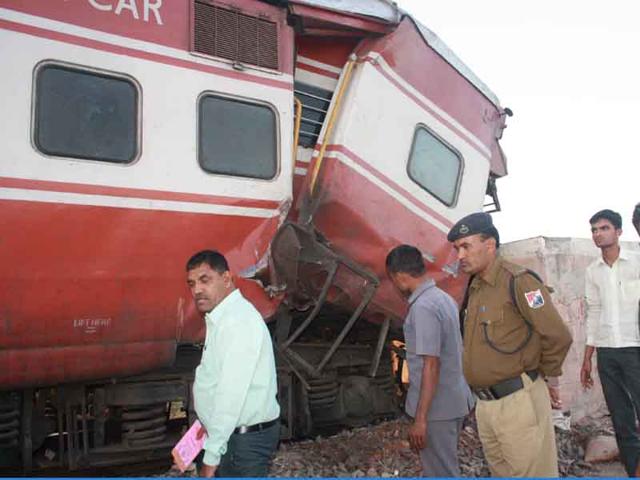 Two children were killed and four injured when a train engine rammed into a school van at an unmanned crossing in Jharkhand's Lohardaga district on Thursday morning.
Lohardaga Superintendent of Police, Manoj Ratan Chouthe said the van, a Tata Magic carrying six children, met with the accident near Irgaon Railway Station in Mundo village.
The deceased were identified as Rajkumar Sahu and Manoranjan Bhagat, the police said, adding that the injured were referred to the Rajendra Institute of Medical Sciences (RIMS) in Ranchi.
Angry locals disrupted railway movement for more than two hours. Senior divisional commercial manager (DCM) of Ranchi rail division, Neeraj Kumar blamed the negligence on the van driver for the deaths.
"Drivers must be careful and responsible when they are crossing railway tracks," he said.
The Lohardaga accident was among the growing cases of fatal mishaps on unmanned railway crossings in the last one year. According to the National Crime Records Bureau (NCRB) 2014 report, accidents on unmanned railway crossings had shot up from seven in 2013 to 54 last year.
"We have been continuously organising awareness programmes to minimise accidents on unmanned railway crossing. A 15-day awareness drive is on right now," Chief Public Relation Officer of South Eastern Railways, Sanjay Ghosh said.
The Railways is working to eliminate all unmanned railway crossings in a phased manner through diversion, subway, over bridge and closing insignificant unmanned crossings, he added.
Eight people died on an average each day in road and railway accidents last year in Jharkhand, as 2,955 fatalities were recorded in the year gone by.
The state ranks 17th in the country in terms of traffic accident deaths. Altogether 2,546 people died in road, 355 in railway accidents and 54 died in railway crossing accidents last year, the report says.
Uttar Pradesh topped the traffic accidents chart with 20,653 fatalities.
Among the three major cities of Ranchi, Jamshedpur and Dhanbad, Steel City saw 94 people die in traffic accidents in 2014. Ranchi and Dhanbad had 82 and 63 fatalities.
Joint transport commissioner Sishir Kumar Sinha said his department was working on a comprehensive plan to reduce road accidents.
"We are identifying accident prone spots and asking the authorities to take steps. The department also conducts awareness campaign on a regular basis," he said.
Close Story
Personalise your news feed. Follow trending topics