Tribals exhibiting wisdom, handing suspected child lifters to police
Updated on May 26, 2017 08:08 PM IST
Rumours of child lifters on the prowl have spread in the Kolhan division following bulk WhatsApp messages circulated among certain tribal pockets by unknown forces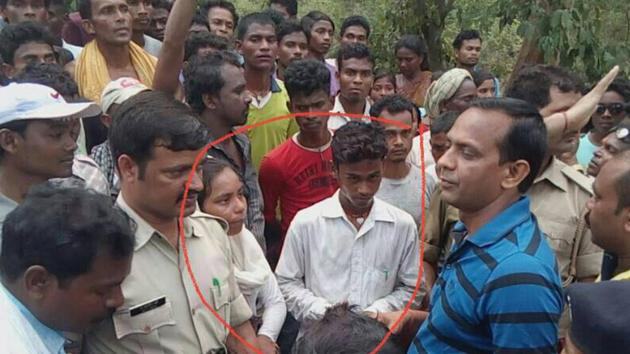 Hindustan Times, Ranchi |
B Vijay Murty
Fear has given way to common sense; humanity is gradually replacing cruelty as tribals in the countryside of Jharkhand's troubled Kolhan division, have started exercising restraint and abstaining from dispensing instant justice to suspected child lifters.
Rumours of child lifters on the prowl have spread in the Kolhan division following bulk WhatsApp messages circulated among certain tribal pockets by unknown forces. In all nine suspects have been killed over the last 12 days, following the rumours .
Exhibiting wisdom, villagers are now handing over the suspects to police, giving some respite to the men in uniform who were having a harrowing time following the lynchings that took place in two adjoining districts, Jamshedpur and Seraikela-Kharsawan.
Over the last three days, villagers nabbed and produced three men they suspected to be child lifters to the police. These men, non-tribals, were found moving suspiciously in rural pockets inhabited by tribals. Incidentally, one of them nabbed from Sundernagar, a Jamshedpur suburb, turned out to be wanted criminal and accused of vehicle theft and abduction of a car driver, who is still missing.
Residents of Adityapur Beldih basti late Sunday evening nabbed a man roaming suspiciously in their locality. When they nabbed him and began interrogating him, he pretended to be mentally deranged. Soon a mob assembled at the spot and informed the police who reached in no time and took the man in tattered clothes into their custody.
At the police station, the suspected identified himself as Munna Ansari from Ranchi. Police said they were interrogating Ansari and have also sought medical expert's opinion on his mental status.
On Monday, Jamshedpur's Sundernagar police arrested one Fazluddin Hoda alias Vicky, whom the villagers had caught wandering alone in the village. As he was a stranger to the area, villagers took him to be a child lifter. But instead of thrashing him, as has happened with previous suspects in the past, they made him sit on a chair, offered him water and milk before calling the police.
During interrogation, police discovered Ansari, resident of Jamshedpur's Azadnagar locality, was a wanted criminal. They remanded him to judicial custody.
In a similar incident on Tuesday, residents of Bagbera, where three Hindu youths were lynched last week, nabbed a stranger moving suspiciously in their locality. When locals questioned him, he identified himself as one Jeetu Kumar Gupta, resident of Delhi. He failed to give a satisfactory reply on the motive of coming to the steel city and moving in the locality.
Initially, locals branded him a child lifter. But some conscientious citizens in the crowd came forward and decided to hand him to police.
"This is a welcome sign. Eventually good sense is prevailing. I hope the rumours will die down with the villagers support," said rural SP, Sunil Burnwal.
Senior police superintendent Anup T Mathew said he is working out a strategy to engage the Majhi Pargana Mahal, the Santhal religious body, to dispel the rumours in interior villages.
"This is a social problem and police alone cannot handle it. The community's social, religious and political leaders have to come forward to arrest the rumours and check the mindless killing. Hunting of suspected child lifters is no lesser crime than witch hunting," he said.
Rumours of child lifters on the prowl have refused to die down in Jharkhand's Kolhan division despite the media and government agencies working overtime to dispel it.
Personalise your news feed. Follow trending topics