Housing slump to continue, realty sector gets negative rating
India Ratings and Research has maintained a negative outlook on the real estate sector for the financial year 2018 and expects a continued slump in the sale of residential units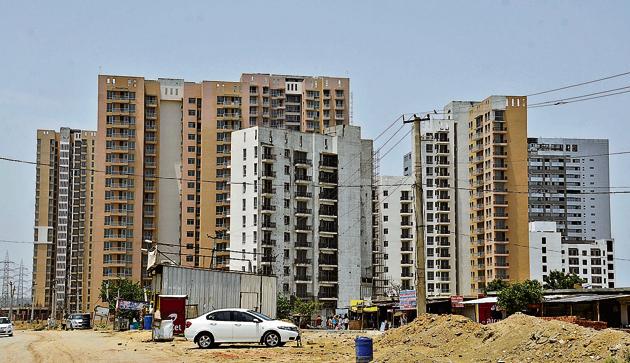 Updated on Mar 11, 2017 06:06 PM IST
Vandana Ramnani, Hindustan Times, Delhi
India Ratings and Research, a leading credit rating agency, has maintained a negative outlook on the real estate sector for the financial year 2018 and expects a continued slump in the sale of residential units.This will result in continued negative cash flows and a further increase in high debt levels, resulting in weakening of the sector's credit profile, it has warned.
But there is a ray of hope. For the sector to do well, it needs to undergo a structural change in the way it does business to revive itself and move towards a model of unit sales after completion of projects. Such a structure would favour large organised real estate companies having better access to institutional funding, leading to a complete shake-up in the sector with smaller unorganised developers losing out. This consolidation in the form of land sales or joint development of land with larger organised developers will help the sector, says Ind-Ra.
A single window system for time-bound approvals is imperative for the success of any such structural changes in the system and for the sector's long-term survival and growth, it says.
The sale of residential units has been falling since 2014 due to the continued high prices, making them unaffordable to end-users. Prices have continued to rise despite falling sales. Reasons for such conundrum include involvement of black money and significant sales to individuals for investment purposes, who would want a steady return on their investments, preventing a reduction in prices. Demand has also been impacted by the significant delays in the completion of under construction projects (sometimes by even more than three years). This has locked up the capital of customers, who have paid significant sums in construction-linked installments, and impacted the confidence of end-users in the sector.
Customers thus have started showing preference towards ready-to-occupy properties, which is likely to increase with the implementation of GST in the first half of 2018 as the customers will have to pay more service tax on under-construction properties.
The sale of units to individuals who purchase residential units for investments is likely to be severely curtailed by the demonetisation exercise carried out in November 2016, as this is the segment where black money has reportedly had a significant role. The Prohibition of Benami Transactions Act will further impact such sales. The likely implementation of the Real Estate (Regulation and Development) Act, 2016 (passed in March 2016 and notified in May 2016) during the first half of the year 2018 will further impact liquidity.
While the sector has largely relied on refinancing to meet its debt servicing obligations, Ind-Ra believes refinancing will increasingly become difficult if sales do not revive. The sector has seen significant interest from non-banking finance companies and private equity investors for refinancing debt. Such refinancing provides a cushion for developers to hold prices despite slow sales, which further delays any recovery in sales and cash flows.
The Union Budget 2017-2018 is also likely to have a negative for the real estate sector. The restriction on set-off of loss on rented properties against other income heads will further impact demand from investors. The implementation of the proposed tax on notional rental income on completed stock-in-trade (one year post completion) will increase tax outgo, given the significant levels of inventory in the industry. Liquidation of such inventory at lower prices would also be difficult, given the high interest funding availed to create these assets. This measure however bodes well for the long-term development of the sector as the addition of stock will be based on end-user demand and this will make real estate prices more elastic to demand.
While the award of infrastructure status and the larger area permitted for unit sizes are positive measures for the affordable housing segment, the limited number of projects and companies working on such projects would not provide any significant boost to the overall sector, it says.
As far as growth in housing loans is concerned, it has continued to be in the range of 15% to 20% year-on-year for the past three years. The discrepancy of strong growth in housing loans with fall in sales may be due to disbursement of earlier sanctioned loans, loans for construction of individual houses. The priority sector housing loan growth also remains lower than the overall housing loan growth, given the lower availability of houses at defined values in major metros, it adds.
Close Story