What comes first? Sale agreement or payment of booking amount?
Jan 18, 2016 06:10 PM IST
More clarity is needed on registration of sale agreement and payment of booking amount in the real estate regulatory bill
The Real Estate (Regulation and Development) Bill 2015 is expected to largely regulate and prevent fraud and cheating in the real estate sector and take care of the interests of homebuyers. However, ambiguity in the bill's provision to register agreement for sale before the paying the booking money needs more clarity to actually benefit homebuyers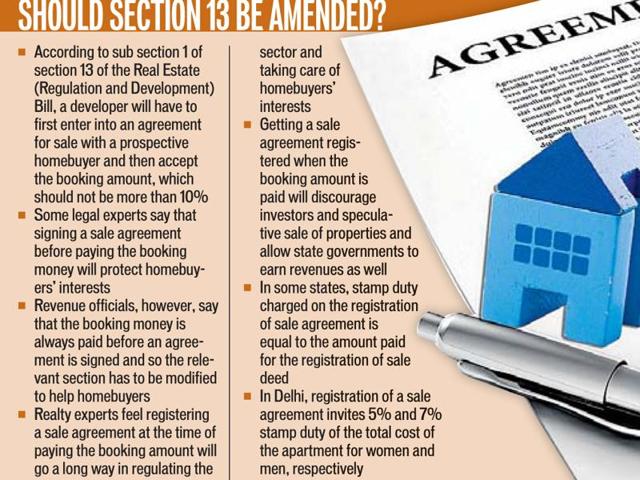 Though the Bill was recently approved by the Union Cabinet chaired by the Prime Minister Narendra Modi and is likely to be tabled in the upcoming budget session of Parliament, its provisions still lack clarity on many important issues. One of them is Section 13, which deals with compulsory registration of agreement to sale, ie, builder-buyer agreement.
Stay tuned with breaking news on HT Channel on Facebook.
Join Now
According to sub section 1 of section 13 of the Bill, "A promoter shall not accept a sum more than 10% of the cost of the apartment, plot, or building as the case may be, as an advance payment or an application fee, from a person without first entering into a written agreement for sale with such person and register the said agreement for sale, under law for the time being in force."
Sub section 2 of section 13 says that the agreement for sale will specify the particulars of the project's development, including construction of building and apartments, along with specifications and details of internal and external development work and other details such as rates of interest payable by the promoter to the allottee and the allottee to the promoter in case of default.
This sole provision under chapter III - Functions and Duties of Promoter – will ensure multiple benefits to homebuyers and governments. It will ensure consumers' safety from the first day of entering into a deal with a real estate developer. Various state governments will also be able to earn revenues on these transactions.
What comes first: Booking amount or agreement for sale?
While some legal experts say that signing a sale agreement before paying the booking money will protect homebuyers' interests, others point out that the booking amount is always paid before an agreement is signed and so the relevant section has to be modified to help homebuyers.
"The best part of this section is that homebuyers will enter into an agreement for sale first and then pay the booking amount. The advantage they get is that they are then aware of each and every detail of the project as well as terms and conditions before making any payment to the developer. This does not happen now. Today, homebuyers pay the booking amount and then wait for several months for the developer to come forward for a builder-buyer agreement. In many cases, the builder-buyer agreement is signed after homebuyers pay 30% of the total cost of the project," says DK Garg, a Supreme Court lawyer.
A former inspector general (revenue) Delhi government, who doesn't want to be named, however contradicts Garg, saying, "In a sale agreement the total cost of the flat as well as the advance money given to the seller is mentioned among other details. So how can the said agreement be registered first and the payment be made later? Also, if a builder registers a sales agreement for sale with a homebuyer for any flat, that property will be blocked and the builder won't be able to sign any other sales agreement with other parties. What happens if the buyer defaults on paying the booking amount? In my opinion the sale agreement should be registered in the office of the sub-registrar and the booking amount should be paid when the sale agreement is registered. There should be no question of any payment before or after that."
Adds he, "If it is not rectified and made practical, like many other provisions, it will remain only a provision in the law books."
Protecting consumers' interests
Realty experts feel registering a sale agreement at the time of paying the booking amount will go a long way in regulating the sector and taking care of homebuyers' interests.
People who have recently bought properties complain that in the absence of a real estate regulatory act, payment of booking amount, which is normally 10% of the cost of the project, is a "trap" laid out for them by developers. Since a builder-buyer agreement is signed several months after payment of the booking amount, developers exploit it and impose unfair and one-sided conditions on homebuyers in the agreement. If a homebuyer protests the developers threaten to forfeit the booking amount.
A case in point is Noida Extension. Many homebuyers there had booked apartments after paying 10% booking amount when property prices were affordable. Much to their dismay, when construction restarted after a gap of some months after resolution of the land acquisition problem, their bookings were cancelled by the developers on one pretext of the other. The latter were hoping to sell the projects at higher prices and cancel the initial bookings, and the buyers could not take any action as they had not registered the sale agreement.
"Hundreds of cases of disputes between homebuyers and builders have arisen due to lack of clarity of terms and conditions at the time of paying booking amount. If homebuyers will be aware of each and every detail of the project and know how and when they have to pay their installments, there won't be any dispute later," says Garg.
Revenue-earner for states
Other benefits of getting a sale agreement registered when booking amount is paid will discourage investors and speculative sale of properties and allow state governments to earn revenues as well.
In many states, stamp duty charged on the registration of sale agreement is equal to the amount paid for the registration of sale deed. For instance, in Delhi, registration of a sale agreement invites 5% and 7% stamp duty of the total cost of the apartment for women and men, respectively. This is equivalent to the stamp duty on sale-deed too. In Noida and Ghaziabad, however, only 2% stamp duty is charged on the registration of a sale agreement.
"The provision mandating registration of agreement for sale will allow state governments to earn some revenue on each time an under-construction flat is sold by one buyer to another. At present developers are pocketing this money in the name of transfer charge from one allottee to another. Besides this, it will also discourage investors because they will also have to pay stamp duty on the registration of agreement for sale for each apartment and some percentage of their profit will go to the state governments in the form of revenues," says SD Singh, a lawyer in the sub-registrar's office in Noida.