Baaghi 2 vs Kshanam: Tiger Shroff film is not even a watered-down version of Adivi Sesh's edge-of-seat original
Updated on Apr 01, 2018 01:36 PM IST
Baaghi 2 vs Kshanam: Adivi Sesh wrote an edge-of-seat thriller, Tiger Shroff destroyed it one roundhouse kick at a time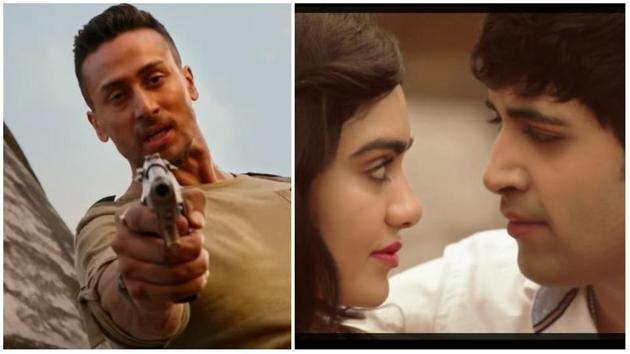 Baaghi 2 has Tiger Shroff and his tan in the lead role, with a supporting cast that includes Disha Patani, Manoj Bajpayee, Randeep Hooda and Deepak Dobriyal. The film is a remake of Telugu film Kshanam, starring Adivi Sesh, Adah Sharma and Anasuya Bharadwaj. The original film is a crime thriller with nail-biting plot twists that keep you on the edge of your seat. But this is exactly something that Baaghi 2 isn't, despite being a scene-by-scene copy.
Both the films begin the same way, with a woman (Disha Patani/Adah Sharma) getting assaulted by two black men in a car. Unlike its Hindi counterpart, Kshanam moves at a rapid pace – familiarising the audience with the setting. A mother seeks the help of an ex-boyfriend (Tiger Shroff/Adivi Sesh) to rescue her kidnapped daughter. The ex then comes to town to solve the intriguing mystery, becoming more confused than ever because there might not even be a missing daughter. As the plot thickens, the ex-boyfriend navigates through the lies to uncover the truth. An interesting plotline on paper, it was beautifully brought to life in Telugu by director Ravikanth Perepu. However, the same isn't the case with Baaghi 2.
While Adivi Sesh is an NRI banker, Tiger Shroff is a soldier. In probably one of the most distasteful and offensive portrayals of the Jammu and Kashmir unrest, director Ahmad Khan shows Tiger Shroff driving a jeep with a human shield tied to its bonnet as people ready themselves to pelt stones. This is an apparent attempt to highlight how macho and heroic our man is. Then we see the colonel letting him off with a light punishment and a warning.
Watch | Kshanam trailer
Next, to reiterate the fact that Shroff has great skills when it comes to stunts, we see him coming to the aid of a damsel in distress at a police station. In a stunning display of might, he breaks two chairs and a couple of teeth of the officer in attendance.
A tight screenplay is the most important aspect of a crime-thriller, but Tiger Shroff's Baaghi 2 tries to be a romance/action/crime drama and manages to fail at that too. Sample this: Tiger aka Ronnie arrives in Goa after he receives a call from his ex, but he also finds the time to attend a friend's wedding. Looking at the happy bride and groom, he recalls his past with Disha aka Neha. Then we see them dancing to a bhangra tune amid colourful lights and backup dancers. All this distracts from the plot at hand.
The supporting characters in Baaghi 2, for some reason, find the need to go over the top to put their point across. Prateik Babbar plays Disha's brother-in-law who, in the Telugu version, is an MDMA-snorting creep. This guy, however, takes it up another notch by making lewd remarks about his baby, err, bhabhi. Randeep Hooda dresses up like a hippie who smokes weed, but he is an undercover officer who specialises in encounters. His name? LSD.
No, I am not kidding.
Watch | Baaghi 2 trailer
Deepak Dobriyal plays the role originally portrayed by Vennela Kishore. This is probably the only character that mirrors the one from the Telugu film – unfortunately with Hyderabadi Hindi.
While the first half of Baaghi 2 does nothing but ego-massage Shroff to establish his position as the star of the film, the latter part veers away from the original plot for exactly 20 minutes. That is when we see the Rambo in him surface. The actor is expected to star in a remake of the Sylvester Stallone film, but if Baaghi 2 is any indication, I am not interested.
As respectable an actor as Manoj Bajpayee may be, his character is nothing compared to the original one played by Anasuya Bharadwaj. It was small details like these succeeded in making Kshanam intriguing.
Telugu films were once infamous for having unbelievable stunt sequences, a reputation that Tollywood is now trying its best to move away from. Seems like director Ahmad Khan, also the stunt designer of this film, should look southward for a little more than just inspiration.
For instance, a machine-gunner in a helicopter misses the target every single time, giving Tiger enough of an opening to perform a few roundhouse kicks, high kicks and whatnot before taking over his weapon to shoot down another chopper from the sky. Before this, he faces an army of men and literally leaves bodies in his wake. Dialogues like "He is a one-man army" and "I am here to save you, not him" by Ronnie's colonel make up for most of these twenty minutes.
Moreover, the original screenplay had Vennela Kishore and the brother-in-law going against each other, bringing about the latter's arrest without an unnecessary escalation in body count. All these differences, coupled with bad writing, resulted in a cinematic product that cannot even be called a watered-down version of the original.
Jacqueline's Ek Do Teen? Please, let's not go into that.
Author tweets @Priyanka_S_MCC
Follow @htshowbiz for more

ott:10:ht-entertainment_listing-desktop
Personalise your news feed. Follow trending topics