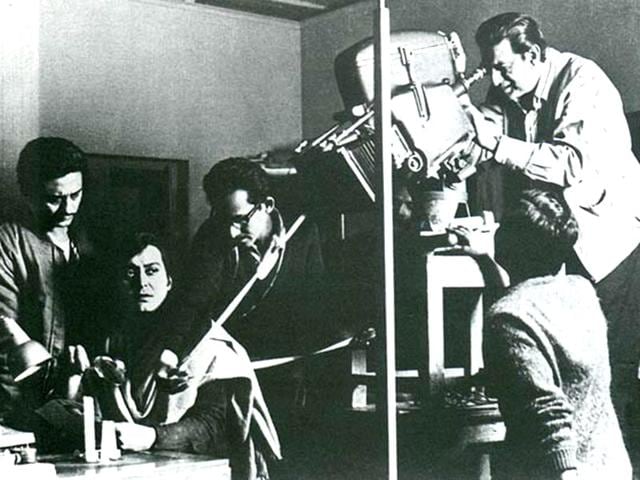 Did Steven Spielberg steal Satyajit Ray's story for ET?
Nearly a quarter of a century after Satyajit Ray's death, the jury is still out on whether a script written by the acclaimed director in 1967 was the genesis Steven Spielberg's hit E.T. The Extra-Terrestrial.
UPDATED ON MAY 02, 2015 03:20 PM IST
Nearly a quarter of a century after Satyajit Ray's death, the jury is still out on whether a script written by the acclaimed director in 1967 was the genesis of Steven Spielberg's hit E.T. The Extra-Terrestrial.
The story of The Alien is one of the stranger aspects of Ray's long and storied career, one that involves celebrated sci-fi writer Arthur C Clarke, Hollywood legends Peter Sellers, Marlon Brando and James Coburn, producer Ismail Merchant, Columbia Pictures and gregarious skin-diver-turned-producer Mike Wilson.
Ray and Clarke began corresponding after the director wrote to the author in 1964 to seek his endorsement for a sci-fi film club in Kolkata. The duo met in London after watching Stanley Kubrick film 2001, based on Clarke's classic novel, and Ray spoke of a film he hoped to make about an alien and a young boy.
Clarke then mentioned Ray's idea to Wilson, a skin-diver who once retrieved a chest of silver coins from a 17th century galleon and produced a film about a Sri Lankan secret agent named Jamis Banda. Wilson wasted no time in getting in touch with Ray, who responded to his offer to set up a co-production deal.
The Alien was to be based on "Bankubabur Bandhu" (Bankubabu's Friend), a short story that Ray had written for his family magazine Sandesh in 1962. At a time when most sci-fi literature and films featured aliens bent on invading the earth, Ray's script had a benign humanoid extra-terrestrial who befriends a young village boy named Haba.
The alien arrives in a spaceship that lands in a lotus-covered pond in a village of Bengal. The villagers think a golden spire, which is part of the spaceship, is a submerged temple and begin worshipping it. Other characters in the script are a hard-boiled journalist from Kolkata and an American engineer drilling tube-wells for a Marwari businessman based on G D Birla.
Things began to go wrong right from the time Ray began writing the script in Kolkata in early 1967. Wilson decided to join Ray at his flat and once the script was finished, Wilson copyrighted it in both their names though his only contributions – according to several accounts – were one change in the dialogue for the American character and the suggestion that the spaceship should be golden in colour.
Ray wrote a long account about his efforts to make The Alien in 1980, in which he said he zeroed in on Peter Sellers to play the Marwari businessman because he felt the presence of a big name in the cast would help him raise the budget needed for the film's special effects. Besides, he believed Sellers "could do things with his voice and tongue which bordered on the miraculous" – a reference to the actor's ability to portray an Indian.
Ray and Wilson met Sellers in Paris in April 1967 and the actor agreed to do the film even though he admitted he knew nothing about the director's work. Ray even organised a special screening of Charulata that had Sellers in tears.
Soon after, Wilson invited Ray to Hollywood, saying Columbia would back the film and Marlon Brando and Steve McQueen were interested in playing the American engineer.
Ray went to Hollywood in June 1967 and held more meetings with Sellers, who was then filming Blake Edwards' The Party, in which he played an Indian. It was then that Ray first developed misgivings about Sellers. "...it is surely not right when a comedian with the caliber of Sellers cheerfully submits to the whims of a director who can think only in terms of belly-laughs, many of which were clearly not going to come off on the screen. Did Sellers not care enough? Or did he lack judgement?" Ray later wrote.
Watch: ET - The Extra Terrestrial Trailer


It was also at this time that Ray discovered his script, copies of which were being distributed by Columbia, had been jointly copyrighted by Wilson.
"I left Hollywood firmly convinced that The Alien was doomed," he later wrote.
During a subsequent trip to London in October 1967, Ray made more unsettling discoveries – Wilson had kept a $10,000 advance from Columbia and positioned himself as an associate producer for the film even there was no agreement between the two men. It was around this time that James Coburn was suggested as a replacement for Brando to play the American engineer.
A few months later, Columbia said it would back the film if Ray could get Wilson to pull out. Wilson rejected Ray's request to give up his copyright on the script, describing the director as a "thief and slanderer".
In July 1968, Sellers – who had earlier told Ray he had not problems playing a secondary role in the film – wrote to Ray and said he could not contemplate doing the role as it was. Till that point, Sellers had written several letters to Ray in verse and the director decided to respond in kind.
"Dear Peter, if you had wanted a bigger part, Why, you should have told me right at the start. By disclosing it at this juncture, You have surely punctured The Alien-balloon, Which I daresay will be grounded soon, Causing a great deal of dismay, To Satyajit Ray," the director said in his reply.
About a year after this, Arthur Clarke suddenly informed Ray that Wilson had shaved his head and gone off into the jungles to meditate. Wilson too wrote to Ray to say he was relinquishing his rights to the script of The Alien but the film never got off the ground.
Attempts were made by Hollywood big-wigs in subsequent decades, including producer Ismail Merchant, to get Ray to work on the film again but nothing much came of these efforts.
When Spielberg's E.T. was released in 1982, there were several people – including Arthur Clarke – who pointed out the striking similarities with the script for The Alien, particularly the central relationship between a benign alien and a young boy. Other also pointed out that though E.T. was released by Universal, the project had begun at Columbia Pictures.
Spielberg denied copying from Ray's script, saying he "was a kid in high school when his script was circulating in Hollywood".
Ray possibly had the last word on the matter when he said that E.T. would "not have been possible without my script of The Alien being available throughout America in mimeographed copies".
Read:
10 pearls of wisdom from Satyajit Ray for aspiring filmmakers
ott:10:ht-entertainment_listing-desktop

Close