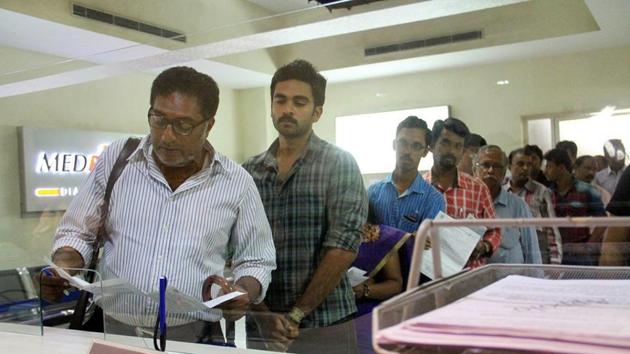 Sila Samayangalil movie review: Priyadarshan directorial starring Prakash Raj and Ashok Selvan is pragmatic
Sila Samayangalil, directed by Priyadarshan and starring Prakash Raj, Ashok Selvan and Shreya Reddy, is sometimes poetic and sometimes dark. What it is not is preachy.
UPDATED ON JUL 30, 2019 09:44 AM IST
Sila Samayangalil - Netflix Original (Tamil)
Director: Priyadarshan
Cast: Prakash Raj, Ashok Selvan, Shreya Reddy
Rating: 3/5
Sila Samayangalil (Sometimes), the Netflix original directed by Priyadarshan, is driven solely by curiosity. George RR Martin asked, "Why is it that when one man builds a wall, the next man immediately needs to know what's on the other side?" and this is exactly what keeps one hooked to Sila Samayangalil. The film is about eight individuals from different walks of life coming together under one roof – a medical diagnostic centre – worried about what happens next. Six of them are awaiting their HIV test results.
The premise of the film is heavy and so is its treatment. Director Priyadarshan presents each of his characters in a realistic setting, with a dash of melodrama here and there. For instance, the receptionist loudly asks one of the first patients to hand over the form for the HIV test to sign it while another is asked if he is taking the ELISA (enzyme-linked immunoassay) test or the PCR (Polymerase Chain Reaction). The drama surrounding this loud questioning by the receptionist Deepa (Shriya Reddy) embarrasses the two patients. They look around to see if the others noticed, reiterating the prejudice that comes along with even being tested for HIV.
The film is not really about the characters themselves, but their situations. The intention is to create awareness about different ways one could contract HIV, and for these characters to form a connect with the audience. Not all of them have a dramatic background story though.
Read | Diya movie review: Sai Pallavi's stunning performance cannot save this confusing film
Yet, when presented with six individuals throwing furtive glances, one gets curious. Ashok Selvan plays the role of a pharmacist Bala, an extrovert who knows what he is dealing with and has done his research. He is ready to face the consequences, and he is the one wondering about others. He first meets Krishnamurthy (played by Prakash Raj) as the two stand in the same queue to submit the forms, he then meets him at breakfast and initiates the conversation.
However, not everyone is ready to share their history over a cup of coffee, or in this case, a glass of water. Krishnamurthy is the curious introvert who is wondering what the other guy is going through. Why does he have to take the same test? What did he do? Was it a mistake? We can see these questions cross his mind, from the way Krishnamurthy looks at Bala. By confessing about himself, Bala draws Krishnamurthy out and their dialogue forms the best part of the film.
Read | Happy Birthday Ajith: A look at the off-screen persona of a mega star who is a media recluse today
The four other patients hear Bala speak about getting the results earlier by bribing the receptionist and suddenly everyone is curious. They want to know how, and they sit together to figure out a way. In the meanwhile, each of them confess about how they think they could've been infected.
Watching each character reveal the story is like reading the college confessions page. By sharing these instances, the waiting becomes bearable and also gives them space to form their own opinions. Even as we hear each story, even as audience we form our opinions and judgements. Not all of them are innocent. As Krishnamurthy says, an unintended mistake is also a mistake and consequences have to be faced.
MS Bhaskar, who plays a contractor named Raghavan, recognises one of the persons waiting as ACP Karunakaran (Shanmugarajan) and approaches him, only to be ignored. He in turn makes rude sarcastic remarks that are funny, even considering the situation.
Read | Happy Birthday Trisha: Here's a look at 9 memorable characters portrayed by her
Reading someone's diary, peeping through someone's window or overhearing conversations gives us a guilty pleasure. The camera work by Sameer Thahir is somewhat similar. It feels like we are looking into someone's life even though it is none of our business.
For instance, Raghavan confesses to drunk driving and yet when it comes to crucifying ACP Karunakaran for taking bribe or paying for sex, he puts himself on a pedestal. Even though all of them are travelling in the same boat, they have no problem whatsoever judging others for their choices.
The golden moment in the film is when Bala tells Krishnamurthy about how everyone is hoping that the test result can be positive for anyone else, but themselves. He bemoans this selfishness to which Krishnamurthy replies, "Aren't we doing the same?"
The poignant ending, though unnecessarily drawn out, still makes you wonder how humans behave under stress. Are we ready to lean on someone when faced with a dire situation or we simply give up?
Sila Samayangalil is sometimes poetic and sometimes dark. What it is not, is a preachy awareness campaign.
Author tweets @Priyanka_S_MCC
Follow @htshowbiz for more

Close