Bouchard and Dimitrov Fall in First Round of French Open
While most favorites have advanced past the first round of the French Open without issue, two of the brightest young lights of last summer could not on Tuesday.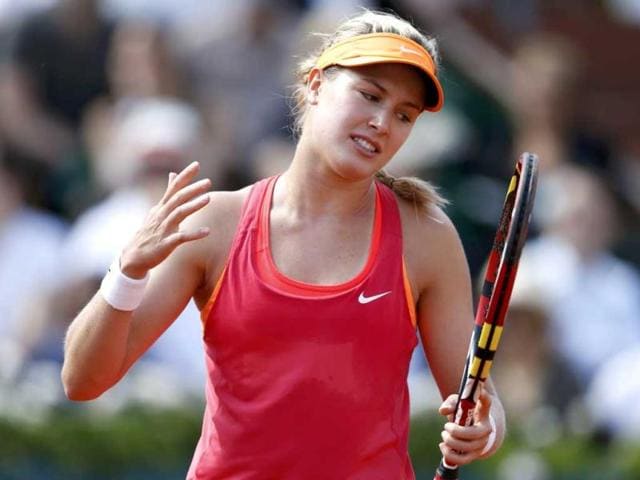 Updated on May 27, 2015 09:04 AM IST
While most favorites have advanced past the first round of the French Open without issue, two of the brightest young lights of last summer could not on Tuesday.
Eugenie Bouchard, a Canadian who made runs to the semifinals of the Australian Open and French Open last year and then reached the final at Wimbledon, lost on Tuesday to Kristina Mladenovic, 6-4, 6-4. It was Bouchard's first loss in the first round of a Grand Slam, and she will fall to outside the top 10 from her current ranking at No. 6.
Bouchard's decline has been precipitous: She has lost eight of her last nine matches, with her lone victory since March coming two weeks ago in Rome.
"Honestly, I don't know what to say," Bouchard said after Tuesday's defeat. "It's been kind of the same as how I have been feeling recently on the court. Just not like myself."
Grigor Dimitrov, the Bulgarian with the stylish game that has drawn comparisons to Roger Federer's, was similarly eliminated, by the American Jack Sock, 7-6 (9), 6-2, 6-3. Dimitrov, seeded 10th in Paris, has not replicated the hype-justifying run he made to the Wimbledon semifinals last year, and he looked listless at times as the match slipped away.
Rafael Nadal, a nine-time champion here, did advance out of the first round, dispatching a 296th-ranked wild card, Quentin Halys, 6-3, 6-3, 6-4.
In slow, heavy conditions, Nadal did not overpower the 18-year-old Halys but instead beat him with rigid consistency. Nadal hit just 13 unforced errors in the match, a quarter of the 52 attributed to Halys.
After the match, Nadal confirmed a scathing report in The Daily Telegraph last week saying that he had demanded that Carlos Bernardes, a top-level chair umpire, no longer officiate his matches.
"I consider him a great umpire and a good person, but I think when you have some troubles with the same umpire, sometimes it's easy to stay for a while away, no?" Nadal said. "I think that's the real thing. I think is better for both of us if we are not in court at the same time for a while after what happened in Rio de Janeiro."
The issue in Rio de Janeiro occurred during a quarterfinal match at the Rio Open in February. After leaving court to change clothes, Nadal accidentally returned with his shorts on backward. When he asked if he could change, Bernardes told the notoriously deliberate Nadal that he could, but that he would receive a time violation.
"I think it, you know, shows not respect, because I cannot play a full game with the shorts the other way," Nadal said. "So it's better. It's better to be away for a while."
Novak Djokovic, whose year started with a championship at the Australian Open and has continued with four Masters titles, cruised past the Finnish veteran Jarkko Nieminen, 6-2, 7-5, 6-2.
Another Grand Slam champion, Marin Cilic, won his first Grand Slam match since his triumph at last year's U.S. Open, beating Robin Haase, 6-2, 6-4, 6-2. The easy victory brought his streak of sets won at major tournaments to 13.
Cilic missed the Australian Open in January with a shoulder injury that kept him out for most of the first three months of the season, except for a first-round loss in March in Indian Wells, California. Making his comeback primarily on clay, his least favored surface, Cilic came into Paris with a 4-5 record this year, which he attributes to the rust from his layoff showing at the most important moments.
"Sometimes things don't set up themselves like when you are confident," he said. "For example, like when you have a lot of matches, wins, things like that, you're going to bring the best shots on some crucial moments. I think that's what helps you the most."
Caroline Wozniacki earned a 6-3, 6-0 victory over Karin Knapp that was not as routine as the score line reflected. It took a full 30 minutes to complete the first three games.
Wozniacki, who completed the New York City Marathon last fall in less than 3 1/2 hours, said she was hardly bothered by the grueling pace at the outset.
"I knew the longer we played, the better for me," she said. "So I didn't mind at all."
Knapp, a champion last week at a warm-up event in Germany, played with an aggressive style, and Wozniacki comfortably fell into her favored counterpunching, defensive style. It was not until the penultimate point of the match that Wozniacki hit her first forehand winner; Knapp had hit 18.
Winners were not in such short supply in the last match of the day on Court Philippe Chatrier, with the top-seeded Serena Williams ripping 25 in a 6-2, 6-3 victory over Andrea Hlavackova, a free-swinging Czech doubles specialist who hit 16 herself.
The triumph by Williams was part of a turnaround by Americans to what had been a dismal start to the tournament. After the U.S. contingent had won only two of its first 15 matches, Williams, Sock, John Isner, Madison Keys and Irina Falconi ensured more than just a token presence in the second round.
Isner, the highest-ranked American man at 16th, beat Andreas Seppi, 7-5, 6-2, 6-3. Seppi, who upset Federer in the third round of the Australian Open in January, was broken six times.
Close Story
Personalise your news feed. Follow trending topics