Can Rashford 2.0 light up Manchester derby?
Jan 13, 2023 09:18 PM IST
He has scored in United's last six games continuing a good run from the World Cup.
Remember who scored Manchester United's first goal this season? It was a smart effort that sent James Milner to the floor and worth every bit of the nearly $90m the club had paid for Jadon Sancho. But Sancho has not been part of the squad for the last 12 matches. United have won 11 of them with Marcus Rashford, who got the club's second goal of 2022-23 in that 2-1 win against Liverpool, scoring nine times in 10 matches.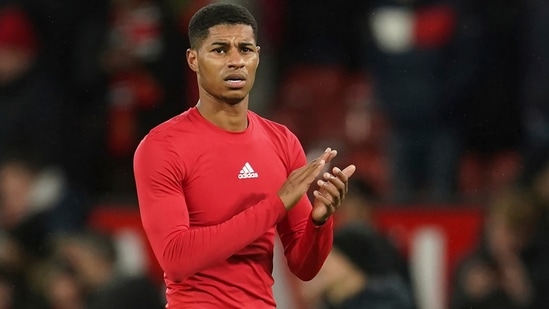 Rashford goes into Saturday's Manchester derby at home with at least a goal in the last six games across competitions and having found the target in eight consecutive matches at Old Trafford. Including three goals in the World Cup, Rashford has 10 goals in 11 games. They have come from his right foot, off his left, from a direct free-kick (v Wales), a penalty (v Everton) and a slick on-the-run shot following a corner-kick (v Forest). They have come from inside the area and after strong runs down the right during which he has wrong-footed a defender before scoring (v Iran and Burnley).
Go back further and you will find goals from headers. A powerful one against West Ham where Rashford attacked the ball and one against Sheriff where he preferred placement over power. In the goals against Aston Villa (EFL Cup) and Wolves, Rashford used his strength to bustle into the penalty box and produce calm finishes. Early in the season, he exploited Arsenal and Liverpool's high defensive line with his speed. "He is lightning quick," said England midfielder Declan Rice. Unstoppable with his speed, dribbles and directness, United manager Erik ten Hag has said.
Manchester City know this but a high line is also intrinsic to how they play. Conversely, United's longest winning run since 2019 – they are the only English club in four competitions now - has not been against top teams, so the improvement in all areas will be tested by City and league leaders Arsenal on successive weekends.
Rashford has played on the left, where Sancho was initially preferred, and through the middle, a position which would possibly have been Cristiano Ronaldo's but for separation by mutual consent. He is pressing better, stealing in the front third, both aspects coming together in the goal Phil Foden scored against Wales. If the FA Cup game against Everton is any indication, Rashford could also be United's No. 1 penalty-taker.
"Nobody can stop Rashford when he is like he was tonight," said Everton manager Frank Lampard after the 1-3 FA Cup defeat where Rashford assisted Antony, forced an own goal and scored from the spot.
When Rashford came on as a late substitute against Iran, it was his first game for England since the 2021 European Championships where he missed a penalty in the final. Rashford scored 49 seconds after getting on the pitch at Khalifa International Stadium. "We have a different version completely to the player we had in Euros last summer," said England manager Gareth Southgate.
The Euros was good for England but not for Rashford. He delayed shoulder surgery to be part of the competition but played only 83 minutes. Racial attacks followed after he missed from the spot.
When, following surgery, he was ready to resume, Ole Gunnar Solskjaer was struggling to keep his job. The chaos got worse after Ralf Rangnick took charge and Rashford played only three full games last term. Rangnick not starting him despite Ronaldo and Edinson Cavani not being available in the 1-4 loss at Manchester City last March was possibly the lowest point of the season for Rashford.
"I was struggling at times with more mental things... That's the biggest difference from last season," he has said.
Ten Hag's arrival changed things; the Dutch manager backing Rashford who had forced a government U-turn on free school meal vouchers in 2020. Rashford has spoken of a "completely different energy around the club and the training ground" this season.
Rashford got Ten Hag's support after he missed against Brighton in the 1-2 defeat, the manager saying: "I trust he will finish in the future." Rashford has 15 club goals and six assists this season. At seven league goals, Rashford has as many as fellow Mancunian Foden and is seventh in the scorers' standings. So the numbers aren't jaw-dropping in a competition where with 21 strikes (27 overall in 23 games) in the prodigious Erling Haaland leads the race for the golden boot. Haaland and Foden, got a hattrick when City last met United and won 6-3.
But given that Rashford, 25, had five goals and two assists in 32 games in 2021-22 this is an uptick in performance. "He is in the right moment," Ten Hag has said. The manger backs him to get 20 league goals. Getting closer to that number on Saturday could be crucial to Manchester United's forward march.
Continue reading with HT Premium Subscription
Daily E Paper I Premium Articles I Brunch E Magazine I Daily Infographics