Watch: Ferran Torres, Savic wrestle in brutal 92nd-minute brawl during Barcelona's 1-0 win vs Atletico Madrid in La Liga
Jan 09, 2023 04:05 PM IST
La Liga: Ferran Torres and Stefan Savid were involved in a brutal brawl and were sent off during Barcelona's 1-0 win vs Atletico Madrid.
Barcelona sealed a 1-0 win vs Atletico Madrid to stay on top of La Liga, with 41 points from 16 matches including 13 wins, two draws and a defeat. Ousmane Dembele scored in the 22nd-minute to cap off an excellent team move started by Pedri.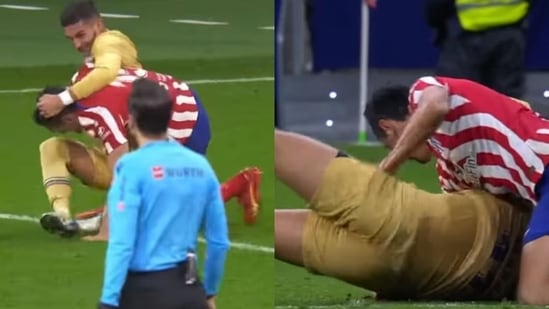 The match also saw a crazy end as Ferran Torres and Stefan Savic were both sent off for wrestling on the pitch in the 92nd-minute. The pair were vying for the ball, but got brutally aggressive after Torres cleared it. The players went tumbling on the ground as there appeared to be grappling, hair pulls, shoves and headlocks.
Also Read | Manchester United to introduce 'Cristiano Ronaldo' salary rule to avoid jealousy among players
Here is the video:
The match also saw Barcelona manager Xavi Hernandez rest star striker Robert Lewandowski. Pedri proved to be crucial as it was his surging run that found Gavi in the Atletico box, who then assisted Dembele. After the match, Pedri credited Xavi for the goal. "Xavi is to blame for today's goal. He always tells me to get more into the area and shoot, to take risks, to dare to try one-on-one... I feel more and more comfortable up top, for which Xavi is to blame for today's goal", he said.
"I slipped, I saw space, and I found Gavi, who put his body in and gave it to Dembele to score.
"I am closer to the area and it is more comfortable for me to create from there, in addition to the fact that the team has superiority in the middle", he further added.
After the game, manager Xavi spoke about Lewandowski's absence and said that it is important for his team to win without the former Bayern Munich man. "It is important to win without him. He is a basic piece. In that high pressure we have missed him. Ferran has done well, but we have missed him. We were also missing Jordi Alba. It is difficult to win in this stadium and I am leaving satisfied", he said.
"The first half hour convinced me. The game was controlled. They did well. The goal comes from a numerical superiority inside. These are three golden points", he further added.