Athletes can even be ousted for flouting Covid rules: Tokyo Olympics playbook
Not wearing a face mask where required and refusing to take the Covid-19 test can also result in firm action in the July 23-August 8 Olympics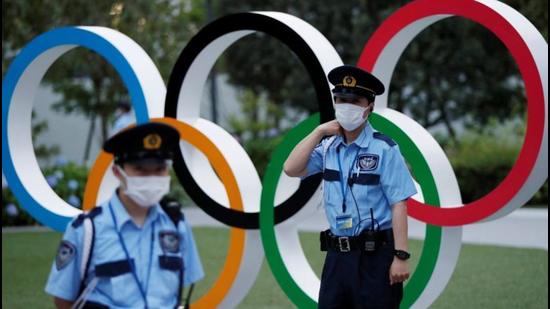 Published on Jun 15, 2021 10:36 PM IST
Athletes not adhering to Covid-19 protocols at the Tokyo Olympics will face strict sanctions, including exclusion from the Games, according to the final version of the Playbook released by the International Olympic Committee (IOC) on Tuesday.
A vital addition to the comprehensive guidelines for athletes and officials is 'disciplinary regulations' in case of any infringement by an athlete. That list includes not wearing masks when required and refusal to take the Covid-19 test.
"The range of potential consequences that the IOC and IPC (for Paralympic Games) may impose have been included in order to provide some transparency to stakeholders and Games participants," IOC said in a statement.
Also read | Australian swimmer Kaylee McKeown breaks 100-meter backstroke world record
"Examples of such potential consequences include: warnings; temporary or permanent exclusion from the Games; withdrawal of accreditation; disqualification (with the consequences set forth in the Olympic Charter); and financial sanctions," it said.
"Now everyone knows the rules. It is crucial that the measures outlined in the Playbooks are respected in order to make the Games safe and secure for all Games participants, and the people of Japan," IOC Games director Christophe Dubi said.
The IOC said 80% of residents at the Olympic and Paralympic Village, and a high percentage of other Games participants coming to Japan, are expected to be vaccinated.
"This will include between 70 and 80 percent of broadcasters and accredited press that will be vaccinated, according to the latest feedback received by the IOC," it said.
Sport-specific regulations
The sport-specific regulations covering the competition phase, in case an athlete tests positive for Covid, are expected to be released on Friday.
"They will explain the processes and procedures for their competitions and events in the case of a confirmed positive COVID-19 test result, including any changes to competition formats and schedules; the minimum numbers of athletes, officials or technical officials required to run an event; and decision-making within the International Federations," IOC said.
Also read | Brisbane set to be named 2032 Olympics host next month
According to a report in the insidethegames website, an athlete who is unable to compete due to a positive test would be classified as "did not start" rather than disqualified.
The report said there is a provision of replacement depending on the competition format and schedule. "If an athlete has to withdraw, then their place would be made available by the next highest ranked and eligible athlete," the report quoted IOC sports director Kit McConnell as saying.
"If an athlete would have taken part in a medal event but cannot, they will receive the minimum level of medal they would have received for example in a final," McConnell said.
Close Story