D Gukesh suffers first loss as India B held
Published on Aug 08, 2022 11:39 PM IST
The 16-year-old lost to Abdusattorov as his team was held by Uzbekistan in the penultimate round of the 44th Chess Olympiad.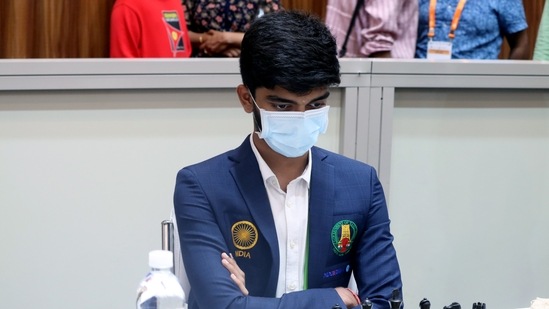 D Gukesh's first loss in the 44th Chess Olympiad came at an inopportune time. In the penultimate round of the tournament on Monday, the 16-year-old from Chennai lost to Uzbekistan's Nodirbek Abdusattorov in a dramatic five-hour encounter as India B drew 2-2 with the team from Central Asia in the open section. Abdusattorov, 17, displayed his credentials with a stunning turnaround in a game that went down to the wire. The Uzbek youngster is the reigning world champion in the rapid format, having defeated world No 1 Magnus Carlsen and Ian Nepomniachtchi on his way to the crown.
The scenes at the end reflected Gukesh's agony. After moving his knight to f3 to prevent Abdusattorov's queen from capturing it, he picked up his pen and dutifully noted down his 72nd move, not realising his blunder. It took Abdusattorov moving his queen to b7 and giving a check for his irreversible error to dawn on him. Soon, his hands were on his head with utter disappointment etched on his face. For the next 30 seconds, he sat there in disbelief. Eventually, his Uzbek opponent pointed out that Gukesh's time had run out.
Gukesh, playing with white pieces, seemed to hold the edge until approaching the end game. A few inaccuracies, though, cost him what would have been his ninth victory in ten rounds. Instead, he now has eight wins, one draw and a defeat.
By the time Gukesh's game was coming to a close, India B seemed comfortably placed with R Praggnanandhaa defeating Javokhir Sindarov in 77 moves. Nihal Sarin and B Adhiban had managed draws against Nodirbek Yakubboev and Jakhongir Vakhidov respectively. Given that they were 2-1 in front, a draw would have been enough for India B to add two match points to their tally. It wasn't to be. The hosts are now third in the points table with a round remaining.
Uzbekistan continue to stay on top with 17 match points while Armenia are in second spot. Armenia defeated Azerbaijan 3-1.
Praggnanandhaa was also locked in a nerve-wracking battle against Sindarov. He had a rook and a pawn while Sindarov was left with just a light-squared bishop in the end game. The engines gave Praggnanandhaa a distinct advantage, but solving the final piece of the puzzle was far from easy. That the 16-year-old managed to find his way through must have pleased him no end.
Sarin, too, bolstered his confidence with a draw against Yakubboev in a game that he seemed set to lose. The 20-year-old from Uzbekistan, playing with white pieces, took the aggressive route by taking Sarin's pawn with his knight to e4. He proceeded to move his knight to f6, initiating an exchange of knights off just his fifth move. Shortly after, Yakubboev facilitated the trading of the queens too.
The approach resulted in both players just having a dark-squared bishop and six pawns each after 31 moves. While the engine didn't decisively tilt the scales in either player's favour at any stage of the game, Sarin felt he was worse off during the middle phase. The 18-year-old from Kerala hung on though. "My game was suffering throughout. I was much worse. I managed to hold on, which was very important," said Sarin, heaving a sigh of relief.
India A scored an important 2.5-1.5 victory over Iran. They have moved back to fourth in the standings. A streak of seven draws was finally broken by Vidit Gujrathi, whose performances have been below par in this tournament. He defeated Iranian Amin Tabatabaei. SL Narayanan also won while P Harikrishna and Arjun Erigaisi were held.
In the women's section, India A took another decisive step towards winning a medal by beating Kazakhstan 3.5-0.5. Closely following them are Poland and Azerbaijan in the second and third spots. With Harika Dronavalli resting for the tenth-round clash, Bhakti Kulkarni came in and delivered a victory in 47 moves over Guliskhan Nakhbayeva. Koneru Humpy and Tania Sachdev also prevailed, setting the stage for what promises to be an important day for Indian chess.
Topics
Personalise your news feed. Follow trending topics