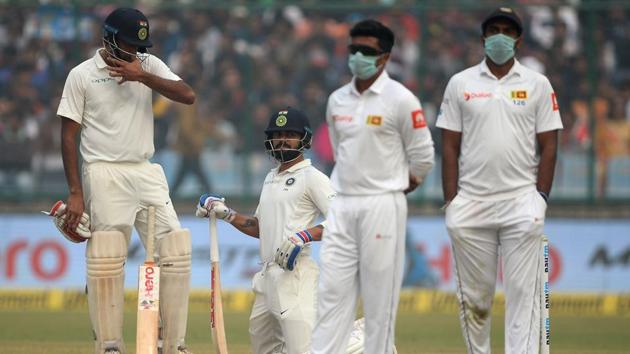 Political to weather pollution, Delhi has it all: Mamata Banerjee on cricketers in masks
Sri Lankan cricketers wore masks during the third India-Sri Lanka Test to guard themselves from Delhi's dangerous air pollution. Bengal chief minister Mamata Banerjee took a dig at Prime Minister Narendra Modi's Swachh Bharat programme
UPDATED ON DEC 05, 2017 02:59 PM IST
Bengal Chief Minister Mamata Banerjee launched a broadside against the Swachh Bharat programme and questioned its outcome, pointing out that Sri Lankan cricketers had to wear masks on the field on the second day of the third Test at the Ferozeshah Kotla in New Delhi. (India vs Sri Lanka, 3rd Test, Day 4 - HIGHLIGHTS)
"What happened to the Swachh Bharat campaign? Sri Lankan cricketers are playing with masks on the field in the Capital. From political pollution to weather pollution, Delhi represents it all," remarked Mamata Banerjee. (India vs Sri Lanka, 3rd Test, Day 4 - SCORES)
"It's perhaps the political pollution that is causing so much air pollution," she remarked. The chief minister was speaking at a function on Tuesday.
"From eating to playing, masks are needed in Delhi for a number of activities," said Mamata Banerjee.
READ | Delhi pollution: As Sri Lankans gasp for air at Kotla, Mamata Banerjee taunts Swachh Bharat programme
She has maintained that her government's 'Nirmal Bangla' (Clean Bengal) programme predates the Swachh Bharat campaign that was launched on October 2, 2014.
The Sri Lankan cricket team on Sunday took to the field wearing masks while fielding on the second day of the Kotla Test against India, complaining of poor air quality that forced the hosts to declare their innings.
This is the second time in two days that Mamata Banerjee has taken a jibe at the pollution in Delhi. On Monday, she had told the media at the state secretariat that she was "ashamed" at the sight of Sri Lankan cricketers wearing masks while playing in the national capital.
READ | Shikhar Dhawan turns 32, wishes pour in for 'Gabbar' of Indian cricket team
"It's not a good sight that a visiting team is playing an international game wearing masks. Pollution is worsening every day. This is not earning a good name for the country. I think Delhi must control pollution. Delhi must sit together and decide on it (pollution issue)," Mamata Banerjee had said at the state secretariat.
"I felt ashamed (seeing the Sri Lankan cricketers wearing masks), otherwise I would not have said this...This is not a political issue but a genuine issue," the chief minister said.
Close