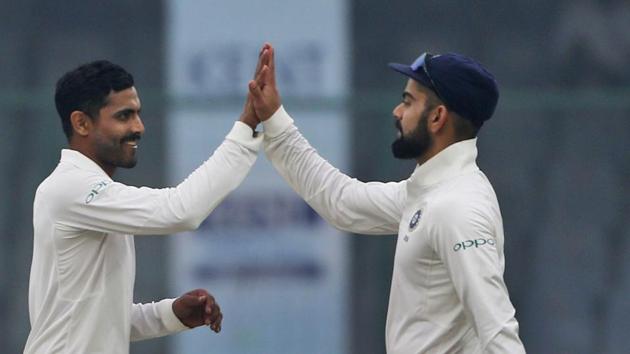 India vs Sri Lanka, 3rd Test, Day 4 highlights: IND on course for record series win
Ravindra Jadeja picked up two quick wickets towards the course as Virat Kohli's Indian cricket team stayed on course for a series win against Sri Lanka. Get highlights of India vs Sri Lanka, 3rd Test Day 4 here.
UPDATED ON DEC 05, 2017 05:20 PM IST
Fifties from Shikhar Dhawan, Virat Kohli and Rohit Sharma helped Indian cricket team set a target of 410 against Sri Lanka. Ravindra Jadeja picked up two quick wickets before the close as Virat Kohli's side stayed on course for a record equalling ninth consecutive series win. Get highlights of India vs Sri Lanka, 3rd Test Day 4, Feroz Shah Kotla, here. (SCORECARD) (STREAMING INFO) (AUSTRALIA vs ENGLAND ASHES DAY 4)
16:45 hrs IST: That is all from us here. Join us tomorrow for the conclusion of the Test match, both in Delhi and Adelaide.
16:42 hrs IST: Shikhar Dhawan: I really enjoyed scoring fifty today, especially as it is my birthday. Very special to me. Before Pujara got out we had instructions to score quickly, but I stuck to my plan and played myself in. I know the wicket here and made the most.
16:35 hrs IST: Stumps in Kotla as well. India need just seven wickets to seal a record equaling ninth consecutive series win. Can Virat Kohli and co seal the deal tomorrow?
16:31 hrs IST: In Adelaide, day 4 has come to a close. England need 178 more to win, Australia need six wickets. We have a legendary day 5 in store.
16:29 hrs IST: WICKET! Jadeja on fire. Quicker delivery pushed through from round the wicket, Lakmal steps up to defend and gets a bottom edge that flattens off stump. Suranga Lakmal b Jadeja 0.
16:27 hrs IST: WICKET! Jadeja strikes in the gloom and Sri Lanka sink even further. Flatter delivery and drifting in, Karunaratne presses forward and edges it to Saha. Dimuth Karunaratne c Saha b Jadeja 13.
16:24 hrs IST: SIX! Breaks the shackles in style as he slog sweeps Ashwin into the stands at deep mid wicket.
16:17 hrs IST: Both Dhananjaya and Karunaratne are battling well. However, the light continues to deteriorate.
16:11 hrs IST: Appeal for an LBW but given! Dhananjaya de Silva reviews. Replays show a big inside edge. He survives.
16:03 hrs IST: The light has deteriorated at the Kotla. Ashwin and Jadeja are operating in tandem. There was a conversation between Shami and umpire Joel Wilson but the umpire said the light is not fit enough.
15:56 hrs IST: Sri Lanka lose their first wicket - 14/1. Great ball from Shami. Bouncer angled in, Samarawickerama fends at it and the ball touches the glove, the umpire gives it out and the batsman reviews, replays show that the ball kissed the glove on the way through to the keeper. Sadeera Samarawickrama c Saha b Shami 5 (15).
15:35 hrs IST: FOUR! Edged but safe! Karunaratne pokes at a full ball outside off and the edge flies in between Saha and Pujara. Over in Adelaide, Joe Root's fifty has put England on course
15:18 hrs IST: FIFTY for Rohit Sharma and India have declared. The target for Sri Lanka will be 410.
15:13 hrs IST: India's lead has crossed 400. Maybe, India will wait for Rohit's fifty to declare.
15:09 hrs IST: WICKET! Kohli goes in the quest for quick runs. Length ball wide outside off, Kohli thwacks the lofted shot to deep mid wicket but miscues it and is held by Lakmal. Virat Kohli c Lakmal b Gamage 50 (58).
15:02 hrs IST: FIFTY for Kohli! Yawn, another day another Kohli brilliance. He now has scores of 0,104*,213,243 and now this knock. Herculean effort.
14:58 hrs IST: FOURS! Rohit and Kohli are finding the boundary at will. India's lead is 390 and both batsmen are nearing fifties.
14:54 hrs IST: The message is clear. Get to 400 and declare immediately. Both batsmen are scoring at an aggressive rate.
14:45 hrs IST: The final session is witnessing India going for the runs. A declaration may be coming up soon.
14:12 hrs IST: Tea on day 4 of the third Test. India will want to bat for another hour and then insert Sri Lanka in as they look to push for the win. A target in excess of 400 should be enough. Over in Adelaide, the final session is upon the visitors as they look to survive under lights
14:05 hrs IST: The partnership between Rohit and Kohli is going at over six runs per over. The lead has crossed 350.
13:56 hrs IST: The scoring has increased a touch after the dismissal of Pujara. Can India's lead reach 400 by the end of play? Or a pro-active declaration?
13:48 hrs IST: Rohit Sharma has started off like a train. He has gotten going with two boundaries. With tea approaching, India would be eyeing a total near 400.
13:39 hrs IST: WICKET! Lakshan Sandakan strikes. Shikhar Dhawan dances down the track and looks to swipe it across the line but misses the legbreak to get stumped by a long way. Shikhar Dhawan st Dickwella b Sandakan 67.
13:31 hrs IST: Fifth fifty for Shikhar Dhawan! What a way to celebrate your 32nd Birthday. Gabbar, you are The One. Also goes past 2000 Test runs.
13:25 hrs IST: FOURS! Dhawan has stepped up a notch after the dismissal of Pujara. He has decided to accelerate with Virat Kohli at the other end.
13:17 hrs IST: WICKET! Pujara misses out on fifty. Dhananjaya de Silva pushes the straighter ball through on off stump and the batsman edges it to slip. Cheteshwar Pujara c Mathews b Dhananjaya de Silva 49 (66).
13:05 hrs IST: Sri Lanka are bowling tight lines and not allowing India to score freely. Dhawan, in particular, has played a knock that has been very unlike him.
12:55 hrs IST: The lead is past 250 now. India will want to up the tempo but some deliveries are misbehaving on the Kotla deck. A target in excess of 350 could be very difficult for Sri Lanka.
12:43 hrs IST: Appeal for an LBW against Pujara. Dilruwan bowls this offbreak from round the wicket and drifts it in, Pujara plays inside the line and gets hit on the pad but the impact was outside off stump. Sri Lanka lose a review.
12:35 hrs IST: FOUR! Pujara is looking in sublime touch. Dhananjaya de Silva floats this delivery full outside off, Pujara dances down the track and caresses it to the deep cover fence.
12:26 hrs IST: The partnership between Pujara and Dhawan is nearing fifty. The scoring rate has not improved much though. Much like the Delhi smog, if I may add.
12:18 hrs IST: Pujara continues to bat aggressively. Surprisingly, he is pushing the scoring rate faster than Dhawan who is content to play second fiddle.
12:15 hrs IST: The second session has started. Lahiru Gamage and Dilruwan Perera have started off proceedings. No Lakshan Sandakan yet. Over in Adelaide, England have made a fast start in pursuit of 354.
11:56 hrs IST: While we wait for the match to begin, the smog continues to torment Sri Lanka. Suranga Lakmal apparently vomited during the first session. Read about it here.
11:31 hrs IST: Lunch on day 4 and India's lead is 214. Pujara is looking aggressive and India will be aiming to get some quick runs in the second session. A target anywhere in the range of 350-400 will be ideal.
11:24 hrs IST: Bittersweet news for Dinesh Chandimal. After his magnificent 164, news has emerged that he has been axed from the Sri Lanka ODI squad for the series against India.
11:21 hrs IST: India might come out all guns blazing in the post-lunch session. However, the pitch seems to have become sluggish for batting.
11:13 hrs IST: WICKET! Rahane's poor series has ended. Flighted delivery from Dilruwan and Rahane toe-ends the slog to long on where he holes out. Ajinkya Rahane c Sandakan b Dilruwan 10 (37).
11:05 hrs IST: Sri Lanka are not giving away easy runs. Scoring quick runs on this track might not become easy as the pitch becomes sluggish.
10:58 hrs IST: Australia have been bowled out for 138, giving England a target of 354. Still advantage Australia one feels but we are set for a thrilling chase. James Anderson the star with 5/43. Legend!
10:51 hrs IST: Rahane survives yet another review. Dilruwan gets this offbreak to spin back in and Rahane looks to whip it to the leg side but gets hit on the pad. The ball was clipping the leg stump but since it was not out, the umpire's decision stays.
10:45 hrs IST: Rahane is struggling against the spin of Dilruwan Perera. It seems that he prefers pace more to spin. His modest contributions in India are very difficult to comprehend for his class.
10:36 hrs IST: Dhawan and Rahane are making decent progress. The move to promote Rahane is probably to give him some batting exposure ahead of the South Africa tour.
10:32 hrs IST: Word from the ground is that eight Sri Lankan players have worn the masks, with only the two bowlers and the keeper not wearing. This will continue to be a major talking point.
10:25 hrs IST: Appeal for LBW against Ajinkya Rahane and umpire Nigel Llong gives it out. The batsman reviews and replays show that it was missing leg stump. The angle was too much. Over in Adelaide, Australia have lost Shaun Marsh.
10:20 hrs IST: Over in Adelaide, Shaun Marsh holds the key as Australia have taken the lead past 320 against England.
10:16 hrs IST: Ajinkya Rahane has been promoted to No.3 in the batting order. Some experimentation been done in the last home Test of the year.
10:14 hrs IST: WICKET! Short and wide ball from Lakmal and Vijay edges the cut to the keeper. He was going for quick runs. Murali Vijay c Dickwella b Lakmal 9 (12).
10:09 hrs IST: This is interesting. Some of the Sri Lankan players are wearing the specialised pollution masks. This is sure to draw up a big debate yet again.
10:06 hrs IST: FOURS! Great start for Murali Vijay as he laces a full awayswinger past the cover region. He follows it up with a boundary to the third man fence. India need a lot of quick runs.
09:58 hrs IST: India's plan will be to go for some quick runs and give Sri Lanka a sizeable target. They will also be wanting a minimum of four sessions to bowl the visitors out.
09:54 hrs IST: WICKET! Short ball from Ishant and Chandimal glides it straight to third man. Ends a superb knock and India have a 163-run lead. Dinesh Chandimal c Shikhar Dhawan b Ishant Sharma 164.
09:42 hrs IST: Chandimal has now registered his highest individual score in Tests. He goes past 162 which he scored against India in Galle 2015.
09:33 hrs IST: Over in Adelaide, James Anderson is putting on a masterclass in bowling and his four wickets have reduced Australia to 81/6. Catch live action here.
09:31 hrs IST: The conditions in New Delhi are still very much the same how it was for the past three days. Hazy, dull and smoggy. Ssshhh, but do not criticise. There is a cricket match going on, for Lord's sake!
09:27 hrs IST: Dinesh Chandimal has reached his 150. Sri Lanka will be hoping to get close to the India score and hope they do not concede a big lead.
On Day 3, the visitors were 356/9 at close of play. Chandimal was batting on 147 and Lakshan Sandakan on 0.
Earlier, Mathews, who survived three dropped catches, ended his two-year century drought on Monday. His last century, at Galle, had also come against India. The former captain played positive cricket during his 268-ball stay that was laced with 11 fours and two sixes.
Chandimal, who seemed a little uneasy in the morning while calling for his trainer, frustrated the Indian bowlers and helped his team avoid a follow-on.
Fast bowlers Mohammed Shami, Ishant Sharma and left-arm spinner Ravindra Jadeja claimed two wickets each. Ravichandran Ashwin picked three wickets.
Close