Rafael Nadal on the verge of absolute greatness
A 14th French Open title will give Nadal the lead in the all-time Grand Slam count over Roger Federer, an unthinkable feat when the Swiss great was in his pomp.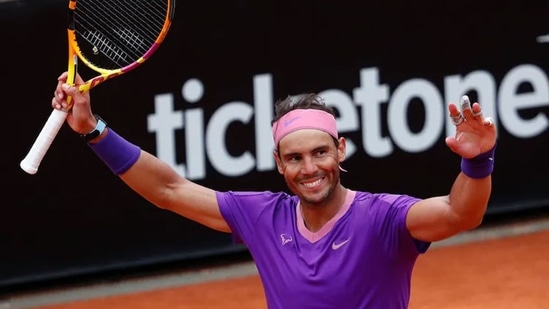 Published on May 29, 2021 10:34 PM IST
The first time Rafael Nadal slipped to his back and caked his perfectly wet, green and sleeveless tee (as well as his milk white pirate pants) with red mud was also the first time he won a Grand Slam. Any Grand Slam. Apart from the lush and length of Nadal's glistening hair and the size and threat of his pulsating biceps, the chief guest who presented Nadal with his first Coupe des Mousquetaires trophy also gives you an idea of just how ancient this episode is. He was Zinedine Zidane, still the alpha male of Paris, still captain of the French football team and still an entire year and more away from headbutting himself out of a World Cup final.
On the orange stage erected in the middle of Court Philippe Chatrier, the lifelong Real Madrid fan Nadal blushed on meeting his hero. From his box his uncle Miguel Angel, a Barcelona player in his heyday, applauded. Everything was perfect in the life of a boy who had turned 19 earlier in the week, who then bit the fat handle of the trophy to check if all this perfection was indeed real. This was, after all, the first time he had even entered the draw in Paris.
That slipping celebration to wrap up the 2005 French Open has had a heftier presence In Nadal's life than he'd have expected, for it has since become the first clip in the customary video montage that always beams around Chatrier; played ever since his numbers at Roland Garros started redefining the term "unprecedented" in this sport. Always it brings a smile to his face as he watches himself (or his many selves) tossing his racquet and sliding to his back on the big screen, each subsequent slide by an older Nadal—shorter in pants, longer in sleeve, heavier in girth and thinner in hair.
This montage not only captures the passage of time but also records history. Real tennis history. In 2017, when it was played after Stan Wawrinka was spanked in straight sets in the final, Nadal had become the first man to not only win 10 ensFrench Op, but also the only man to hit double digits in a single Grand Slam (Novak Djokovic, with 9 Australian Opens, will possibly challenge that fact next year). And when the reel began in the first post-pandemic French Open in September last year, Nadal had won his 20th Grand Slam, which then tied him for the all-time Slam record with his great mate and rival, Roger Federer.
That win over Djokovic—possibly the Serb's most one-sided defeat in a major final—was also Nadal's 100th win on the clay of Paris, where he has only lost twice. Neither loss, it must be said, was to the eventual champion of the French Open that year. When Nadal lost to Robin Soderling in 2009, Federer won his only Roland Garros title. And when he lost to Djokovic in 2015, the other Swiss in Wawrinka won his only Roland Garros title. When Djokovic won his only French in 2016, Nadal had pulled out after his second-round win, with a broken wrist but his spirit intact. Which now makes Federer, Djokovic and Wawrinka the only three men to sneak a French Open title each since Nadal first arrived here as an 18-year-old.
Nadal will turn 35 in the first week of Paris this year, and even his rivals aren't betting against him from winning yet another French Open and taking a solo lead in the overall Grand Slam count while Federer is still active—an unthinkable achievement while the great Swiss was at his pomp, especially given that at the end of 2007, Federer had 12 Grand Slams to Nadal's 3. Making Nadal's passage to Slam No.21 a little more comfortable (not like he needs the help) this year is the fact that both Djokovic and Federer are not only in Nadal's half of the draw but also find themselves in the same quarter, which means he will have to face only one of them in the semi-final.
Which also means that the second Sunday is deliciously set up for Nadal to face one of the many young guns dotting the other half (Daniil Medvedev is seeded as high as second), and only one of them in Dominic Thiem knows what it feels like to get that far in Paris in the first place. But both times the Austrian got there, Nadal roared past to win the 2018 and 2019 French Opens, his eleventh and twelfth titles in Paris respectively. Now, he is on the verge of No.14 in Roland Garros, a number just as stunning as 21 in context—given that the overall Slam record was 14 (Pete Sampras) when Nadal started making a name for himself as a professional, and here he is on the verge of just as many in one Grand Slam tournament.
But Nadal will be the first to say, as he already has in the press conference, that before a Grand Slam begins everything except the name of his first-round opponent is speculation. And that opponent is Alexei Popyrin, who Nadal praised to the heavens despite having hammered the young Australian just a few weeks ago in Madrid, and then added: "I always respect every opponent, no. I respected everyone since the beginning of my career."
Maybe he really does and is truly devoid of the arrogance one associates with the greatest sportspersons. Perhaps that's what it took for him to dominate a surface like no other surfaces were dominated before. But if Nadal indeed does add to his French count, then his dominance will be absolute—not only over clay and Paris and Grand Slam tennis in its entirety, but also over his great friend and rival from Switzerland who Nadal once called "greatest in the history." Perhaps Federer may say the same about Nadal soon, as early as two Sundays from now.
Enjoy unlimited digital access with HT Premium
Subscribe Now to continue reading
Close Story
Personalise your news feed. Follow trending topics