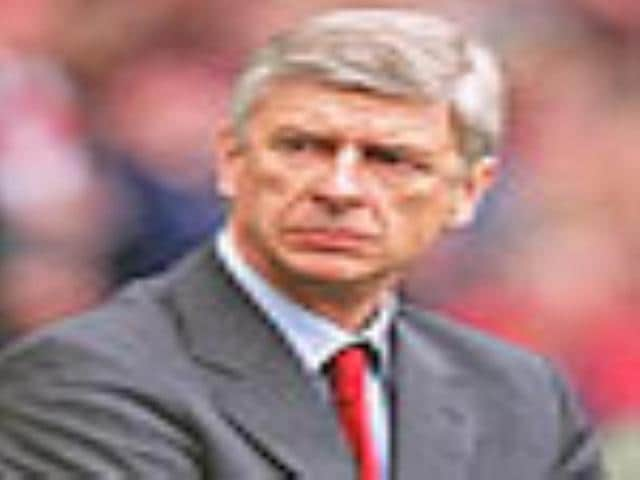 Wenger down to 14 fit players
Wenger is missing nine first team stars and another four are carrying injuries that threaten their participation in the Old Trafford clash.
UPDATED ON FEB 15, 2008 08:16 PM IST
Arsene Wenger admits Arsenal's injury crisis is so severe he will travel to Manchester United for Saturday's FA Cup fifth round tie with only 14 fit outfield players.
Wenger is missing nine first team stars and another four are carrying injuries that threaten their participation in the Old Trafford clash.
Tomas Rosicky, Robin van Persie, Theo Walcott, Johan Djourou, Alexandre Song, Manuel Almunia, Abou Diaby and Denilson are all injured, while Bacary Sagna is absent due to a family problem.
With a crucial Champions League match against AC Milan coming up next week, the Gunners manager is concerned about risking Emmanuel Adebayor, Gael Clichy and Mathieu Flamini, who are also carrying knocks.
Adebayor's hamstring problem is the biggest worry for Wenger after the Togo striker's run of scoring in nine successive games lifted his side to the top of the Premier League.
However the injuries have left him with no option but to take Adebayor and some of the other walking wounded to Manchester.
"We are down to the bare bones because we have just 14 players," Wenger said. "Everybody travels and I will make a late decision on Saturday morning to see who I give a breather to.
"We are really touched severely by injuries. It is a period when you don't want to lose players because these are decisive months. If you lose players now they could be out for the rest of the season.
"I have to decide who is in the most danger. I will make a check with the medical people and then make a decision."
Wenger isn't concerned about the prospect of inflicting a psychological blow on United as the title race hots up. The French coach just wants to keep Arsenal's momentum going entering the final weeks of the campaign.
"I'm wasn't jumping through the roof when I heard we were playing Manchester United away from home. I wanted a small team at home," Wenger said.
"But that is the charm of the cup. Sometimes it is easier to play away against a big team because they have to come at you so you get some space. What you don't want at the moment is a draw because we have too many fixtures and we have a small squad.
"It is a priority because it is the next game. We are on a good run and we want to keep that going. It is always difficult to measure the influence of a lost game compared with the benefit of resting players.
"We have a tricky week because have Milan on Wednesday and Birmingham on Saturday but we play Manchester United and we want to win. We will put out the strongest team possible."
Cesc Fabregas will be at the heart of Arsenal's play as usual, but Wenger played down reports that the Spanish midfielder is in negotiations to sign a contract extension.
"At the moment there are no talks. What he wanted is to say he is committed to the future here," Wenger said.
Close