Tamil Nadu university withdraws Arundhati Roy's book after ABVP complaint
Updated on Nov 13, 2020 12:04 PM IST
Walking with the Comrades has been removed from the postgraduate English syllabus and replaced with essays from M Krishnan's My Native Land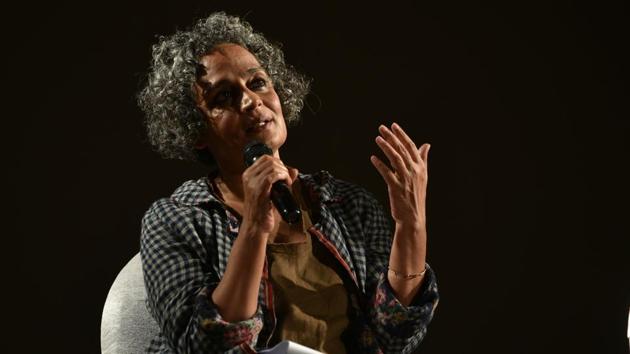 Hindustan Times, Chennai |
Divya Chandrababu
Manonmaniam Sundaranar University in Tirunelveli has withdrawn Arundhati Roy's book, Walking with the Comrades, following objections from the Rashtriya Swayamsevak Sangh (RSS)-affiliated student group Akhil Bharatiya Vidyarthi Parishad (ABVP), according to the ABVP's local unit.
Published in 2011, the book, which is an account of the face-off between Maoists and the Indian government and has been part of the varsity's syllabus since 2017, has been removed from the postgraduate English syllabus and replaced with essays from Padma Shree awardee late M Krishnan's My Native Land.
The ABVP opposed the teaching of the book, and said it was based on an "anti-national subject". On its part, the university submitted, via-email, a detailed report of the sequence of events to Tamil Nadu Governor and varsity chancellor Banwarilal Purohit's office on Thursday afternoon.
ABVP's Tirunelveli unit had submitted a complaint to the university last week. Following this, a committee was formed comprising deans from the faculty of science, language and arts and members of the boards of studies including a former chairman-- who included Roy's book to the syllabus in 2017. The reading was for MA English literature students in their 3rd semester across all affiliated colleges.
Speaking to HT, vice-chancellor K Pitchumani said the committee recommended removing the book, given the sensitive nature of its topic. "We wanted to avoid problems," said Pitchumani. "As an academic institution, we have to be careful how we frame the syllabus for our students. We received several phone calls and complaints even from our syndicate members," he said.
ABVP's written complaint, a copy of which is with HT, threatened agitation if the book wasn't removed soon. "We didn't want any unrest among students, especially during a pandemic," said the VC.
About ten days ago, the university's students brought the book's contents to the notice of ABVP members in Tirunelveli. "The issues we raised are valid," said Gopi Gangadaran of ABVP's Tirunelveli unit. "The book highlights Naxalism. It is anti-Indian and anti-humane."
ABVP is now planning to form subgroups across all Tamil Nadu universities to comb through curriculum. "Given our success, we have decided to start checking if there are anti-national concepts being taught in other universities as well," said state joint secretary C Vignesh.
On November 10, RSS publication, Organiser, noted that it was "regrettable" that "pro-Maoist literature" was taught for three years. The article stated that Arundhati Roy is known for her "extreme Left-wing political views and anti-Hindu narratives," adding that Maoists are "Bharat's gravest internal security threat." Roy, a 1997 Man Booker Prize winner, has been a consistent critic of the Sangh Parivar.
Following this incident, several voices have advocated for educational institutions to be safe spaces for exploring all points of view. "Our inability to embrace different perspectives is a result of our failure to nurture a culture of intellectual freedom. It reinforces our intolerance," says Swarna Rajagopalan, political scientist and founder of Chennai-based Prajnya Trust, which works on issues of peace, justice and security.
"The university should have resisted but, let us also be compassionate and understand how hard it is for individuals to push back intimidation when they are not sure of institutional, legal, political support," said Rajagopalan.
Opposition DMK leader and former minister A Raja said this shows a continuing trend of "Hindutva sectarian forces" that forced Delhi University to withdraw AK Ramanujam's essay on Ramayana in 2011. Students must have an opportunity to learn and unlearn all kinds of history, including that of Adolf Hitler, Benito Mussolini and Idi Amin, for their intellectual development, he said.
Close Story
Personalise your news feed. Follow trending topics