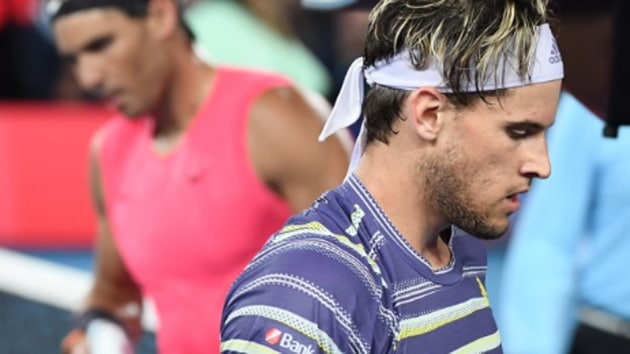 Australian Open quarterfinals highlights, as it happened: Dominic Thiem stuns top seed Rafael Nadal to enter semis
Australian Open Highlights: World Number one Rafale Nadal was ousted by fifth seed Dominic Thiem in the quarterfinal. Thiem won the match 7-6, 7-6, 4-6, 7-6 . Earlier, Simona Halep cruised into semifinals after defeating Anett Kontaveit in straight sets. The fourth seed looked completely in control as she won the encounter 6-1, 6-1. Garbine Muguruza continued her resurgence with a win over Anastasia Pavlyuchenkova in the other quarterfinal to book her spot in the final four. Meanwhile, Alexander Zverev staged an impressive comeback to defeat Stan Wawrinka and progress into the next round.Follow Aus Open highlights below -
UPDATED ON JAN 29, 2020 06:38 PM IST
18:27 hrs IST
Thiem prevails
Dominic Thiem keeps control on his emotions and forces an unforced error out of Nadal as his return hits the net. With that, Thiem wins this titanic clash 7-6, 7-6, 4-6, 7-6 and he progresses into the semis.  
THIEM's Time To 𝓢𝓱𝓲𝓷𝓮!

After 4 hours and 10 minutes, @ThiemDomi knocks out world No.1 Rafael Nadal, 7-6(3) 7-6(4) 4-6 7-6(6) to advance to the #AusOpen semifinals for the first time.#AO2020 pic.twitter.com/lWuZXBzNmt

— #AusOpen (@AustralianOpen) January 29, 2020
18:24 hrs IST
Nadal makes strong comeback
Rafale Nadal wins back to back points to make it six-all. The fourth set tie break is heading for a close finish as both athletes are trying to get one over the other.
18:21 hrs IST
Nervy tiebreak continues
Nadal forces an unforced error out of Thiem and with that reduces the deficit to 5-4. However, Thiem wins the next point and makes it 6-4 and has two match points.
18:17 hrs IST
Thiem hits back
Two back to back unforced errors from Nadal and Thiem takes the lead once more. Thiem then makes Nadal dance all around the court and he has taken his lead to 4-2 in the tiebreak.
18:15 hrs IST
Nadal takes early lead
Couple of unforced errors from Thiem and Nadal has taken a 2-1 early lead in the tiebreak.
18:13 hrs IST
Tiebreak
Dominic Thiem needed a bit of luck from the net to force the fourth set into tiebreak. Thiem holds his serve and makes it 6-6 in the penultimate set of this clash.
18:08 hrs IST
Nadal surges ahead
Rafael Nadal keeps his serve and has takes the lead for the first time in the fourth set. He leads 6-5 and Thiem will have to win the next game to force the set into tiebreak. Crucial game for both the players.
18:03 hrs IST
Nadal breaks back Thiem
Rafael Nadal shows his class and breaks back Dominic Thiem to make it 5-5 in the fourth set. Thiem must have thought he had the match in the bag but Nadal is one of those who just keep coming back for more. Nadal to serve to take lead in the set for the first time.
17:58 hrs IST
Nadal survives... but for how long?
Top seed Rafael Nadal lives to see another day as he holds his serve to make it 4-5. Dominic Thiem needs to just hold his serve to win the match and seal a place in the last four. The top seed is on the brink of crashing out.
17:50 hrs IST
Thiem holds on
Nadal is trying hard to break Thiem's serve but he just hasn't been on top of his game tonight. Thiem continues to bamboozle Nadal with powerful ground stokes and his serves have been too hot for the World No.1. Thiem leads 4-3 and he will serve to edge closer to a huge win.
17:23 hrs IST
Nadal broken early in 4th set
After both players registered easy wins off their respective serves, Thiem brings forward his A game and stuns Nadal to break his serve and take a 1-2 lead. This match is Thiem's to lose from here on.
17:10 hrs IST
Nadal wins third set
Rafael Nadal shows his class and takes the third set 6-4. He managed to break Thiem's serve to make it 5-4 and then held his serve to clinch the serve. The fourth set will be crucial as momentum is now on the world number 1's corner.
16: 55 hrs IST
Neck-and-neck in third set
The third set hangs in balance as it is locked at 4-4 after both Nadal and Thiem managed to held their respective serves. Nadal needs to break Thiem once here to take advantage in the set and make a strong comeback in the match.
16:38 hrs IST
Thiem takes second set as well
Nothing is going Nadal's wat at the moment as Thiem is completely on top of his game. He takes the tiebreak 7-4 to take the second 7-6. Nadal is now two sets down and needs a herculean effort from here on to seal a place in the last four.
16:25 hrs IST
Tiebreak to decide 2nd set
Nadal somehow manages to hold his serve after Thiem won his as the second set heads for a tiebreak. Thiem came up with a masterclass to take the first set tiebreak but Nadal will have to do something spectacular in this tiebreak to keep the match in balance.
16:15 hrs IST
Nadal cuts down Thiem's advantage
Thiem won three games in a row after dropping serve as Nadal was left gasping for air. Thiem led 5-4 from 2-4 down. But Nadal has somehow managed to end Thiem's streak as he won the next game to make the set 5-5. This match is set for another tiebreak.
16:05 hrs IST
Nadal's serve broken now
Dominic Thiem is showing no signs of slowing down as he once again level the second set. He won a game off his serve to make it 4-3 and then broke back Nadal to make it 4-4. Nadal facing immense pressure from the Austrian.
15:55 hrs IST
Thiem broken
Rafael Nadal once again takes back the advantage and he will be hopeful of a different result in the second set. He breaks Thiem's serve to take a 3-2 lead in the second set and then wins the game off his own serve to take a 4-2 lead.
15:35 hrs IST
Second set going similar way
Both Nadal and Thiem are going hammer and tongs at each other in the second set as well. The opening four games have been divided equally between the players. 2-2 early on in the second set.
15:20 hrs IST
Thiem takes first set
Against the run of play, Dominic Thiem takes the first set 7-6 after winning the tiebreak. Nadal was pummeled by Thiem's powerful ground strokes and he loses 3-7 in the tiebreak. Nadal has all to do in the next set.
15:00 hrs IST
First set moves into tiebreak
On his serve, Nadal makes his 6-5 in the first set and Thiem will now have to win the next game to force the set into tie break. Thiem win the next game convincingly to taake it 6-6.
14:45 hrs IST
Both players break each other
The first set is currently locked at 5-5 after a string of sensational plays from both players. Nadal broke Thiem to make it 5-3 but the latter hit back immediately to take the next game and tie the first set once more. Both players have already shown they won't give the other player an inch.
14:23 hrs IST
The battle begins
Rafael Nadal and Dominic Thiem have begun their battle. Two clay court specialists are locking horns on hard court. Both men hold their opening serves.
12:20 hrs IST
Nadal vs Thiem
Rafael Nadal takes on Dominic Thiem as he looks for a record-equalling 20th Grand Slam title at the Australian Open. Nadal has never lost to Thiem at Major tournaments, beating him in the last two French Open finals, but he's taking nothing for granted against the Austrian fifth seed.
11:43 hrs IST
Zverev through
Alexander Zverev stormed into his first Grand Slam semi-final on Wednesday as the seventh seed was thumped in the first set but recovered to grind down the 2014 champion Stan Wawrinka 1-6, 6-3, 6-4, 6-2 in hot sun on Rod Laver Arena.
11:01 hrs IST
Zverev dominates
The Zverev express continues to impress! A brilliant comeback in the second set and now, he has taken the third one 6-4. The youngster has shown great determination till now and he is just one set away from the semifinals.
10:20 hrs IST
What a comeback!
Alexander Zverev has turned the game on its head and the youngster was able to win the second set 6-3 against Stan Wawrinka. One set each and this match is going to be quite interesting!
09:51 hrs IST
Stan starts well
6-1! Stan Wawrinka looked in top form as he won the first set during his quarterfinal encounter against Alexander Zverev. It will be tough for Zverev to mount a comeback after this but he needs to do that fast.
09:12 hrs IST
Muguruza through
Garbine Muguruza underlined her return to form by reaching the Australian Open semi-finals for the first time. The 26-year-old Spaniard, a former world number one, defeated Russia's 30th seed Anastasia Pavlyuchenkova 7-5, 6-3 in a hot and sunny Melbourne.
08:35 hrs IST
Halep cruises to semis
Fourth seed Simona Halep took just 53 minutes to thrash Estonian Anett Kontaveit 6-1 6-1 and storm into the semi-finals of the Australian Open.
05:00 hrs IST IST
Hello and welcome
Welcome to the live coverage of the Australian Open quarterfinals.Stan Wawrinka will take on Alexander Zverev while Rafael Nadal will face a tough challenge in the form of Dominic Thiem. In women' singles, Simona Halep and Garbine Muguruza will be in action.
Close