Beaten Novak Djokovic gets bitter taste of failure
Novak Djokovic, a winner at the London finale for four straight years from 2012, lost to Andy Murray.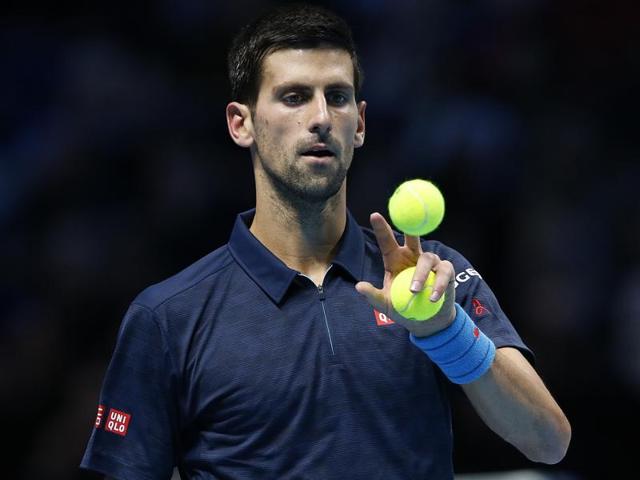 Updated on Nov 21, 2016 10:57 AM IST
Handing out chocolates to the media has become a year-end tradition for Novak Djokovic at the ATP World Tour Finals but there was no doubting the latter half of the 2016 season has been anything but sweet for the once all-conquering Serb.
A winner at the London finale for four straight years from 2012, on Sunday the 29-year-old from Belgrade was facing up to the fact he will be heading for his winter break without the season-ending title or the world number one ranking.
How World No. 1 Andy Murray beat Novak Djokovic to win Tour Finals
While Andy Murray swooped to snatch both of those accolades away from the Serb on Sunday, more worrying for Djokovic is how he has struggled to battle the demons and doubts in his own head that has left him without a title since July.
It was only five months ago that talk of Djokovic becoming the first man since Rod Laver in 1969 to complete a calendar Grand Slam gathered momentum after he won the French Open for the first time to complete a career slam and become the first man in nearly half a century to hold all four majors at once.
However, the emotional toll of fulfilling that lifelong dream at Roland Garros appeared to knock him sideways and Djokovic has not recovered since.
"The last five, six months have not been ideal," he said.
"There were things I could have done better on the court. I know that. It was a tough season... I'd just been through so much emotion in the first six months with Roland Garros.
"I needed some time to really take it all in, digest it. But I didn't have that time. I had to... be on the court right away. I guess that all had its toll."
HOPES DASHED
That toll meant Djokovic's calendar Grand Slam hopes were dashed in the Wimbledon third round by American Sam Querrey.
It left him a tearful wreck after he lost to Juan Martin del Potro in the first round of the Rio Olympics.
And it allowed Murray to nibble away at his 9,000 point lead in the rankings before dethroning him as world number one.
"It's required... to come out on the court in these particular occasions, playing top guys, to come out with (your) top game," said Djokovic, who lost 6-3 6-4 to the Scot on Sunday to meekly surrender his title.
"I wasn't close to that. There was no serious chance for me to win today's match. From the very beginning we could see that."
For a player who had built an aura of invincibility around him in the year from June 2015 such a slump was hard to digest.
But rather than looking forward after Sunday's defeat to rectifying that disparity next season, Djokovic simply wanted to turn the lights out on his 2016 season.
"It's hard to expect to repeat all these things forever. Nothing is eternal," he said slumping his shoulders. "Right now the goal is just to rest. It's been a long season. I'm actually looking forward to have a month and a half with no tournaments."
Close Story
Personalise your news feed. Follow trending topics