Rojer-Tecau beat Bopanna-Mergea to win ATP World Tour Finals
Updated on Nov 22, 2015 11:37 PM IST
Rohan Bopanna and Florin Mergea lost to Jean-Julien Rojer and Horia Tecau in the men's doubles final of the ATP World Tour Finals at London's O2 Arena on Sunday.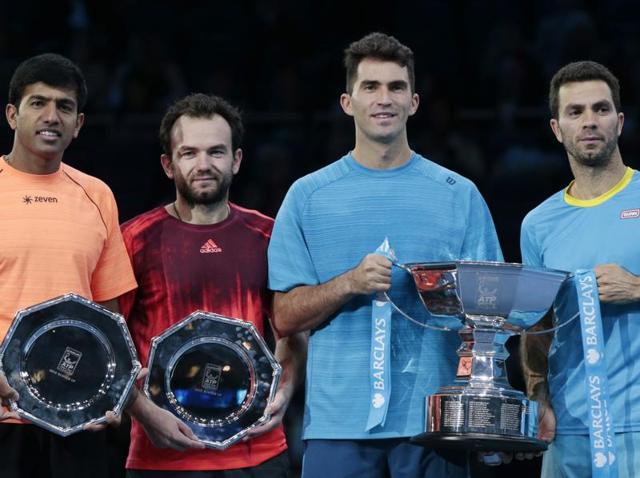 India's Rohan Bopanna and Romania's Florin Mergea missed out on the chance to clinch the prestigious season-ending $7 million ATP World Tour Finals as they lost to the Dutch-Romanian pair of Jean-Julien Rojer and Horia Tecau in straight sets in the men's doubles final on the indoor hard courts of London's O2 Arena on Sunday.
Second seeds Tecau-Rojer needed just 60 minutes to defeat the eighth-seeded Bopanna-Mergea team 6-4, 6-3 to clinch the title in a one-sided encounter.
The 35-year-old Bopanna, who made his second appearance at the year-ending tournament finals on Sunday after losing the 2012 final in a super tie-break while partnering compatriot Mahesh Bhupathi, missed a chance to become the first Indian to win the elite tournament.
The second seeds were the far better pair on the day. From return of serves to first serves and second serves, everything went their way and were more effective to put the match completely in their favour.
The Dutch-Romanian pair started the clash on a positive note, serving half a dozen aces, along with one break point and 12 out of 18 first serve points which helped them go 1-0 up in style and hold advantage of the match.
Bopanna-Mergea came back strongly in the second set by serving four aces and winning seven out of 10 first serve points. But their opponents had gathered confidence after winning the first set and were not in a mood to give the match away.
Grabbing 11 out of 13 first serve points and breaking the eighth seeds on both occasions made their task easier and Tecau-Rojer eventually went on clinch the year-ending title in style.
With the win, the pair held on to their all-win record against Bopanna-Mergea. Tecau-Rojer have defeated the Indo-Romanian pair in all three meetings -- 2015 Wimbledon, 2015 French Open and 2015 ATP World Tour Masters in Rome.
No Indian has ever won the elite year-ending tournament where only the season's top eight players/teams get to play.
Bhupathi and Leander Paes reached the final of the tournament thrice in 1997, 1999 and 2000, losing all three contests.
Paes then reached the final once again with Serbian Nenad Zimonjic in 2005.
Bhupathi reached it in 2010 with Belarus' Max Mirnyi before Bhupathi and Bopanna lost the 2012 final.
Personalise your news feed. Follow trending topics