Latest from arvind kejriwal
In a tweet, DIAL asked all passengers arriving from the UK to strictly adhere to the new rules. "Flight operations from the UK have resumed from 0:01 hrs. 8th January 2021. All arriving passengers from the UK to Delhi Airport must adhere to the following," DIAL tweeted, listing the rules to be followed.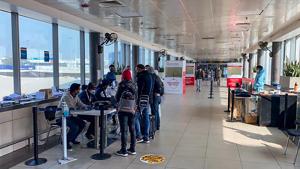 Updated on Jan 08, 2021 09:04 PM IST
Since last week of December 2019, the daily coronavirus infection tally in the national capital remained below the 1,000-mark after 803 cases were reported on December 21. In the first week of January, the national capital reported less than 500 Covid-19 cases daily except on January 6 when 654 cases were added.

Updated on Jan 08, 2021 05:35 PM IST

Updated on Jan 08, 2021 04:46 PM IST
"All those arriving from UK, who test positive will be isolated in an isolation facility. Negative ones will be taken to a quarantine facility for 7 days followed by 7 days home quarantine," chief minister Arvind Kejriwal tweeted.

Updated on Jan 08, 2021 03:08 PM IST
The ban on flights to the UK was lifted on January 6. 30 flights will operate each week - 15 each by Indian and UK carriers. This schedule will continue till January 23, Civil Aviation Minister Hardeep Singh Puri had informed earlier.

Published on Jan 08, 2021 02:32 PM IST