Covid-19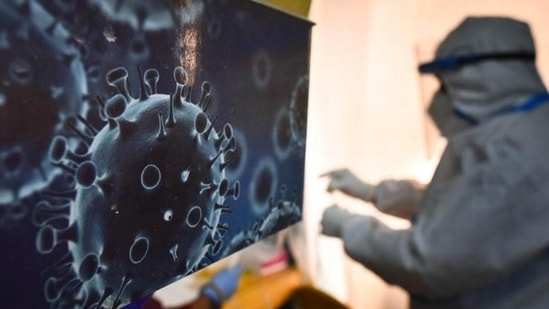 The COVID-19 pandemic, caused by the coronavirus SARS-CoV-2, began in late 2019 in Wuhan, China. The first case of the virus was identified in December 2019 and was linked to a seafood market in Wuhan. Since then, the COVID-19 has been impacting lives without any end in sight. India also faced multiple waves and lost over 5 lakh lives so far, around 7 million deaths have been recorded globally. So far there have been several variants of the virus -- B.1.1.7, B.1.351, P.1, Delta, B.1.617.2, BA.5. Omicron BF.7 strain is driving the current wave of Covid infections in China. As of now, India reported four cases of the Omicron sub-variant BF.7 which is a sub-lineage of the previous Omicron variant BA.5 and has one of the highest transmissibility amongst all COVID variants so far.
The new Omicron variant is expected to infect 60 per cent of people in China in the coming three months. Symptoms of COVID-19 can range from mild to severe, and can include fever, cough, difficulty breathing, and body aches. The virus is primarily transmitted through respiratory droplets produced when an infected person speaks, coughs, or sneezes. To reduce the spread of COVID-19, many countries have implemented measures such as lockdowns, travel restrictions, mask mandates, and social distancing guidelines. Vaccines have been developed and are being distributed globally, but it is important to continue following public health guidelines and getting vaccinated to help bring the pandemic under control.
Cases yesterday - 226, Deaths yesterday - 1, Total deaths - 5,30,693, Total cases - 4,46,77,106 (Source - https://www.mygov.in/covid-19)
...read more
mRNA developed in the lab would trigger an inflammatory response once delivered. Katalin Karikó and Drew Weissman made alterations to overcome this problem.

Updated on Oct 03, 2023 04:41 AM IST
Katalin Kariko and Drew Weissman were awarded the Nobel Medicine Prize for their contribution to the development of mRNA technology, enabling the creation of COVID-19 vaccines.

Updated on Oct 03, 2023 06:02 AM IST
Musk, who earlier claimed his third vaccine shot nearly landed him in the hospital, came under severe criticism from several X users.

Published on Oct 02, 2023 01:00 PM IST
US man died from a brain disease linked to COVID-19, highlighting potential connection between the virus and neurodegenerative disorders.

Published on Oct 01, 2023 07:35 PM IST
The study shows how viral infections have a significant impact in sepsis development.

Published on Oct 01, 2023 10:54 AM IST
ANI | | Posted by Tapatrisha Das
, Boston