During his speech at a rally in Aurangabad, Thackeray appealed to the police to stop mosques from broadcasting through loudspeakers.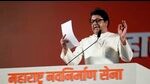 The state's 62 Foundation Day celebrations on May 1 are set to take a politically charged tone with parties having scheduled several events across the state.

MNS chief Raj Thackeray is expected to grab all the headlines with his much-awaited rally in Aurangabad.

Raj Thackeray stirred a controversy recently with his remark on the use of loudspeakers at mosques.

Gadkari said in the construction of roads, many ponds have been constructed on the lines of Buldhana pattern and the soil and stones have been used for the construction of roads.