Latest from harshdeep kaur
Jamie Lever will be seen mimicking Asha Bhosle in the upcoming episode of The Kapil Sharma Show, featuring Sunidhi Chauhan, Harshdeep Kaur and Salim–Sulaiman as guests.

Singer Sona Mohapatra has shared a video from her time with singer Harshdeep Kaur's eight-month-old son Hunar Singh on a flight.
While Gauahar Khan spoke about vaccinating the elderly, Harshdeep Kaur urged lactating mothers like her to go for the Covid-19 vaccine.

Harshdeep Kaur shares a new picture with her newborn son as he turns one-month old. The singer has named her son Hunar.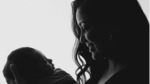 Singer Harshdeep Kaur and husband Mankeet Singh have welcomed a son. They had earlier shared several posts trying to guess the baby's gender, wondering if the child would be a 'Singh' or a 'Kaur'.