The high court has sought the Centre's stand on a Muslim woman's plea seeking regulation of the practice of bigamy or polygamy which is allowed under Muslim law (Shariat) .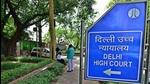 This Eid-ul-Fitr 2022, treat your loved ones with a traditional sevai dish in a shot glass! Rich in flavour with a blend of healthy ingredients, this Sheer Khurma Sips recipe curated by Chef Ranveer Brar will make your festive moments delightful till the last drop.

Eid-ul-Fitr 2022: As Muslims in South Asian countries gear up for moon sighting tonight, the question arises - will Shawwal crescent moon be visible in India, Pakistan etc today? Will India celebrate Eid-al-Fitr with Saudi Arabia in the rarest of rare case this year? Here's what we know

Eid-ul-Fitr 2022: The Holy Islamic month of Ramadan is drawing to a close and Muslims are gearing up for Eid which will be on the first day of Shawwal when the crescent moon is sighted. Here's when Eid will be celebrated in Saudi Arabia, India, UAE, Australia and other countries

Have you ever wondered why the Islamic month of Ramadan and the Muslims' festival of Eid occur on a different date every year on Gregorian calendar? Well, we finally have an answer for you.