At the meeting of the BJP national executive committee in Hyderabad on Saturday, an economic resolution acknowledged the government's 'gareeb kalyan sankalp' or the resolve to empower the poor, said Union education minister Dharmendra Pradhan.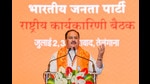 Lashing out at opposition parties for trying to "mislead" the nation, BJP president JP Nadda said they have played a "destructive role" and tried to create impediments in the development and welfare agenda.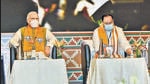 Congress MP Jairam Ramesh wrote to BJP president JP Nadda, drawing attention to a video of Rahul Gandhi's statement which was aired on a news channel.

Interacting with the media just before heading for Hyderabad from Bengaluru, Bommai said he would meet Union Home Minister Amit Shah and BJP National President JP Nadda.

"I know that efforts are on to mislead the youth. I also know that some forces in the country do not want this change (Agnipath scheme to be implemented). That is why I would request the youth to have faith in Prime Minister Narendra Modi. He has served the country (well)," Nadda said at a gathering in Karnataka's Chitradurga.