Union home minister Amit Shah accused the TRS government of failing to fulfil the major planks of separate Telangana agitation of "water, funds and jobs".

According to reports, at least 18 NSUI students were taken into custody for allegedly pelting stones and obstructing a public servant from conducting their duty.

Written by Kanishka Singharia | Edited by Sohini Goswami
On Thursday, TRS legislator Balka Suman gave hinted that the party might contest the upcoming Gujarat assembly elections.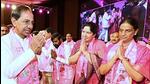 Modi had visited Hyderabad in February to unveil the statue of renowned philosopher Ramanujacharya. Telangana CM Rao was not present at the event.

Telangana Rashtra Samithi (TRS) leader KT Rama Rao made it clear that his party is only working with the I-PAC and not Kishor.