Other than the meeting scheduled on Wednesday, US China tension over Taiwan amid US House Speaker Nancy Pelosi's visit to the island has also created uncertainty in market over fears of military escalation.

Published on Aug 02, 2022 10:32 PM IST
Bloomberg | | Posted by Nisha Anand
On average, jet fuel makes up nearly 40 per cent of a commercial airline's operating cost, meaning any significant increase will almost certainly increase fares.

Updated on Jul 16, 2022 12:00 PM IST
Brent crude futures fell 71 cents to $99.98 a barrel by 0013 GMT. WTI crude futures fell 62 cents to $97.91 a barrel. The declines follow a dramatic fall on Tuesday.

Published on Jul 07, 2022 07:46 AM IST
The tax, which may be levied when oil prices, for instance, cross a certain level, will boost the government's finances, and help fund efforts to protect vulnerable sections from rampant inflation.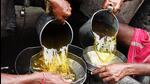 Updated on May 27, 2022 05:40 AM IST
By
Rajeev Jayaswal
, New Delhi
Several Indian companies including ONGC have stakes in Russian oil and gas assets, and India has been buying more Russian crude since Moscow invaded Ukraine, snapping up the popular Urals crude grade, while other buyers have shunned Russian exports.

Published on Apr 27, 2022 06:30 AM IST